Seller-Fulfilled & FBA Feedback Management
Being an FBA seller does not prevent you from participating in the Merchant Fulfilled Network (MFN). In fact, there are many savvy sellers who strategically benefit from both models. Call it a "hybrid" approach or whatever you like, a mix of FBA and seller-fulfilled listings can be a winning combination.
If you're thinking about adjusting the allocation of your FBA or MFN listings, what impact will an adjustment have on your feedback score? What tools can help you efficiently manage your reputation - without creating unnecessary administrative work?
In this post, we'll explore how FeedbackFive can adapt to your ever-evolving supply chain.
Why Sellers Take a Hybrid Approach
Since its launch in 2006, the FBA service has experienced rapid growth. And, rightfully so. Sellers can piggyback on the best-in-class supply chain built by Amazon.com, Inc., and, in many cases, increase their chances of winning the Buy Box. With that being said, MFN is not dead; on the contrary, the seller-fulfilled model is still very popular, particularly for:
Newer Sellers: Each year, thousands of new sellers venture into the Amazon marketplace. MFN offers a low-risk, low-cost entry point to the Amazon ecosystem.
Private Label Sellers: There's no doubt that private labeling is on the rise among Amazon sellers. If done correctly, the creation of a private label item adds value to Amazon shoppers and reduces competition for the merchant. By owning the Buy Box, the seller experiences added control over distribution and associated expenses.
Niche Items: Some products are just less competitive than others. In situations when a merchant is one of a handful of competitors selling the product, it may make sense to pocket the FBA fees and self-fulfill.
High-Demand Seasons: Even Amazon occasionally runs out of stock. Some sellers hold back excess inventory and wait until demand exceeds supply (i.e., just before Christmas). In certain situations, such a strategy may deliver greater margins than selling entirely through FBA.
Confirming Feedback for Each Fulfillment Channel
So, we've established that many sellers rely on both the MFN and FBA fulfillment models. Doing so can create new revenue and cost-saving opportunities, but it may also cause additional administrative obligations for the merchant.
Take, for example, feedback management. Amazon allows sellers to send a polite feedback request after a shipment has been received. This is true for both MFN and FBA orders. However, blindly sending the same message to all customers rarely delivers a fruitful response. Rather, many sellers go to the effort of customizing the messaging and timing based on a variety of factors - including whether the item was fulfilled via MFN or FBA.
Without the right tools, keeping all of this organized can seem impossible. Thankfully, tools such as our FeedbackFive platform can automate the process. With FeedbackFive, you can easily build channel-specific rules based on your business objectives.
For example, let's imagine that all of your competitors ran out of a top-selling toy just before Christmas. To your delight, you discovered an entire pallet of the product sitting in local inventory and listed them as seller-fulfilled. You've saved the day for hundreds of Amazon shoppers, who would otherwise be unable to buy the item. FeedbackFive's multi-rule campaign feature makes it easy to confirm each of these customer's satisfaction.
Analyzing Feedback by Channel
Sellers often ask us if FBA orders result in better feedback than MFN orders. Generally speaking, FBA orders are probably more likely to deliver positive feedback. After all, it's hard to top Amazon's fulfillment model. Generalities aside, it's important for hybrid sellers to closely monitor the feedback that is generated through each fulfillment channel.
Using a tool like FeedbackFive makes it easier to know which fulfillment channel has the biggest impact on your seller reputation. With just a few clicks, you can filter recent feedback by MFN or FBA.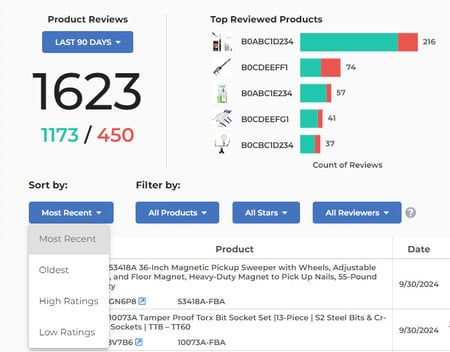 Understanding feedback in the context of MFN and FBA can be invaluable to your eCommerce business. Do you need to step up your self-fulfillment workflow? Or, are you actually scoring better with self-fulfilled orders? If so, what does this mean for your existing FBA inventory?
Manage Both Types of Feedback
For merchants who sell via FBA and MFN, selecting a proven reputation management tool is a key decision. To give FeedbackFive a risk-free try, click here and learn more about our plan options.
Originally published on July 12, 2018, updated October 18, 2019
This post is accurate as of the date of publication. Some features and information may have changed due to product updates or Amazon policy changes.