Negative Feedback vs. Neutral Feedback
Did you know there's a difference between "negative" and "neutral" Amazon feedback?
That's right. Amazon draws a clear line between these two categories of customer ratings. How does this distinction impact your business? Is neutral feedback "less bad" than negative feedback?
In this post, we'll explore the topic of negative feedback versus neutral feedback.
Negative Feedback vs. Neutral Feedback
As you may already know, Amazon sellers are rated on a 5-star point system. Ratings at or above four stars are considered "positive," while one-star and two-star feedback are "negative." That leaves the 3-star rating as the buyer's only option for expressing "neutral" feedback.
Here's the big question: Do customers actually use three-star ratings to indicate their neutrality about seller performance? In other words, are such customers neither satisfied nor dissatisfied? If you polled a few hundred experienced sellers, you would probably receive a variety of responses. My hypothesis, however, is that most sellers view neutral feedback as a net detractor, rather than a neutral indicator.
Does Neutral Feedback Have a Negative Impact?
Speculation aside, what does Amazon.com, Inc. ("Amazon") say about neutral feedback? Does neutral feedback hurt your feedback score? The short answer is, yes it does.
As Amazon points out here,
We calculate your feedback score using the following method:
SUM (positive feedback) / SUM (all feedback) for feedback left in the last 30, 90, 365 days, and lifetime
If you look closely, Amazon only utilizes two data points in this feedback score: positive feedback count (your four-star and five-star ratings) and total feedback received. Based on this calculation, neutral feedback detracts from the numerator, thereby dragging down your overall score.
As a simple illustration, let's assume that you just started selling on the Amazon marketplace. You've sold 1,000 items and were successful at obtaining 100 feedbacks thus far (you were smart and have been using FeedbackFive from day one, which increased your positive feedback conversion rate). Thus far, you've received 99 positive feedbacks and only one neutral rating. Using Amazon's formula, your seller profile page is going to say this:
99% positive in the last 12 months
It's a great score, don't get me wrong. But, isn't it annoying that one "neutral" feedback is holding you back from perfection? Shouldn't that rating just be ignored and not count against you? Sadly, Amazon doesn't think so (at least when it comes to this particular metric).
When Neutral is "Less Bad" than Negative
Amazon also publishes a more detailed version of your feedback score, broken down into positive, negative and neutral categories. Customers would need to be on your seller profile page to see this information, but it's there nonetheless.
This type of information is especially helpful for customers who do a lot of homework before checking out. Seeing a few neutral feedbacks (as opposed to negative ratings) might provide the shopper with additional peace of mind. So, in this regard, neutral feedback can be "less bad" than negative feedback.
Staying on Top of Negative & Neutral Feedback
Amazon does allow sellers to export a tab-delimited text file, containing neutral and negative feedback. Unfortunately, Amazon does not notify you when new feedbacks have been received.
That's where our tool comes in especially handy.
FeedbackFive connects seamlessly to your Seller Central account and serves as an all-in-one reputation management hub for your Amazon business. With FeedbackFive, you'll enjoy email and text message alerts as neutral (or negative) feedback occurs.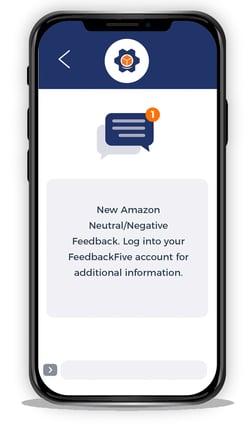 Many sellers also use our system to manage the feedback removal process, which can require several follow-ups with customers. (Remember, Amazon encourages sellers to "resolve negative feedback.")
FeedbackFive also softens the impact of undesirable ratings by boosting the amount of feedback you receive in general. The vast majority of your customers love the service you provide - why not gently ask them to leave feedback? FeedbackFive automates this process, thereby increasing feedback without any manual effort on your part.
Get a Plan for Neutral Feedback
If you're tired of seeing a few neutral feedbacks bring down your seller reputation, it's time to create a plan of action. FeedbackFive can be a useful tool in your overall strategy for reducing neutral feedback.
Get started risk-free today.
Originally published on February 20, 2018, updated July 31, 2019
This post is accurate as of the date of publication. Some features and information may have changed due to product updates or Amazon policy changes.