Tips for Scaling Your Amazon Feedback Process
You've already made the decision to invest in your Amazon seller reputation. For years, feedback solicitation has been an important part of your differentiation strategy. And with the recent addition of FeedbackFive to your toolbox, it seems that nothing can stop you now.
But are you ready for the growth that lies ahead? What if you doubled (or tripled) your current order volume?
Some of the largest sellers on the Amazon marketplace trust FeedbackFive, thanks in large part to the tool's scalability. In this post, we'll discuss how to squeeze the maximum value from our tool, thereby scaling your Amazon feedback process.
Delegation Made Easy
Many eCommerce businesses start as a one-person shop and a big dream. As that dream is realized, the solopreneur becomes unable to manage everything alone. When this happens, some merchants turn to freelancers. Others hire part-time or full-time staff. Still others convince family members to pitch in.
Whether you're relying on employees or contractors (or free familial assistance), one fact remains the same: your team must feel empowered to take action.
For this reason, FeedbackFive offers unlimited user accounts on all paid plans. Have a graphic designer skilled in creating HTML email templates? Need to have your copywriter modify your product review solicitations? Just add them as FeedbackFive users and let them get to work!
Not sure which aspects of your reputation management to delegate? Here are a few possibilities:
Sending one-off feedback removal requests for negative feedback
Tracking removal requests submitted to Amazon.com, Inc.
Evaluating campaign analytics data
Monitoring problematic SKUs
Testing new feedback campaign logic and email delivery times
Stop being the bottleneck - your team is happy to help. Before going any further, take five minutes and get them set up in FeedbackFive. You'll thank me later. :)
Expansion into Uncharted Waters
The Amazon phenomenon has spread to more than 180 countries. For sellers like you, international expansion represents a huge opportunity. In addition to thinking through the logistical aspects of global eCommerce, you'll also want to consider your seller reputation.
Merchants are often surprised to learn that their existing feedback score doesn't transfer to international marketplaces. You could have thousands of 5-star ratings on Amazon.com, but your Amazon.de reputation will be starting from square one.
Luckily, FeedbackFive supports the most popular Amazon marketplaces, including:
Amazon.com (United States)
Amazon.ca (Canada)
Amazon.mx (Mexico)
Amazon.co.uk (United Kingdom)
Amazon.de (Germany)
Amazon.es (Spain)
Amazon.in (India)
Amazon.it (Italy)
Amazon.fr (France)
Amazon.com.au (Australia)
Better yet, toggling between your various marketplaces is as simple as clicking a drop-down menu. All of your FeedbackFive marketplaces are conveniently managed with a single username and password.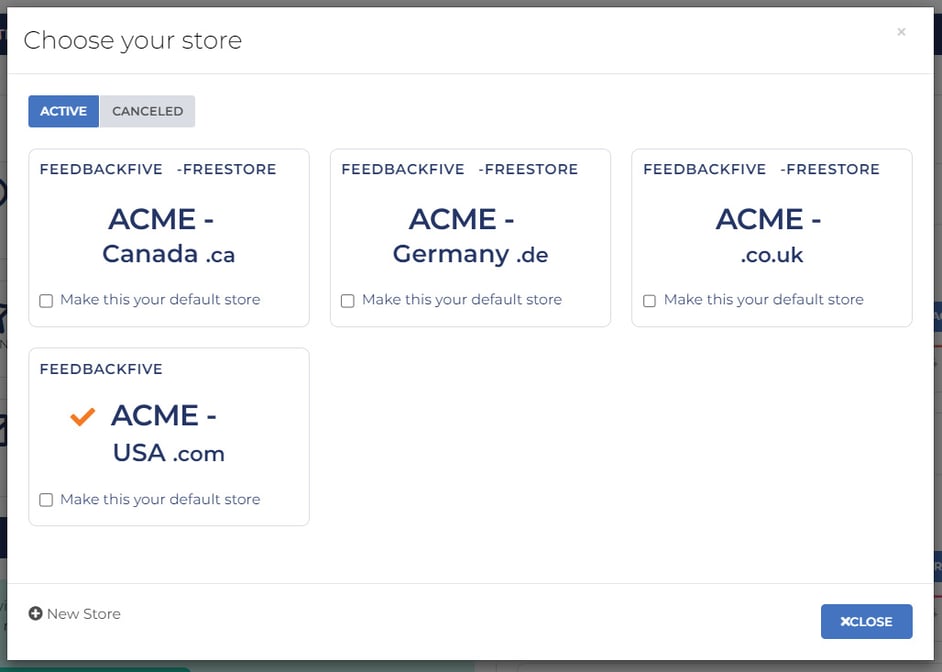 Simplifying the Complex
Stop and think about how your business has changed over the past twelve months. You've probably added tons of new ASINs, SKUs, kits and suppliers. Your process for soliciting and tracking customer ratings has likely changed, as well.
FeedbackFive accommodates your ever-evolving business model. As eCommerce becomes more complicated, FeedbackFive helps you simplify your life. We built our email campaign wizard specifically for the needs of growing Amazon businesses like yours. Need to send different emails for your non-FBA orders? Want to send a different message to repeat buyers? Prefer to exclude foreign orders from solicitation? No problem! Just navigate to your FeedbackFive campaigns, add or modify a rule and get back to growing your business.
Scale Your Feedback with FeedbackFive
To unlock the full potential of FeedbackFive, consider upgrading your plan to a Pro-level account. Pro users gain access to more than a dozen bonus features, helping them to get more feedback with less effort.
Ready to scale your Amazon feedback process? Click here to compare our plan levels.
Originally published on July 14, 2017, updated August 12, 2019
This post is accurate as of the date of publication. Some features and information may have changed due to product updates or Amazon policy changes.