How to Identify High Margin Products to Sell on Amazon
The Amazon marketplace is a great place to attract new customers. In fact, according to a recent post by our friends at Internet Retailer, Amazon.com accounted for more than half of all Black Friday transactions in 2017. With over 90 million Amazon Prime members and millions more non-Prime shoppers to sell to, there's arguably no better platform for today's eCommerce merchant.
With so much demand being funneled through the Amazon marketplace, it's no surprise that the competition is rather intense. Competition, as we all know, is good for the consumer - but it's rarely helpful for the merchant's bottom line.
So, how can you find the right balance between demand and profitability?
In this post, we'll discuss how to identify high margin products to sell on Amazon.
Relying on Supplier Data (Only)
In many cases, receiving updated pricing data from a supplier can lead to a lot of work. Which ASINs will require a price adjustment in order to preserve profitability? Are some of my best sellers being discontinued? Did my freight assumptions change? The questions can seem overwhelming.
On the other hand, new supplier catalogs can also represent a big opportunity for the motivated merchant. Exciting product launches, clearance blowouts and seasonal promotions are good examples. Unfortunately, with so many changes to your existing product catalog, it's easy to run out of time and miss out on the new opportunities. This is especially true when your supplier provides everything in a PDF or printed format.
Some suppliers are at least gracious enough to expose pricing data in spreadsheet format. This makes it somewhat easier to identify potential winners. For example, let's say you sell jigsaw puzzles. Your top supplier updates its catalog quarterly and sends you a CSV that contains wholesale pricing, MAP (minimum advertised price), status (new, clearance, etc.) and the quantity available for each SKU. With some spreadsheet wizardry, you're able to build a sortable formula that isolates potentially high margin clearance items.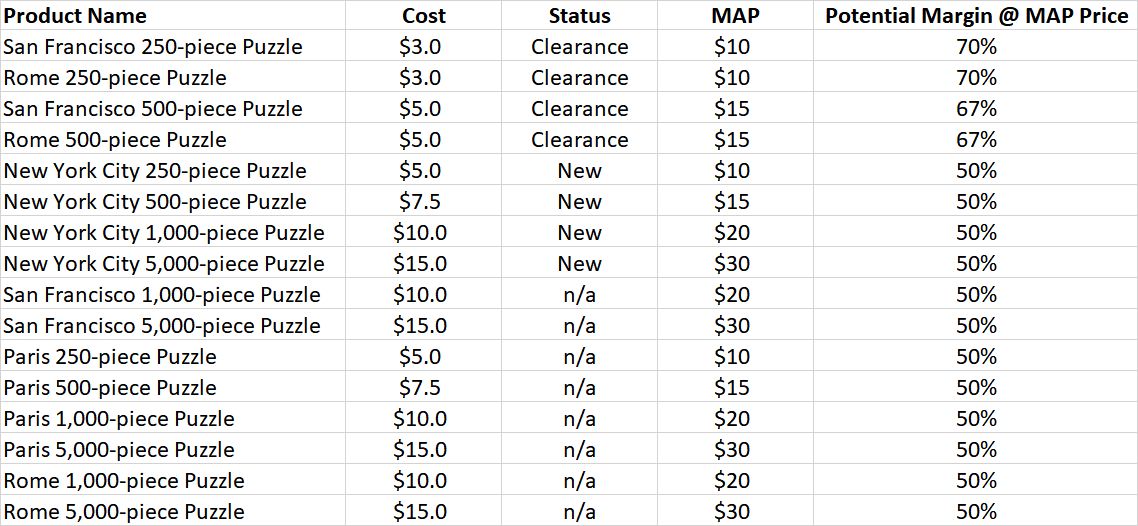 There's no doubt this is useful information to your business. Here's the big problem: this analysis completely ignores Amazon reality. Stocking up on a "high margin" item that no one will buy is rarely a wise idea.
Cross-Checking Supplier Data to Amazon Data
It's feasible that sellers with small catalogs could manually cross-check supplier data to Amazon listings. After all, it only takes a few moments to:
Search and find a product on Amazon.com
Check the Buy Box price
See how many other sellers are competing
Make note of the best seller rank position
Multiplied across several thousand SKUs, however, this process becomes practically impossible. Even with an army of market analysts to assist you, you're looking at several days or weeks worth of work. Once done, there's no guarantee your data will still be accurate. Remember, the Amazon marketplace is a highly dynamic ecosystem. What may be true now could be a completely different story by tomorrow (or even a few hours from now).
Using an Integrated Analysis Tool
Smart sellers find ways to efficiently analyze supplier data in the context of Amazon market forces. That's where a tool like MarketScout comes in handy. After signing up for your free account, you'll be able to copy and paste a full or partial list of supplier SKUs. MarketScout then goes to work, returning a powerful intelligence report within minutes. Sort and filter based on a variety of criteria, including:
Profit margin potential
Estimated fulfillment and selling fees
Current sales rank
Competitive forces
...and much more
MarketScout was built for busy sellers like you, which means it's intuitive and easy to use.
Best of all, you only pay for it when you need it.
Reliable Information Leads to Healthier Margins
Successful sellers make an effort to identify products that offer a blend of popularity and margin potential. As we've discussed, this relies heavily on the merchant's ability to analyze a variety of data points.
If you're looking for a tool that simplifies the number crunching, give our MarketScout tool a try. No credit card required!
Originally published on March 14, 2018, updated June 21, 2019
This post is accurate as of the date of publication. Some features and information may have changed due to product updates or Amazon policy changes.