How to Skyrocket Your Amazon Product Launch with Reviews
Ready to launch your next product? Karleigh of Orca Pacific shares tips for getting your first reviews in this guest post.
Wait! Just hold on a second. Driving advertising to your new product which has zero customer reviews is like hitting the big red launch button before your rocket is fully built. You're about to burn all of your fuel only to remain on the ground.
So take your hands off the control board and consider this: the Amazon product launch process begins with becoming marketing-ready—that is, optimizing your products for conversion. One of the most crucial components of optimization is customer reviews, the all-important indicator that potential buyers can trust the quality of your product.
In this article, we will cover the role that reviews play in the product launch process and survey Amazon's programs for brands looking to generate reviews. Buckle up!
Reviews Matter, Maybe More Than You Think
According to PowerReviews, 95% of Amazon shoppers consult product reviews and ratings while shopping while 86% cite good reviews as necessary when making a purchasing decision. In other words, new products with little to no history of positive reviews are pushing away the vast majority of potential buyers. These statistics alone should be enough to warrant establishing a basis of reviews before driving ad traffic. Yet, the justification continues.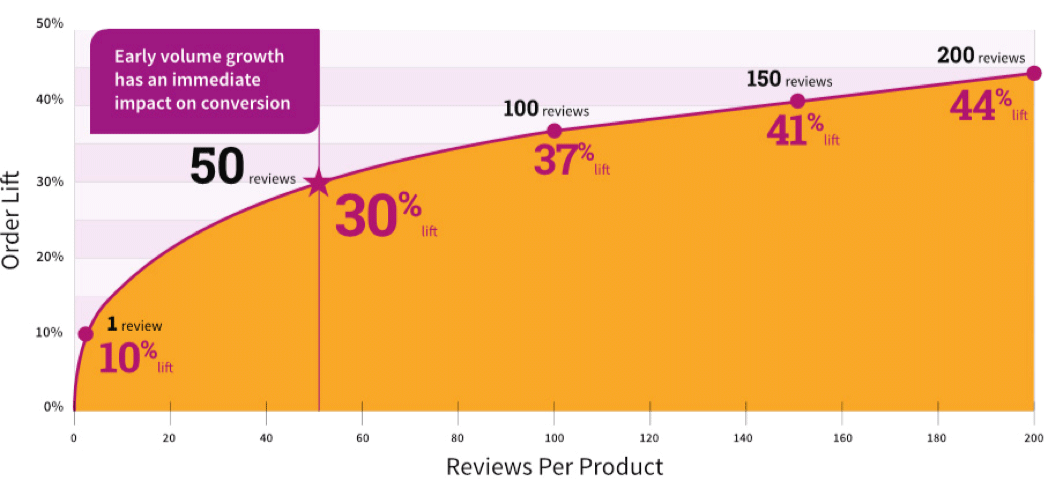 For one, some customers filter searches based on review quality. If you product has no reviews or just a few poor ratings, it will filter out of searches and take away the opportunity for customer consideration. Another reason to establish reviews is to increase organic search rank on the Amazon platform. Products that have more reviews and better ratings will climb closer to the first page of search (as opposed to, say, the 300th). Items which perform well through both advertising and organic search have the best chance of finding lasting success.
Unfortunately, accumulating reviews is no easy task. The average organic review rate is very low (we estimate near 2%), meaning for every 50 products sold, you will garner just a single review. Amazon recognizes this as an obstacle for onboarding products, so they offer a few programs to help jumpstart reviews for new products.
Amazon Vine Program
If you're a first-party vendor, you should consider Amazon Vine. The program allows brands to send product samples to a curated list of hyper-reviewers who leave reviews on the product. These reviews can provide a solid base on which organic customer feedback can then build.
Reviewers stay away from opinions rooted in personal taste and instead focus on more general questions like whether a product's price is justified by its quality or if its detail page accurately describes its features. With that said, low quality products or detail page content can still lead to less-than-stellar feedback during the Vine review process, as reviewers are asked to provide unbiased but honest reviews. Therefore, it is important to independently verify the quality of your products (or be selective about which ASINs to enroll) before investing in Amazon Vine.
Cost for the Vine program varies by product category and the quantity of samples sent. Vendors first enroll their products through Vendor Central, where they select the desired ASINs for sampling and determine sample quantity. They are then prompted to print out shipping labels for their samples and to send the products to an Amazon fulfillment center for distribution to Vine reviewers.
While participating in Amazon Vine prior to product launch can be an effective way to ensure that your products are marketing-ready, the program can also be effective for products that have already been launched. The key is running the program prior to sinking thousands of ad dollars into driving traffic.
Early Reviewer Program
While the Vine program is just for first-party vendors, Amazon does have a solution specifically for its third-party sellers. The Early Reviewer program allows sellers to send Amazon gift cards ($1 - $3) to customers who have purchased their product, incentivizing them to leave a review. Customers can only redeem the reward (and sellers are only charged for it) after a review is left. The offer remains valid for up to one year or until your product receives 5 total reviews.
Just 5 reviews? That's right—even this small collection of customer feedback is enough to significantly increase conversion and new product discoverability. Further, when distributed across an entire catalog of new ASINs, the reviews can seriously upgrade brand credibility. Though, it should be noted that enrollments cover entire SKU variation families. So brands who roll out varying colors of the same product can only receive 5 reviews for that product through the program.
Like the Vine program, there is no guarantee that reviews will be positive. In fact, Amazon explicitly prohibits soliciting positive reviews. So it is in the hands of sellers to ensure that their products and detail page content are up to the standards of their customers.
Only sellers within the United States who are registered within Brand Registry are eligible to participate in Early Reviewer. They can enroll within the Seller Central dashboard.
Buyer-Seller Messaging Service
Another way for third-party sellers to increase their reviews is through Buyer-Seller Messaging. The service allows sellers to send custom email messages to buyers following a purchase. The messages can include useful information like tips for product use or instructions for maintenance. They can also be used to feature something creative like recipes, games and more. Most importantly, however, the customer touch-point provides an avenue for sellers to request feedback on their product. The most effective messages have simple calls to action like: "Share your thoughts," or "Tell us how we did."
Sellers can even use software solutions like FeedbackFive to automate custom messaging. Their system integrates with Amazon's API to communicate directly with customers through the Buyer-Seller Messaging platform.
As mentioned before, sellers cannot ask for positive reviews. But a high-quality product will ensure that buyers who feel inclined to leave a review are doing so because they enjoy your product, not despise it.
Amazon Giveaways
Perhaps you have used the above programs and still feel as though your review game is lacking. It may be time to get creative with a relatively underutilized program: Amazon Giveaways. Amazon Giveaways is a promotional sweepstakes program available to both vendors and sellers. These promotions can be an effective way of creating buzz around your new product, building up your customer base, and (you guessed it) generating new product reviews.
While third-party sellers can enroll in Amazon Giveaway through their Seller Central portal, first-party vendors must access the program through a link labeled "setup giveaway" at the bottom of the product detail page of the promoted ASIN.
To set up a giveaway, brands must first select the number of sweepstake prizes with a maximum of 30 physical items or 50 digital items. The prizes must also stay below a total retail value of $5,000. Brands then determine how the prizes are awarded, either by a set interval (like every 11th entry wins) or on a first come-first serve basis. Brands can also set various barriers for entry to boost brand exposure such as viewing custom video advertisements.
Once all parameters are in place, Amazon will host the promotion on their site. If you set the giveaway to "public," Amazon will even market the sweepstake on their giveaway listing page, daily email promotions, and other placements. However, if you wish to market the promotion on your own, you can set the giveaway to "private" and restrict access to a private link.
If you're worried about promotional abuse, you should know that only verified Amazon customers are permitted to enter into giveaways and are limited to one entry per participant. Amazon has provided a list of frequently asked questions to sellers looking to learn more.
So, Are Your Products Marketing-Ready?
With various review programs at your disposal, there is no reason that any new product should be without a handful of customer reviews to boost conversion and organic ranking. To reduce the downtime between optimization and driving traffic, brands should consider running multiple programs simultaneously. With systems like Buyer-Seller Messaging and Giveaways, brands can even continue generating reviews well after a product has been launched.
Reviews, of course, are just one part of becoming marketing-ready. Other important factors include optimized content, Prime-badging, competitive pricing and more. To help sellers along this process, I've written a complete guide for launching products on Amazon in 2019.
Don't fall victim to the temptation of the ignition switch. A new product, much like a rocket, is too valuable to rush. Taking time to prepare a flight plan can make the difference between a dud and a skyrocketing success.
To discuss the details of your Amazon business, reach out to our team at Orca Pacific today.
Originally published on August 29, 2019, updated October 18, 2019
This post is accurate as of the date of publication. Some features and information may have changed due to product updates or Amazon policy changes.