How to Get Amazon Reviews (the Right Way)
The products you sell are a reflection of your business. This is especially true if you're a private label merchant.
Therefore, a growing number of Amazon merchants see value in increasing the number of reviews for their products. Although review solicitation may be a bit trickier than it used to be, Amazon still permits sellers to ask for product ratings.
In this post, we'll discuss how to get Amazon reviews.
Understand Amazon's Perspective on Reviews
Amazon.com, Inc. ("Amazon") does a lot of things the right way. Lenient return policies, a best-in-class mobile experience and millions of Prime members have certainly contributed to the company's unbelievable growth. That being said, few things have been more impactful to Amazon's success than the marketplace's quality and quantity of product reviews. The ever-growing volume of reviews acts as the shopper's impartial guide to virtually any buying scenario. This phenomenon has fostered an unbreakable loyalty among consumers and Amazon, leading to even more reviews and greater brand affinity.
It's therefore understandable why Amazon is so protective of its review system. In the past couple of years, we've seen Amazon take swift action, aggressively going after fake reviewers, sellers who purchase reviews and so-called review "exchange" marketplaces (some of which were managed by our competitors, by the way!). Amazon also adjusted its review policy, prohibiting any type of compensation for reviews - including free products. The Amazon Vine program is, of course, the exception to this rule.
With so much buzz surrounding Amazon's enforcement of review policies, some merchants are hesitant to proactively request customer reviews. Smart merchants take time to read Amazon support documentation, which clearly permits review solicitations. Amazon just asks that you play by the rules when doing so. After all, Amazon wants you to help increase the number of organic product reviews. Each new review further increases customer loyalty - and the company's market cap value!
Identify Your Amazon Review Management Strategy
So, with this information in mind, the big question is this: what's your review management strategy?
In general, you essentially have four possible plans of action:
Do nothing and hope for the best
Track reviews for the products you sell (or are thinking about selling)
Proactively ask customers to rate the items they purchased
Simultaneously track and solicit
The strategy you choose might depend on a number of factors, such as your product mix, long-term Amazon positioning plans and current capacity.
To illustrate my point, let's imagine that you've recently launched several private label bundles on the Amazon marketplace. You exclusively own the Buy Box for these items, and you see no reason why that will change in the future (you were smart and locked in some awesome supplier agreements). Although you're very busy, you do make time to watch what customers are saying about the kits.
In this scenario, I would certainly recommend a tracking and solicitation model. Tracking customer ratings can be an invaluable resource when trying to tweak your listing's detail page, product images, pricing and other factors. And, by asking for reviews, you're giving yourself every shot to capture this highly useful information. The icing on the cake? Each 5-star review positively impacts your bundle's visibility on Amazon.com (albeit, some pretty sweet icing!).
Automate Your Workflow
If review tracking and solicitation is prudent for your business, FeedbackFive can be a tremendously valuable tool. For tracking automation, our software will constantly check your product ratings - alerting you of negative reviews via text and/or email.
You can also opt for a daily summary email, providing an executive overview of the day's chatter.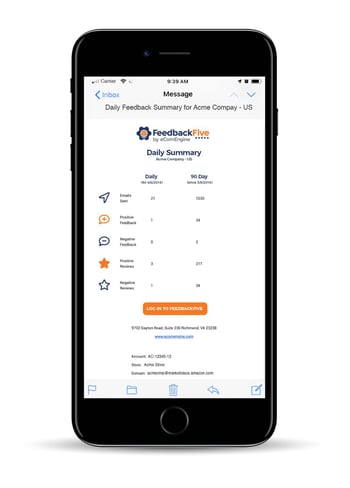 Need more in-depth analytics? Just log in to your FeedbackFive account from any web-enabled device and drill down into additional metrics, such as ASIN-specific trends, recent 5-star ratings and campaign effectiveness data.
Requesting Reviews
Asking for reviews can also be automated with FeedbackFive. Create your review solicitation campaign, define your preferred triggers and let FeedbackFive do the rest.
Concerned about losing that "personalized" approach? No worries. FeedbackFive's shortcut tags feature lets you insert customer and order-specific information into every outgoing message. Pull in customer names, order numbers, review links and more without lifting a finger.
Protect Your Products' Reputations
Amazon product reviews are clearly important to shoppers and Amazon alike; in addition, they can be very useful for third-party merchants. Figuring out how to get Amazon reviews can seem like a lot of work, but it doesn't need to be that complicated. Sign up for a free FeedbackFive account today, and automate the time-consuming task of requesting Amazon reviews.
Originally published on September 26, 2017, updated September 10, 2019
This post is accurate as of the date of publication. Some features and information may have changed due to product updates or Amazon policy changes.