To Comment or Not to Comment
To comment, or not to comment?
For eCommerce professionals like you, that's often the big question - especially when negative reviews are published by customers on the Amazon marketplace. Will submitting a comment help to address the buyer's concern? Or, will it instead open up a whole new can of worms?
Although there's no one-size-fits-all answer, I can definitely say that being more strategic with review management can make these questions a little easier.
Here are a few suggestions for being more proactive when it comes to reviews.
Monitor Chatter
Before you can properly respond to a negative review, you must first know that one exists. Monitoring Amazon reviews can be a time-intensive process without the right toolset. Some sellers allocate time each day to personally click through their listings and check for new ratings. Others hire administrative assistants or freelancers to do the work for them. Regardless of who does the work, one fact remains the same: someone has to do it.
Alternatively, integrated tools, such as our FeedbackFive platform, can streamline the review management process. With FeedbackFive's innovative tracking and alerting service, you'll be notified (via text and/or email) within moments of review publication.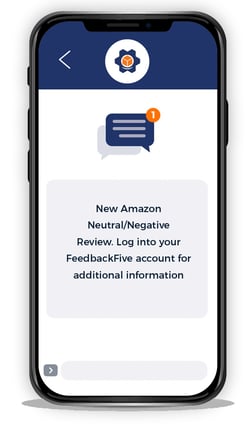 By using FeedbackFive to automate the review monitoring workflow, you can free up more time to focus on what really counts: delighting Amazon shoppers.
Understand the Context
Unlike seller feedback, which is unique to each seller's Amazon storefront, product reviews are not specific to a particular seller (unless you own the ASIN, as with private label products). In other words, sellers competing for an ASIN's Buy Box will share the product's rating equally - despite not sharing the Buy Box itself equally. This reality can be especially frustrating for sellers who go above and beyond to deliver amazing product experiences.
As I'll explain in greater detail in the next section, Amazon.com, Inc. ("Amazon") will only remove reviews when there is a clear violation of the community guidelines. Unfortunately, not every Amazon shopper takes the time to understand the difference between feedback and reviews. This causes some negative reviews to actually be a hybrid of seller feedback and product information, such as this example:
"The product works pretty well. I might buy it again, but the merchant who sold it to me was slow to respond to my questions. Choose wisely when buying this product from a third-party seller!"
Is the customer talking about you - or one of your competitors? Should you respond to the review and ask for more information? Without context, it's hard to know how to proceed.
Know When to Get Amazon Involved
As I alluded to above, there are times when it's best to let Amazon handle the situation - rather than publicly commenting. We've created this in-depth guide for knowing if and when Amazon will remove negative reviews. In short, reviews that utilize obscene language, reveal private merchant details, have been incentivized, infringe on someone's intellectual property or violate any other guidelines are fair game for removal.
I'm sure Amazon has its own way of flagging possible violations. However, if you spot a review that seems to violate the community guideline policy, you can click the "Report abuse" link found at the bottom of each Amazon review.
Get a Commenting Plan
Responding to Amazon customer reviews in a polite and helpful manner can be an effective way to ensure total satisfaction. Doing so can also be useful when digging deeper into potential product performance issues.
However, before posting too many more comments, I would recommend that you institute a rock-solid tracking and commenting workflow. As you build your commenting game plan, consider mixing in a tool like FeedbackFive to supplement your efforts by making it easier to request product reviews.
Originally published on May 31, 2018, updated August 14, 2019
This post is accurate as of the date of publication. Some features and information may have changed due to product updates or Amazon policy changes.