Amazon Product Review Request Best Practices
When the Amazon.com marketplace launched in 1995, online reviews were very uncommon. Many people thought that allowing customers to leave reviews was a crazy idea. But this customer-centric practice is one of the differentiators that has helped Amazon.com, Inc. ("Amazon") grow into one of the world's top companies.
Online product reviews can significantly impact sales conversions. In fact, a study showed that 88% of consumers trust online reviews as much as personal recommendations. In other words, product reviews can mean the difference between hitting a plateau and continuing to grow your eCommerce business.
In this guide, we'll share an overview of Amazon's product review guidelines as well as best practices for requesting and monitoring product reviews.
How Amazon Product Reviews Work
Amazon customers can leave product reviews for items they've purchased on or off the Amazon marketplace. This means that your listings could receive reviews from individuals who did not purchase an item from you. If a buyer has purchased the product from the Amazon marketplace, a "Verified Purchase" badge will be displayed on the review.
When leaving a product review, customers select a star rating between 1-5 stars, with 5 being the best. They can then write a short headline in addition to a detailed product review. Customers can upload photos or videos of the product in the review. When the published review is displayed on the Amazon website, it shows the date the review was written as well as the product variation reviewed. Reviews are searchable and shoppers can vote for whether a review was "helpful" or "not helpful."
Amazon encourages customers to leave genuine ratings of products and services. In order to help encourage authentic reviews, reviewers are required to have made a minimum purchase of $50 with a valid credit or debit card as an Amazon customer in the past twelve months. They are also asked to adhere to Amazon's Community Guidelines when writing reviews. We recommend reading the guidelines in full, but to familiarize you with them here are the basics:
Content shouldn't include profanity or express hatred/intolerance for individuals.
Content cannot contain nudity or sexually explicit images.
Content should not compromise the privacy of others. (Phone numbers, email addresses, mailing addresses and other personal information should not be posted.)
Again, these are terms for Amazon customers who write reviews, answer questions or provide other content on the site. When it comes to product reviews specifically, there are a few other important items to keep in mind. You, your relatives, business associates or close friends should never attempt to create/modify/post content on Amazon regarding your products or services or a competitor's products or services. No one should create/modify/post content in exchange for compensation in any form (this includes free or discounted products, refunds and reimbursements). You may post content upon Amazon's request or while answering a question through the Questions and Answers feature. You may not post a question yourself. When answering a question, you should state that you represent the brand for the product unless Amazon automatically labels you as a seller or manufacturer.
If a customer's review is removed or rejected due to noncompliance with promotional content guidelines, that customer is not allowed to resubmit a review on the product. Buyers who live in the same household cannot post multiple reviews of the same product. Customers can submit up to five non-Amazon Verified Purchase reviews each week. If you receive a review that violates an Amazon Community Guideline, you can flag it for Amazon's review by clicking the "Report abuse" link near the post and entering the reason you feel that it violates the Guidelines.
How Product Reviews Can Improve Your Amazon Business
As a seller or brand owner, you can learn a lot by monitoring product reviews – both your own and those of products you're interested in selling. If your product is getting negative reviews consistently, maybe the SKU is defective. Paying attention to product reviews can alert you to issues, giving you data that empowers you to act, whether that's making the product description more accurate or addressing a product defect with your manufacturer. For example, if you receive several reviews that comment that the item is not the expected color, you'll want to update your listing to ensure that you are setting the right expectation for future buyers. Getting lots of reviews that mention a broken part? It's time to take a closer look at the production process.
Keeping tabs on products you're thinking about selling or on competitor items can help you get a feel for market perception. Are the reviews generally positive? Do customer reviews spark any ideas for you to make your product better than those that are already on the market?
Proactive Customer Service
Looking at product reviews regularly is a good way to stay informed about the customer experience. A negative review is an opportunity to provide exceptional customer service by responding quickly and offering to make things right. Although you cannot ask buyers to change their reviews, a professional public comment can show future buyers that you are listening to what buyers need. (More on this below!)

Negative reviews can also alert you to possible product improvements and provide ideas for bundling opportunities and other ways to make the listing stand out. They can also highlight new use cases; buyers are creative! We've heard from several sellers who say that their customers have given them fresh ideas for product use cases through reviews.
Requesting Amazon Product Reviews
The best way to get more product reviews is to ask for them! Amazon occasionally sends automated emails asking buyers to leave product reviews, but merchants have no control over when these messages are sent. By sending a product review request that is customized for your product, you can create a more personal message for the buyer and enhance the overall customer experience.
FeedbackFive makes it super easy to create product review requests for specific SKUs. You can include product images, exclude refunded orders, create rules for sending requests to a randomized selection of customers and much more.
Staying TOS Compliant
Note that to stay compliant with Amazon's review guidelines you should not ask buyers to leave a positive review or only ask for reviews from buyers who have had a positive experience. Never ask a buyer to change or remove a review. Do not attempt to influence a review in any way. Amazon banned incentivized reviews in October 2016; today merchants are not allowed to offer any form of compensation in exchange for a review. This includes money, gift cards, free products, discounts, refunds, reimbursements and any other future benefits. While fake reviews are still alive and well on the Amazon marketplace, the measures Amazon has taken to stop bad actors mean that attempts to manipulate customer reviews are taken seriously and could lead to serious consequences for your seller account.
You can comment on product reviews as long as your comment complies with Amazon's Community Guidelines. If a buyer has a bad experience and leaves a negative rating, you should try to resolve the issue for the customer. Think about how angry you would be if a product didn't meet your expectations and really try to understand the buyer's perspective. Do your best to resolve the situation. This shows other shoppers that you really do care about the customer experience and that a human being is running your Amazon store. You can never ask the shopper to change their review, but they may choose to do this on their own, especially if you are able to take care of the problem quickly.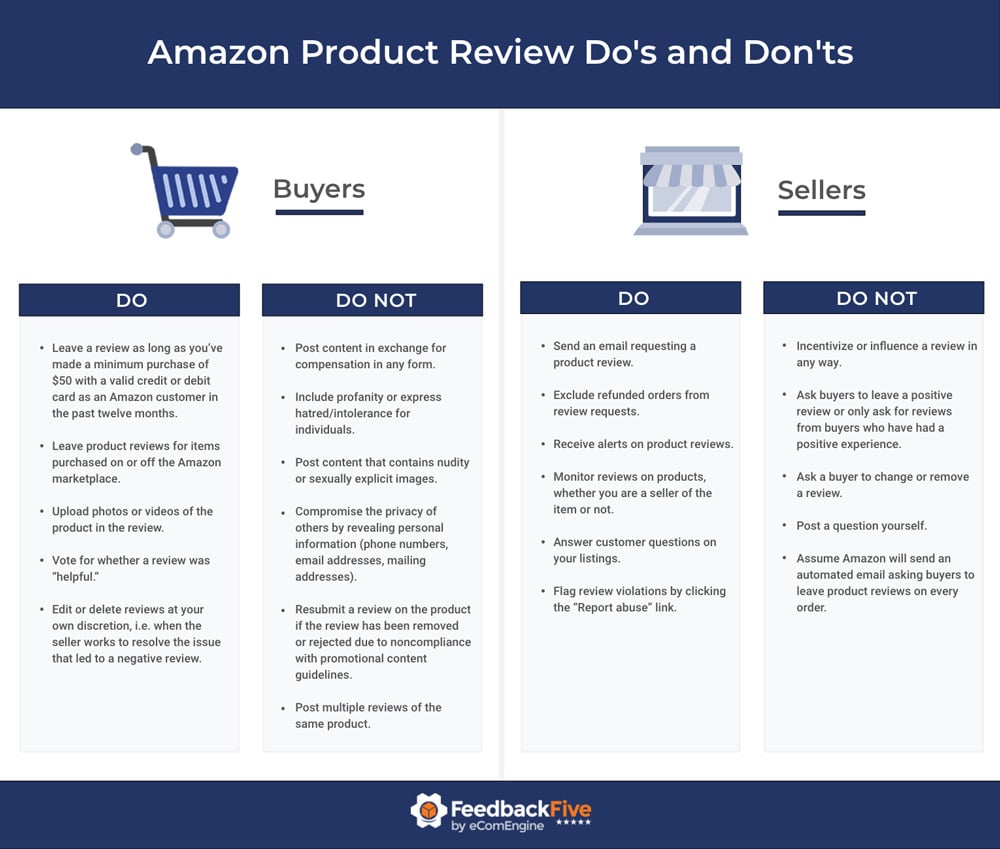 Product Reviews Don't Translate
Are you selling your product on multiple marketplaces? You may have noticed that your product reviews only appear on the marketplace they were reviewed in. (For example, you sell widgets in the US, UK and Mexico. Your US reviews only appear on your US listing, while your UK reviews only appear on your UK listing.) Product reviews are limited to one Amazon site, but reviews from your home marketplace are spotlighted on international listings for the same product. However, the number of reviews from your home marketplace will not affect your rankings and conversions in international marketplaces.
Get Amazon Review Alerts
Amazon does not send notifications when your products get new reviews, so you need to monitor new reviews manually or use a third-party tool to facilitate review monitoring. Many sellers choose to track and monitor their ASINs with FeedbackFive's Product Review Management feature. Users can opt in for email/text notifications when negative ratings are received. It's also easy to analyze trends and see how a product performs over time with detailed product review analytics graphs.
The Case of the Disappearing Reviews
Amazon does not typically delete product reviews. There are only three reasons that a review may be removed from the Amazon site:
Conflicted with Amazon Community Guidelines
Removed by the reviewer
Multiple products were incorrectly listed as the same product (in this case, the review posted for those products are separated and listed with the correct item)
You can learn more about disappearing reviews here. It's also worth noting that Amazon will not remove reviews that compare your product with other products or make your listing look bad if the reviews are within the Community Guidelines. You cannot block buyers who leave bad reviews for your products unless they violate those standards.
Build Your Business with Product Reviews
As an Amazon seller, product reviews can really take your business to the next level. A few well-written reviews can significantly increase conversions and help your product rank higher in search results. Product reviews serve as a form of social proof for buyers who may be on the fence about a potential purchase. By asking for product reviews with a well-written message, you can continue to grow your product's reputation without manual effort. FeedbackFive makes it easy to customize messages for each of your products. Check it out with a 14-day free trial today!
Originally published on June 12, 2018, updated September 11, 2019
This post is accurate as of the date of publication. Some features and information may have changed due to product updates or Amazon policy changes.