Be Proactive About Book Reviews
You've spent months (years!?) carefully crafting every word, patiently navigating the editing and printing process and, finally, you've reached the promised land - your book is on the Amazon marketplace. The hard part is over, right?
The truth is that once your labor of love becomes available to the masses, most of what happens next is beyond your control. Your friends and family may have raved about your talent, but will unbiased readers feel the same way? Aside from sitting back and waiting for critics to declare you the next big thing, all you can do is haunt the Amazon marketplace in hopes of finding positive reviews.
This will be exciting at first, but over time manually checking your book's ratings can become exhausting and tedious. You might even miss a few here and there. Fortunately, you now have a way to keep track of the reviews your book is receiving on the Amazon marketplace without having to check obsessively (unless, of course, you want to!). The best part? It's FREE!
What Could Go Wrong?
As an author, you already know that one of your goals is to stir an emotional response within your readers. Of course, your hope is that this would be a positive thing but, since literature is subjective, every person will interpret your words differently.
While some healthy debate over your work's themes and meaning is welcome since it can, among other things, help generate interest, you might be really frustrated to discover that someone's unsavory opinion has begun circulating on social media sites without the benefit of your clarification as the author.
There is no way, sadly, to prevent someone from misunderstanding your intentions, but by tracking product reviews for your book's Amazon Standard Identification Number (ASIN) you can be proactive in this situation. Tracking product reviews makes it easy for you to comment on the review and add clarity or perspective to the conversation to prevent one person's comments from causing confusion. After all, word of mouth matters when it comes to book sales, and you wouldn't want yours to suffer over something like this.
Analytics Made Easy
After all of your hard work to release a book (with plans for a sequel or two?), follow its journey by monitoring analytics effortlessly. FeedbackFive's Free plan will allow you to track how your physical books and eBook titles are performing over time on the Amazon marketplace.
How does it work? All you have to do is sign up for an account and add your title's ASIN. Then sit back and let FeedbackFive do the review monitoring for you. You'll be able to explore product review trends over time and more with the robust product review analytics. It's really that simple!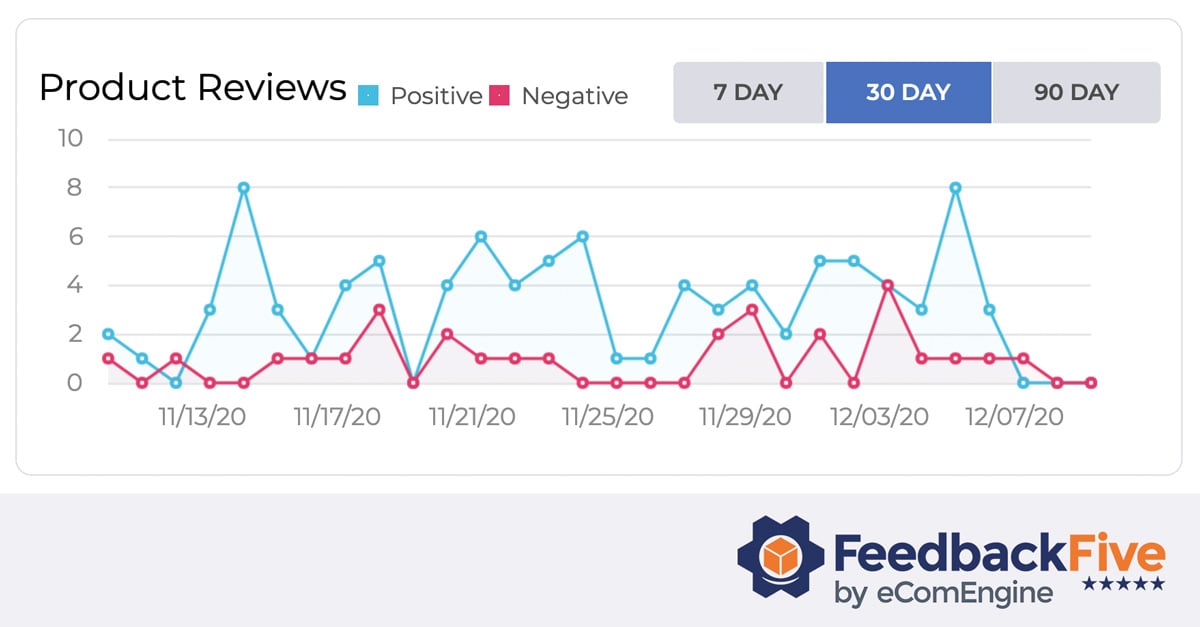 If you upgrade to the Pro plan, you'll be able to receive alerts by text or email when someone leaves a negative review, allowing you to address issues as soon as they arise. You will feel so empowered!
Self-Published Authors Agree
Being faced with the reality that someone doesn't like your work can be a crushing experience. Unfortunately, criticism comes with the territory. By being proactive, you can stay ahead of problems and maintain control over your book's reputation without having to really think about it.
As one business author explained, "FeedbackFive is a secret weapon for the self-publishing Amazon author. Before FeedbackFive, I would have to manually check my book's Amazon page for new reviews. Now, thanks to FeedbackFive, I receive a daily email digest that summarizes the day's review activity. This saves time, but it also makes me feel good to know that my book's reputation is being closely monitored."
Start Tracking Your Book Today
Give yourself some peace of mind. It's easy and it's free to get started, so what are you waiting for? Take FeedbackFive for a test spin with our free trial now!
Originally published on March 6, 2018, updated June 17, 2019
This post is accurate as of the date of publication. Some features and information may have changed due to product updates or Amazon policy changes.