How to Drive Sales on Amazon in Q4
Many merchants find that their sales volume increases significantly throughout Q4. This can be an especially lucrative season for Amazon sellers in particular, thanks to features like Prime shipping, 1-click ordering, simple returns and Amazon wish lists that make shopping easy for busy buyers.
Let's take a look at how to increase your sales on Amazon this Q4. In this article, you'll learn why your seller reputation matters even more when the stakes are high. You'll also find inventory management tips, important dates to remember and even get advice from Amazon experts and experienced sellers.
Before Q4: Get Your Reputation Ready
The importance of your Amazon seller reputation cannot be overstated. At the end of the day, it doesn't matter how hard you and your team work if Amazon and potential buyers are unable to see it. Account health metrics including your Order Defect Rate, Cancellation Rate, Late Shipment Rate, Valid Tracking Rate, On-Time Delivery Rate and Return Dissatisfaction Rate are all part of Amazon's equation to ensure that you are consistently providing a great customer experience.
Shipping orders on time and ensuring that your packaging can withstand a trip across the country can go a long way toward maintaining a solid seller reputation. Your seller feedback rating also plays an important role in account health, illustrating to Amazon and consumers that you are a trustworthy seller.
Your product reputations also matter. Customers rely on reviews to help them make purchasing decisions. Amazon advertising eligibility requirements include a minimum average product review rating.
88% of consumers say they trust online reviews as much as personal recommendations.
The most recent seller feedback has the greatest effect on the Buy Box.
Nearly 80% of reviews are left after the shopper receives a follow up email asking for a review.
Q4 is an important time of year for Amazon sellers. Make sure that you have a plan in place to manage your inventory and promotions throughout the busy season. Take the time to optimize your listings and product images before the orders ramp up. Your seller feedback and product review ratings are even more essential to helping your products sell when buyers are making decisions quickly during the holiday season." -Jay Lagarde, eComEngine Founder & President
Jay Lagarde,


eComEngine Founder & President
---
Smart Inventory Management in Q4
There's a fine balance between staying in stock and not overstocking throughout the fourth quarter. If you are an FBA seller, here are some key inventory dates to remember:

1st Week of November
(Your Black Friday Inventory Arrives at Amazon)
Amazon recommends having your inventory to their fulfillment centers by the end of the first week of November. For Q4 2019, your inventory for Black Friday and Cyber Monday should be at the fulfillment center by November 6th.

Beginning of December
(Your Holiday Inventory Arrives at Amazon)
You should plan to have your holiday inventory arrive at fulfillment centers by the beginning of December to ensure that your products are in stock for peak Q4 sales. 2019 holiday inventory should arrive at the fulfillment center by December 3, 2019.

After December 17th
(Send Next Year's Inventory to Fulfillment Centers)
Prior to December 17th, you should only ship items for the current year's sales into the fulfillment centers.
You'll also want to consider the increased FBA fees when determining how much inventory to send into the fulfillment centers. If you are confident that your products will sell quickly (or at least steadily) throughout Q4, these fees shouldn't affect you much. But if you're concerned about slow moving items, keep in mind that monthly storage fees for October, November and December are about 3x the typical storage fees.
Manage Excess Amazon Inventory
If you find yourself with excess inventory at the end of Q4, you can use the Manage Excess Inventory tool in Seller Central to get recommendations to help you improve your inventory levels. You can also use a tool like RestockPro to manage your FBA inventory.
Effective September 1, 2019, Amazon FBA sellers will have the option to donate excess inventory in the US to charitable organizations. The donation option will apply to inventory that you choose to dispose of, whether it is overstock, returns or other unwanted items.
Maintain a Good IPI Score
Amazon introduced the Inventory Performance Index (IPI) Score in 2018. If you are an FBA seller, it's important to keep your IPI score above 350 to avoid overage fees and FBA storage limits. Having a poor IPI score can really hurt your business, especially in the hustle and bustle of Q4.
The IPI Score is calculated based on:
Excess inventory
Sell-through rate
Stranded inventory
In-stock inventory
You'll see alerts in your IPI dashboard related to improving your score. Employing smart inventory management practices should help you maintain a good score year round.
Expert Inventory Management Insights
"Utilize dual fulfillment if you have the capability to ship orders as well. That way if there's an issue with your FBA inventory or your FBA inventory sells out you can still use merchant fulfilled." -Shannon Roddy, Founder of Marketplace Seller Courses
"When planning Q4 inventory, it is easy to stay focused on the spike in sales from Black Friday to Christmas. And although Q4 of every year is the largest increase in sales for many sellers, it is easy to forget about the upcoming Chinese New Year (CNY) regarding your inventory and the capital needed to fund those orders too. November marks the time of year that we have all our clients execute on getting those CNY orders placed so inventory levels are accounted for and the next year starts off strong." -Brandon Andrews, Editor-in-Chief of The Private Label Insider
How are other sellers preparing their inventory?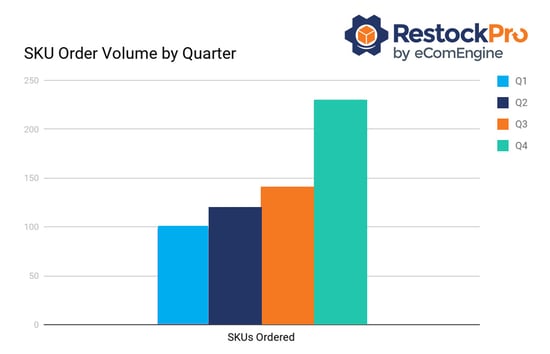 On average, we see that the amount of FBA inventory that our customers keep in stock at the fulfillment centers begins to increase steadily in August. Typically their inventory is about 69% higher in October (their busiest month) when compared to April (their least busy month)."
Joe Hyatt,


RestockPro Product Manager
---
How to Determine Which Products to Promote
Check back on your sales data over the first part of the year and compare every item in your product range. Evaluate areas like:
Number of units sold vs. price per unit
Page visits vs. conversions (actual sales)
Popularity of searches (which items are users searching for, and what keywords are they using)
Success of advertising campaigns — calculate and compare the ROI for each. (Determine net profit / total investment, then multiply by 100 for a percentage.)

Promoting Your Products Throughout Q4
Lightning Deals and 7-Day Deals
Offering a Deal can help you increase sales and reduce inventory. Deals are featured on high traffic pages, giving your product great visibility. You can offer a Lightning Deal or a 7-Day Deal. In order to be eligible to offer Deals, Amazon requires you to be a "Professional Seller with at least five Seller Feedback Ratings per month and an overall rating of at least 3.5-stars." There are also eligibility requirements for your products.
Advertising on Amazon
Amazon Advertising offers several ways to reach new potential buyers at a variety of price points. Sponsored Products, Sponsored Brands, Stores, display ads, video ads and Prime Exclusive Discounts are just a few advertising options to explore.
Month-By-Month Amazon Q4 Promotional Schedule

Submit Lightning Deals for Black Friday and Cyber Monday by mid-September if you plan to run these promotions. You can learn more about eligibility requirements and offering Deals for Events here.

Test out new ideas or ad copy.
Work out any issues before Black Friday and Cyber Monday sales.
Perfect your keyword choices for any advertising.
Optimize your listings and product images.
Ramp up your marketing and monitor your competition to make sure you stay competitive.
Promote your Thanksgiving weekend deals.

Keep going! Holiday sales are nowhere near over by mid-December. In fact, there are often last minute purchases in the days just before the Christmas holiday. As shipping speed increases, it's likely that some customers will still be placing holiday orders as late as Christmas Eve.
Important Dates for Amazon Sellers in Q4
There are a number of important dates to keep in mind throughout Q4. Preparing for Q1 may seem like the last thing on your task list, but time flies and planning ahead is key to success!
Thanksgiving Day, November 28
Black Friday, November 29
Cyber Monday, December 2
Giving Tuesday, December 3
Hanukkah, December 22-30
Christmas Eve, December 24
Christmas Day, December 25
Boxing Day, December 26
Kwanzaa, December 26-January 1
Q4 Advice from Professional Amazon Sellers
"Q4 is a totally different business than Q1-Q3. It's time to be brave, bold and expansive. You'll need more time, energy, inventory and packaging than feels comfortable. (Biggest mistake I made was to stop ordering stock around 15th Dec then I couldn't restock fully for nearly a month as suppliers wind down for a while after Christmas but buyers don't.)" -John Waine, UK-based professional seller
"Build a tribe of die-hard followers and have a strategy for driving external traffic to your Amazon listings on a consistent basis." -Arabella Redford, Optimize My Listings
"Make sure your index is up, you have unlimited storage, and items that generally sell say 10/20 per month will generally sell 4-6x as much if not more!" -Travis Baritt, professional seller and organizer of Midwest e-Com
"Stay focused, stay organized, stay in stock. Q4 is NOT a time to run out of inventory." -Char Anderson, Wholesale Sourcing Experts
Amazon Q4 Trends
In 2018, Amazon broke company records for worldwide sales during what it terms the "Turkey 5:" Thanksgiving Day through Cyber Monday.
Black Friday retail transactions increased by 227 percent in October 2017 when compared to the average in October 2016.
Amazon saw a significant increase in Q4 revenue from $60.5 billion in Q4 2017 to $72.38 billion in Q4 2018.
In 2018, more than 25,000 small and medium-sized businesses sold over $1 million of merchandise in Amazon's stores. That number is expected to increase for 2019.
Have a Great Q4!
Put the tips and advice from this article to work for your business and watch your profits soar this holiday season. Wishing you your best Q4 yet!
Originally published on August 26, 2019, updated October 10, 2019
This post is accurate as of the date of publication. Some features and information may have changed due to product updates or Amazon policy changes.