Build Profitable Relationships with a Supplier CRM
To stay ahead of other FBA sellers, your Amazon business must continuously form profitable relationships with high-caliber suppliers. Unfortunately, relying on spreadsheets or your inbox isn't the most efficient way to track supplier relationships.
In this post, we'll explore why utilizing a supplier CRM that's built for eCommerce, such as RestockPro, can lead to healthier and more profitable relationships.
What is a Supplier CRM?
In the purest sense, "CRM" stands for: customer relationship management. Businesses rely on CRM technology to store and manage customer information (such as contacts, job titles, email addresses, phone numbers, mailing addresses, parent organizations, etc.), interaction details (such as notes that summarize verbal discussions), transactional data (including open orders and pending opportunities) and other relevant intelligence. CRMs deliver a single source of truth for each relationship by centralizing everything under one roof, making it easier to form and maintain effective relationships.
At first glance, RestockPro's supplier management feature looks and feels very similar to a traditional CRM, providing a secure, intuitive solution for managing important business relationships. However, as a tool that's built specifically for supply chain management, RestockPro's interface has been custom-tailored to streamline the organization of supplier information.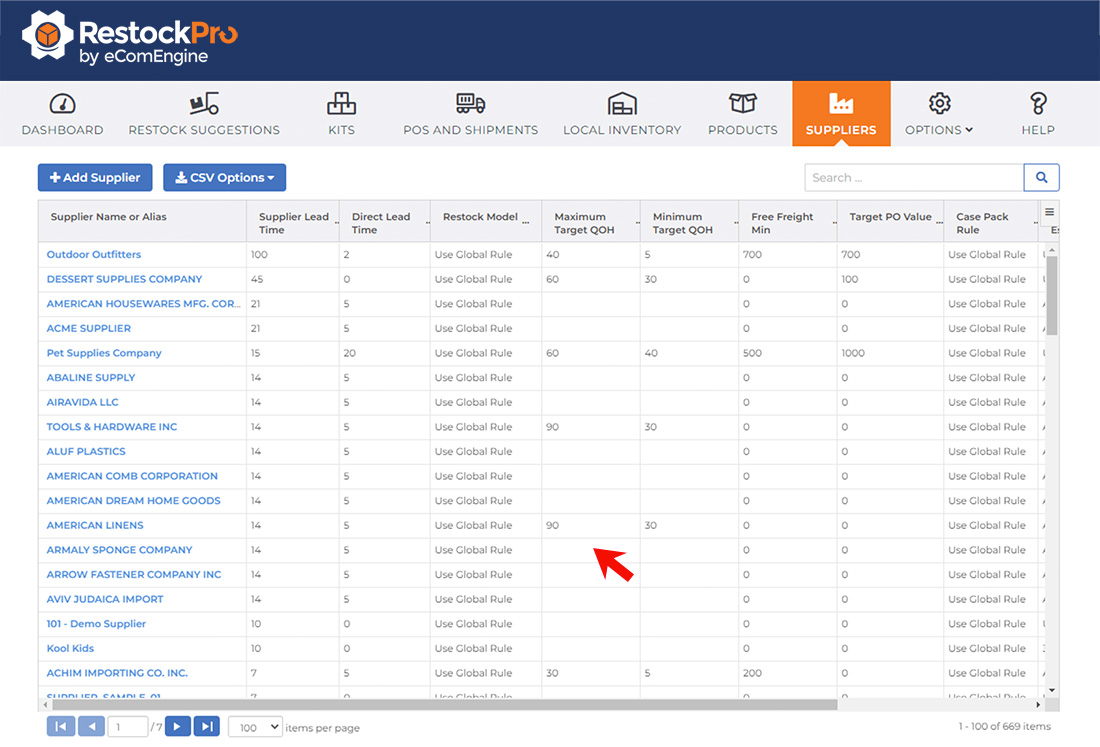 The system is also preconfigured to track supplier-specific details that impact your Amazon restocking process, including:
Preferred restocking model to FBA warehouses
Inbound shipping lead times
Velocity assumptions
Target quantity on hand
MAP (minimum advertised price) policy requirements
In short, a supplier CRM like RestockPro can make it easier to organize the many moving parts of supplier engagement, resulting in greater efficiency and less chaos.
How Would a Supplier CRM Impact My Profitability as a Seller?
In addition to making you feel more organized, a supplier CRM can help you boost the profitability of your Amazon business.
Here's how:
Less Administrative Overhead: Centralized supplier information keeps your team engaged and reduces non-value added administrative work. Rather than digging through emails or spreadsheets, your team can stay focused on restocking and other value-added activities that help you scale.
Simplified Profit Analysis: RestockPro is an all-in-one inventory management system for FBA sellers. Our system connects to your Amazon Seller Central account, pulling in recent order and revenue data. RestockPro analyzes historical trends and estimates your future profitability, bringing clarity to supplier relationships that yield profitable inventory. You can also enter supplier rebate information for each of your products at the product level. This includes any discounts, rebates or marketing allowances your supplier offers for reaching growth targets, making a minimum order, etc. RestockPro automatically includes supplier rebate into your estimated margin calculation, allowing you to more accurately track your margins.
Restocking Efficiency: Knowing what and when to restock is a question that plagues many sellers. RestockPro solves this problem by incorporating your supplier-specific assumptions (lead times, free freight minimums, quantity on hand, etc.) to serve up a daily to-do list of restocking tasks. Spend less time figuring out what to restock and more time making profitable inventory decisions.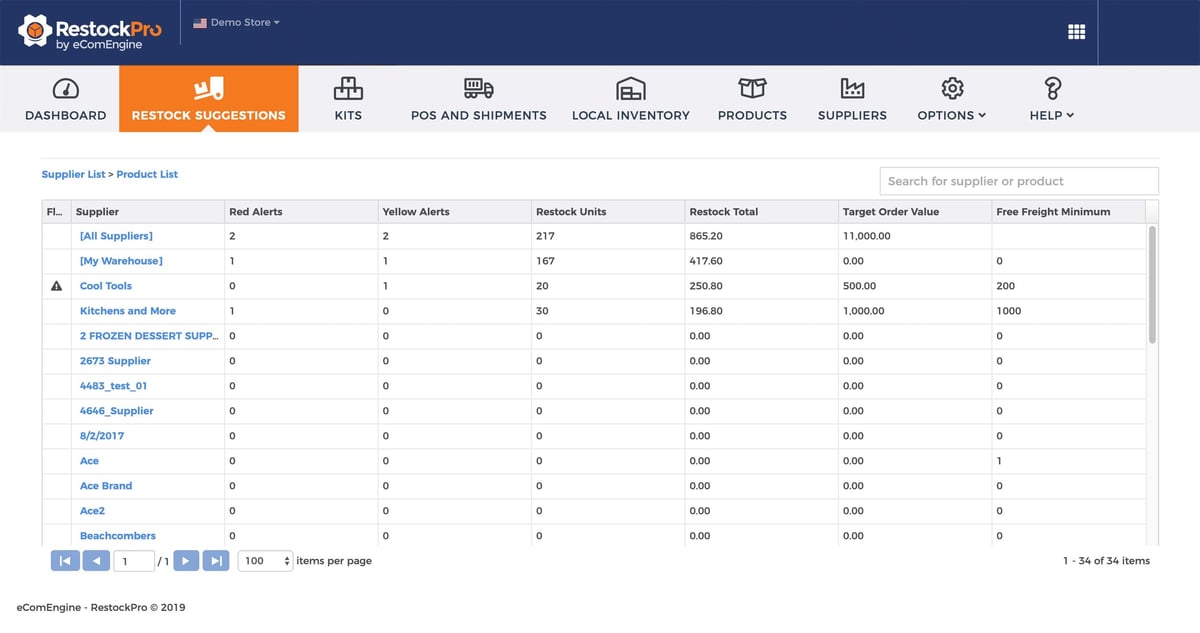 Enhanced Accountability: RestockPro also offers integrated purchase order management, allowing you to build and track POs within the system. Each PO is linked to a specific supplier, providing full visibility into your supply chain. No more second-guessing whether or not a purchase order has been issued - it's all a click away from your RestockPro dashboard.

Make the Move to a Supplier CRM
If you're tired of tracking supplier details in spreadsheets, contact management systems or other places, perhaps it's time you took a serious look at a supplier CRM. RestockPro is built specifically for Amazon FBA sellers like you, so give it a try today.
Bonus: All RestockPro plans allow you to manage unlimited suppliers.
Originally published on October 17, 2018, updated October 1, 2019
This post is accurate as of the date of publication. Some features and information may have changed due to product updates or Amazon policy changes.