How to Simplify Printing Your Amazon FBA Item Stickers
by Joanna Lupo, on December 12, 2015
Unless you are selling commingled items, each product you ship into Amazon FBA must be properly prepped and labeled with a barcode sticker. This makes it possible for the fulfillment center to accurately identify, receive and store your items.
How do you go about printing these stickers?
First, you need to know the general requirements for your product item stickers.
Sticker Requirements
To make sure Amazon is able to receive, stock and sell your items efficiently, they have to have stickers that meet the following requirements.
No other barcodes should be visible. Make sure to cover the manufacturer's barcode.
The item sticker title must match the corresponding item.
All item stickers must be white, unfaded, flat on the item and removable
Then you need to figure out how you'll print your item stickers.
How Will You Print Your Item Stickers?
Again, if you don't commingle your inventory or haven't signed up for the FBA Label Service, you're responsible for stickering every item you ship to Amazon fulfillment centers. You could create the stickers yourself, print them from Seller Central, or you can use RestockPro's sticker tools.
If you decide to create them yourself, you'll need to be sure to comply with Amazon's rules about what information needs to be included and the required format of the item sticker. If you choose to print from Seller Central, they recently updated their sticker printing tools so be sure to test out a few stickers first. With RestockPro's newest sticker features, it's easy to create and print your stickers without ever needing to leave the tool. Your stickers comply with Amazon's policies and procedures.
Stickers may be printed from three options in RestockPro - while you are building a shipment, from your Products page, or while viewing the details of a shipment you've already created.
Figure 1: When you're building a shipment, the option to print stickers appears as the last step of the shipment wizard.
Figure 2: From the products page, select the products and choose the print stickers option from the drop down list under the "Actions" button. Once the sticker preview window opens, click the Modify Sticker Quantities to select how many to print.
Figure 3: From a shipment you've already created, click the Stickers button to print your item stickers or download them to a PDF.
Then, it's time to print.
Printing Stickers with RestockPro
The Sticker Preview window shows you exactly what your stickers will look like. You can even choose to include one of the following bits of information right on your stickers:
(Merchant) SKU
Supplier SKU
ASIN
UPC
EAN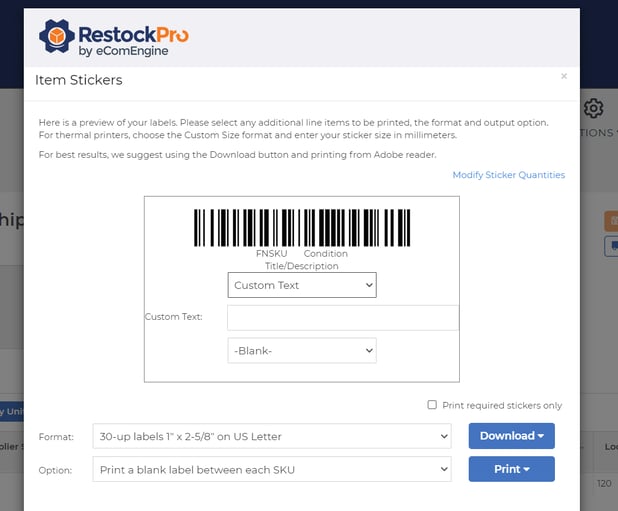 You can also choose the format for your stickers. You can print them on standard 30-up labels via a regular printer, or you can print to a thermal printer like a Zebra or Dymo. You can even save them as a PDF and send them to your supplier or warehouse staff. This ensures that your stickers are clear, easily scanned by Amazon, and in compliance with FBA label requirements.
Printing item stickers with RestockPro is convenient, easy and helps you comply with Amazon's rules and regulations.
Want to know more about RestockPro? Sign up for a free trial today.