Build Your Brand with Amazon Seller Central Reports
Amazon is a data-driven business. They make decisions based on data, not opinions or emotions. Amazon has an immense amount of data in areas such as customer behavior, category performance and buying patterns that businesses would pay good money for. But as most of you know, they share very little. After all, data is knowledge and knowledge is power.
While Amazon doesn't share all this data publicly, it is learning to share more in Seller Central reports to help merchants grow their sales and improve the Amazon customer experience. Today, sellers get enough data (especially brand owners enrolled in the Brand Registry) to help them understand what is working, what isn't working and where there is opportunity for improvement and growth.
Seven Useful Seller Central Reports
Below I have outlined the different reports and metrics available on Amazon Seller Central that sellers should be paying attention to.
Business Reports
These reports focus on sales and traffic data. They tell Amazon sellers what has sold, how much has sold, the amount of traffic that is going to the product pages and whether that traffic is converting into a sale. Understanding traffic and conversion data is important, because it is these metrics that drive sales.
Advertising Reports
With over two thirds of Amazon customers starting their shopping journey in search results, it is vital that sellers understand what customers are searching for, the keywords that are surfacing for their products and the keywords that convert a click into a sale. This data can then be used to optimize your product content and sponsored ads for even better results.
Fulfillment Reports
While your focus is on driving traffic and sales, you also need to ensure that your business is running efficiently from an operational standpoint. Keep an eye on your inventory, customer returns and fees. If you have FBA Export switched on, you can see if you have demand outside of the marketplace you are selling to, which can help you figure out your next international move.
Account Health
You want to ensure your team and any third-party logistics providers are meeting Amazon's operational standards. The last thing you want is to lose your selling privileges or have your account suspended because you weren't able to perform according to Amazon's performance metrics. Keep a regular eye on your account health to monitor their performance.
Brand Stores
Understand if your branded store is getting any visitors and if these visits are converting into sales. Find out where these visitors are coming from: Sponsored Brands, organically on Amazon, or other sources such as Google or social media. If you share the link externally, make sure you attach source tags to identify the exact source of your traffic.
Brand Dashboard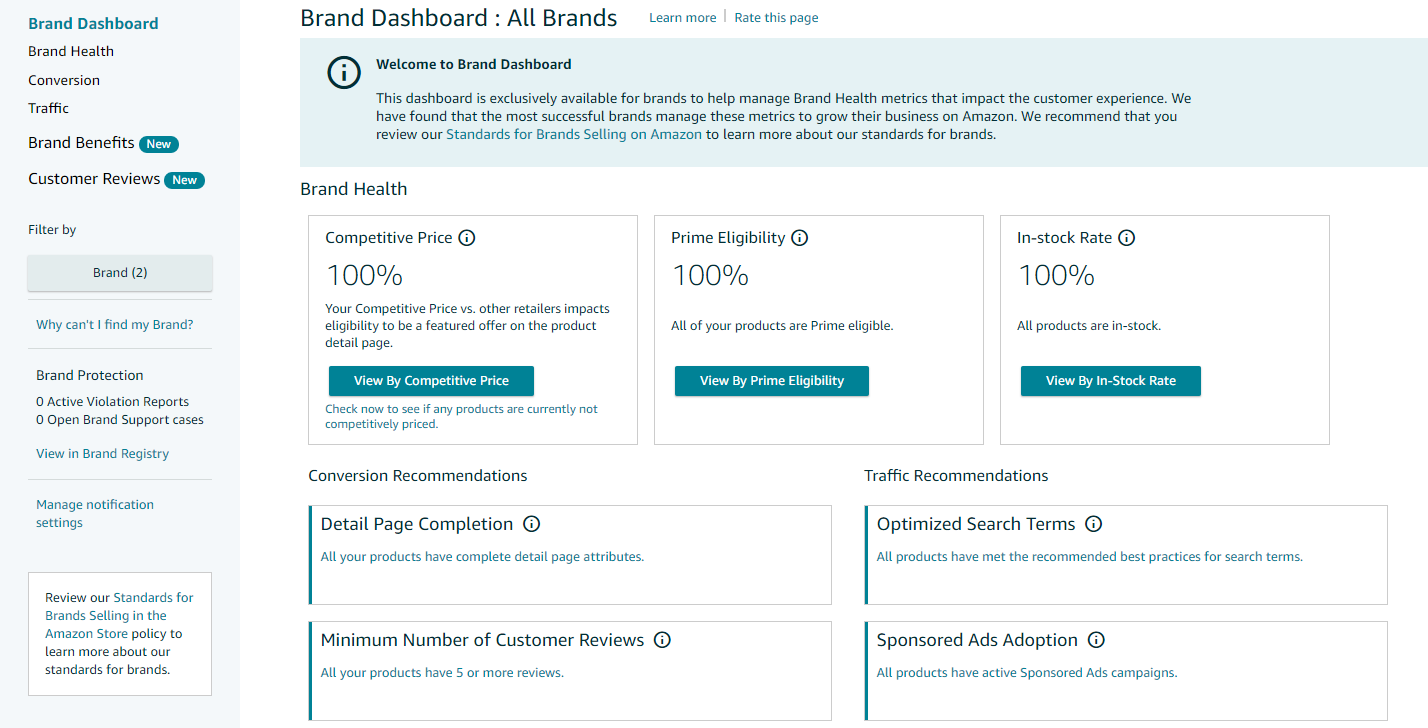 This feature is only available to those brand owners enrolled in the Brand Registry. Brands can review and monitor metrics that impact customer experience and sales, including price competitiveness, Prime eligibility, in-stock rate, conversion, traffic and customer reviews. If any of these metrics are deemed unhealthy, Amazon will provide some recommendations on ways to improve.
Brand Analytics
Brand Analytics is another feature only accessible to brand owners enrolled in the Brand Registry. These reports look at customer behavior, such as Amazon search terms, item comparison and demographics. These reports give brands greater insight into what the customer is searching for, what products are getting the most clicks for those keywords, and what other products customers view when looking at your products. They also provide customer data such as age, education, gender and household income.
With this amount of data on your doorstep, you should be able to make solid business decisions for how to move the business forward. Avoid making assumptions based on opinion. The answers are in the data: where to invest and where not to invest. Sellers should not be afraid to have a go at testing new ideas.
Originally published on July 2, 2019, updated July 2, 2019
This post is accurate as of the date of publication. Some features and information may have changed due to product updates or Amazon policy changes.