Amazon Reviews & the Product Detail Page
Most sellers already understand the correlation between Amazon reviews and an item's visibility on the world's largest eCommerce marketplace. Simply put, obtaining a critical mass of authentically satisfied buyers can cause an item to gain rapid success, fueling a virtuous cycle of revenue growth and additional reviews.
Granted, not every buyer is destined for total satisfaction. As we've pointed out in other articles, some buyers can even be downright ruthless when rating your products.
Although negative reviews can cause short-term pain for professional sellers, they can actually play a pivotal role in improving business practices. In this post, we'll explore how reviews (particularly negative ones) can make a positive impact on your product detail pages - and, in turn, improve customer satisfaction by setting realistic expectations.
About the Amazon Product Detail Page
Before diving too far into the weeds, let's start with a general overview of the product detail page. In case you've never heard the term, Amazon.com, Inc. ("Amazon") describes the product detail page as the place where customers "first learn about your offers." Each unique product on the Amazon marketplace has one product detail page.
As Amazon points out here, product detail pages serve as a shared space to display common attributes for a given product, such as:
Product title
Images
Bulleted lists of features and details
In-depth descriptive information
Variation options
Customer reviews
Amazon permits sellers to create new product detail pages for items that are not already available. Some sellers, particularly private labelers and bundlers, proactively create new ASINs as a means to differentiate themselves, reduce competition and preserve profitability.
Updates to product detail pages are largely crowd-sourced based on the contributions of vendors and sellers. Amazon provides detailed instructions for submitting recommended changes to a product detail page.
Correlating Reviews to the Product Detail Page
Whether you own the ASIN or you're just one of many merchants competing for a share of its Buy Box, one thing is certain: well-crafted product detail pages are key to your success.
Overstating the product's capabilities is a surefire way to disappoint your customers. On the other hand, failing to properly explain features and benefits could yield dismal conversion rates and order volumes. (For more on this, check out our product page optimization webinar with Amazon expert, Liz Adamson.) To find the right balance, smart merchants continuously analyze review chatter and refine product pages to more accurately align with customer expectations.
Unfortunately, without the right tools, monitoring review chatter is tedious at best. Clicking through hundreds of product pages and thousands of reviews consumes time, energy and resources. As a result, many merchants give up and choose to focus on more pressing matters.
Here's some good news: Our FeedbackFive tool can simplify your review monitoring workflow. Just copy and paste your catalog's list of ASINs, and FeedbackFive goes to work, presenting all of your latest reviews in a sortable, filterable ecosystem.
Better yet, FeedbackFive makes it easy to identify high-level trends. Are last month's edits to an item's product detail page helping or hurting? Do customers seem increasingly confused about your published warranty details? FeedbackFive delivers key insights into customer expectations, informs your decision-making process and leads to enhanced product detail pages.
For real-time alerting, FeedbackFive users can enable email and/or SMS text notifications for negative reviews.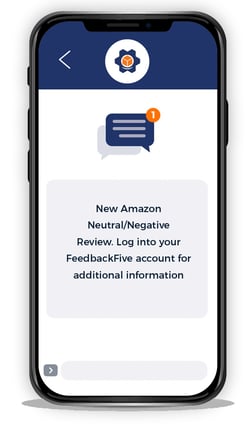 Negative review alerts are particularly useful for private label sellers who need an expedited approach to managing customer expectations.
Let Reviews Guide Your Product Page Adjustments
Clearly, product reviews can play an important role in your product detail page adjustments. To get started with requesting customer reviews, click here.
Originally published on October 2, 2018, updated August 14, 2019
This post is accurate as of the date of publication. Some features and information may have changed due to product updates or Amazon policy changes.