How to Bundle Products on Amazon to Increase Sales
When it comes to selling on the Amazon marketplace there are plenty of ways to make money. Most people start with thrifting and retail arbitrage (RA) then move up to wholesale and eventually private labeling, which is creating your own products with your own brand. This is considered the top of the Amazon food chain. The fact is, private labeling is expensive and time consuming and has a learning curve the size of Texas. The good news is you can have all the benefits of private labeling without all the cost and with far less time and risk.
Introducing Poor Man's Private Label: The Bundle.
Instead of investing thousands developing products and your own brand, think about creating bundles as a convenience for someone who is already looking to purchase several items at a time. Amazon.com, Inc. ("Amazon") already provides an extremely easy and convenient buyer experience, so why not improve upon that with bundles to make buying more efficient, too? A bundle or kit, simply stated, is putting highly complementary items together in a set so that customers have to click and browse less.
I am sure you are thinking "Sure, anyone can do that, how does that make it similar to private label?"
I'm glad you asked! Here is the secret. When creating a bundle, make your bundle impossible to copy by other sellers. How? Include something that is hard to copy. For example, put together a jewelry set and include a gift box with a custom print on it. This is difficult to duplicate unless another seller is able to determine all of the sources for the bundled products. To take it one step further, have a custom sticker printed with a unique brand identifier and put that on the box. Another seller cannot use your logo and will be unable to list on your bundle.
Creating bundles as described above is far less risky and much less expensive than vetting manufacturers from China, ordering samples, waiting, then placing large minimum orders and waiting again, tying up funds for months.
When creating a bundle there are several things to keep in mind. First, follow all of Amazon's rules and guidelines regarding bundles. You can find them here.
A few of the basics include:
no bundling in the books, media, DVD and video categories
never include a restricted brand in a bundle
no photos without pure white backgrounds
all bundled items must be highly complementary
bundles must be listed in the category with the most expensive item in the bundle
Deciding to get started bundling often leaves people intimidated and nervous. Don't let fear stop you from creating a unique bundle where you will have complete control of the Buy Box.
Tips to Get You Started
1) Learn how to create an Amazon listing. If you've never created your own Amazon listing, it's time! Click here for a free how-to video.
2) Do your research. Start with a few products that are already selling on the Amazon marketplace. I could chat for hours about what to bundle, but Amazon has done the work for you. All you need is a few ideas and the Amazon website. They actually tell you what to bundle. It's true! Look at the bottom of product pages, and you'll find the following headings, "Customers who bought this also bought" and "items frequently bought together." These sections are a goldmine of free bundling ideas.
For example, I was looking to replace my shower curtain recently, and as I was browsing I saw customers who bought shower curtains also purchased liners and shower rings to match and spent almost $50 doing so. This is just the the tip of the iceberg. This search led me down a trail of many new bundle ideas. The possibilities are endless. Now that I think of it, I was so excited about my new ideas, I forgot to buy my shower curtain. Oops!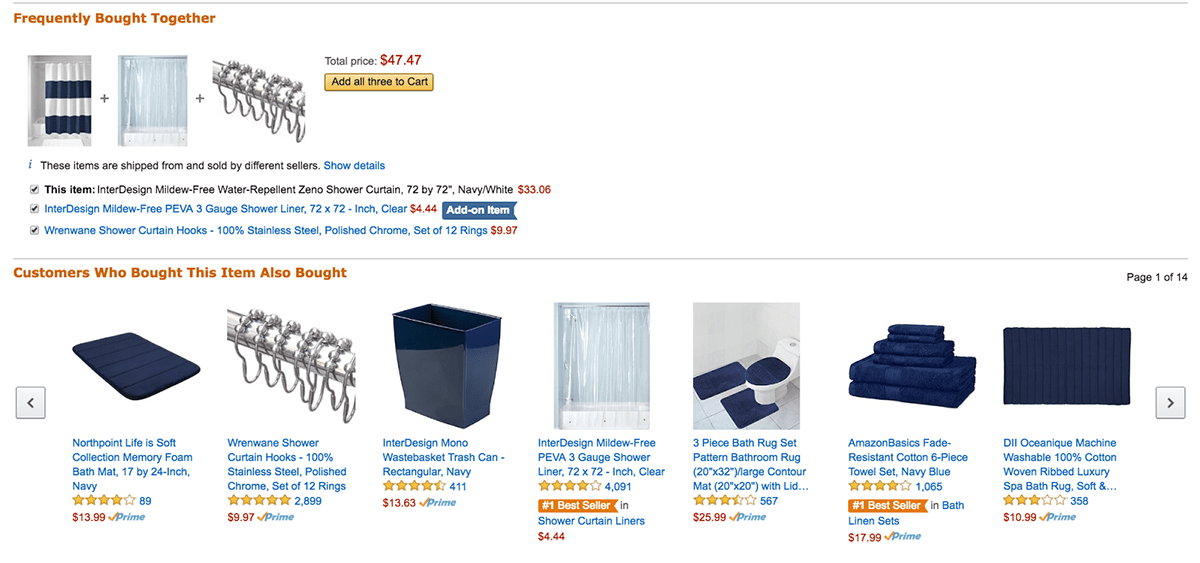 3) Make a good first impression. Pictures sell. Taking photos of bundled items can be challenging if there are too many items in the picture. Keep it simple. Photos must clearly depict all of the items in a bundle so the customer understands exactly what they will be receiving.
4) Don't give up. If your bundle does well, send in more inventory. If it doesn't, try changing the keywords and title. Bundling takes a bit of extra work, but the payoffs can be huge. If you follow these simple steps, you are your way to a whole new realm of Amazon FBA profits.
Our business model has evolved from thrifting, to RA, to wholesale and currently consists of 85 percent custom bundles each with a minimum of 115 percent return on investment. If you would like to learn more about adding bundles to your Amazon business model, you can get more information here.
Ready to start building your own bundles or kits? Check out RestockPro's kitting feature.
Originally published on October 5, 2016, updated September 5, 2019
This post is accurate as of the date of publication. Some features and information may have changed due to product updates or Amazon policy changes.