Tips for an Amazing Amazon Feedback Request
You've started soliciting for feedback from your Amazon customers. Good for you! You're one step closer to improving your seller reputation.
But, are you asking the right way - or at the right time? Could you increase your feedback score simply by tweaking the content or subject line?
In this post, we'll share a few tips for an amazing Amazon feedback request.
Think Like Your Customers
Customers buy stuff on the Amazon marketplace for many reasons, one of which is the predictability that comes with each transaction. The moment an order is placed, Amazon.com, Inc. ("Amazon") sends the buyer a confirmation email. A few hours or days later (depending on the shipment date), Amazon follows up with another email, notifying the customer that the package is in transit. (Amazon actually prohibits sellers from sending shipment and delivery confirmations for this very reason.) Amazon also randomly sends feedback requests, but its pattern for doing so is less predictable and only known by the powers that be.
With such a regimented customer email workflow, it's no wonder that merchants are sometimes hesitant to send any type of unsolicited messages. As some have vocally expressed on seller forum boards, "If it ain't broke, don't fix it." Although we understand this sentiment, there's a serious flaw with this logic. Namely, Amazon uses seller feedback as a major criteria when awarding the Buy Box. Taking a passive approach to feedback rarely yields much fruit and creates a major competitive disadvantage for your business.
The simple truth is that the most successful sellers take every opportunity to solicit positive feedback. In fact, Amazon even encourages sellers to do so, as noted in advice for improving feedback ratings: "Send the buyer no more than one polite request for feedback after the shipment has been received." Since inventing automated Amazon feedback management back in 2009, we've had the privilege to serve many thousands of merchants. And, as we evaluate our growth-oriented customers, one common thread stands out: most, if not all, use our tool to improve their customers' overall experiences.
How do they achieve this goal? The first step is to think like your customer. If you were the customer, in what circumstances would a follow-up email from the merchant benefit your life? What would differentiate an effective message from one you immediately delete? Would you be more likely to read an email personalized for you (or the products you bought)?
Before going any further, consider these questions in the context of your business and customer personas. Spend time crafting a message that is both personalized and well-constructed. (For additional tips, click here to download a free template from FeedbackFive.)
Make it Easy
You should never assume that your customers know how to leave Amazon feedback. In fact, there's a good chance that most of your customers have never done so. For this reason, it's important to provide crystal clear instructions in your feedback solicitation email.
You can include the following instructions in your solicitation email:
Go to Amazon.com and click Your Account in the upper right hand corner. (You will need to sign in.)
In the Orders section, under More Order Actions, click Leave Seller Feedback.
Complete the evaluation form and click Submit.
As an alternative, FeedbackFive makes it even easier for the customer (and the seller). Rather than providing your buyers with a list of steps (which they might forget to do), FeedbackFive's Shortcut Tag feature makes it possible to dynamically insert links to the correct feedback page. Now, instead of asking buyers to open their browsers and make several clicks, customers can go directly where they need to be with a single click.
FeedbackFive also tracks open rate data, which helps you gauge the effectiveness of your solicitation campaigns. If you experience unusually low performance metrics, perhaps it's time to adjust your subject line, design template, email copy or call-to-action hyperlink anchor text.
What about customers outside of your home country? FeedbackFive makes it easy to effectively solicit feedback from them, too. With professionally translated email templates for each marketplace we serve, you can be sure that your customers understand what you're asking them to do.
Ask at the Right Moment
Sometimes, it's not what you say - but when you say it - that actually matters.
The same can be true for feedback solicitation. FeedbackFive allows you to customize when your solicitations go out based on rules that make sense for your products and customers.
For example, let's say that you sell two product families: treadmills and treadmill lubricant. Obviously, the consumption patterns for each product are substantially different, even though they are used in conjunction with one another. Your research also shows that most customers buying treadmill lubricant already own a treadmill.
With FeedbackFive, you can enable SKU-specific campaigns for each product family. When following up on new treadmill orders, you might consider first sending a few educational emails before actually requesting feedback. Sending a helpful owner's manual or warranty guide (learn how to share a document with FeedbackFive) might demonstrate you're committed to providing a highly satisfactory experience - thus, increasing your chances of getting feedback later on. Conversely, for treadmill lubricant sales, you might ask for feedback within an hour or two of delivery, while the customer is still delighted by your rapid shipment and effective packaging.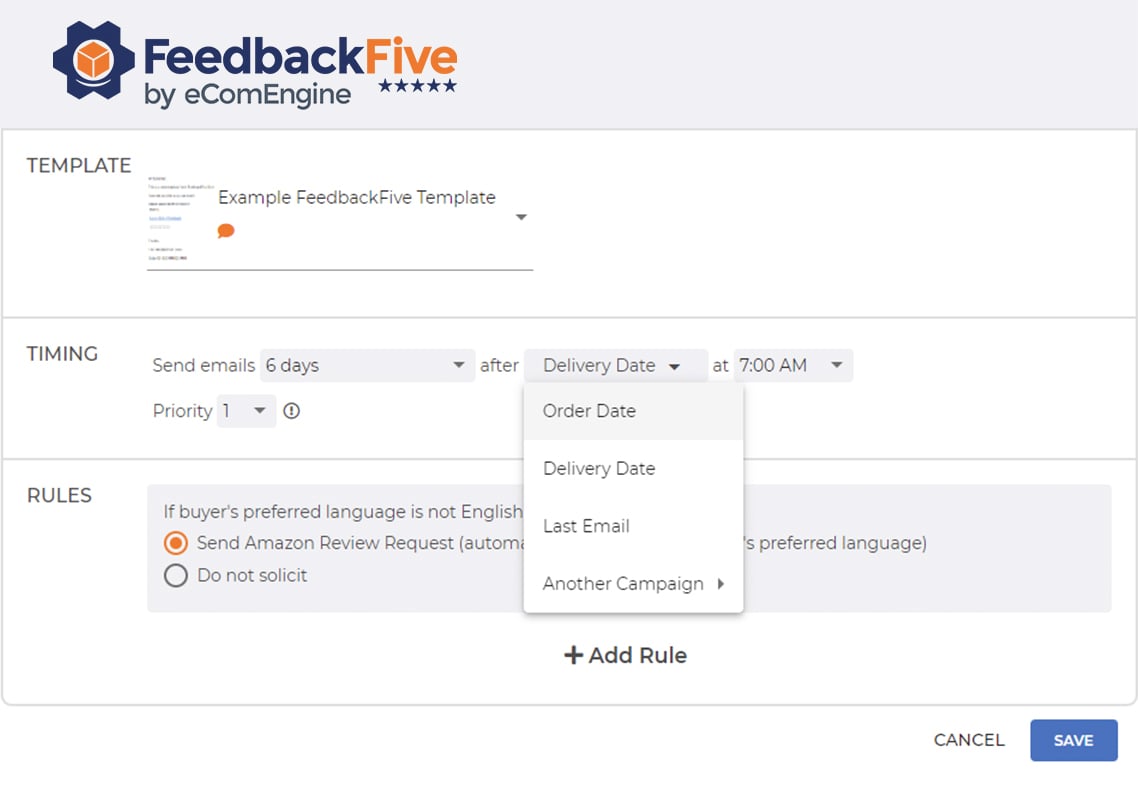 Get More from Each Amazon Feedback Request
If you've made the decision to solicit for feedback, you should really consider trying FeedbackFive (click here to get your free account). Using our web-based tool, you can test different messages, designs, calls-to-action and timing rules.
Our data-rich experience will provide you with the exact information you need to build amazing Amazon feedback requests and engage more customers. Try FeedbackFive today!
Originally published on March 29, 2017, updated September 12, 2019
This post is accurate as of the date of publication. Some features and information may have changed due to product updates or Amazon policy changes.