FeedbackFive's Email Campaigns Feature
You spoke, and we listened! Sellers have been asking us for an even more powerful way to manage their Amazon reputations. That's why we're so excited to announce our new Campaigns feature, a valuable addition to our software that will help you more effectively reach your buyers.
Why FeedbackFive Campaigns Are So Valuable
Creating your own campaign rules allows you to target orders with the most relevant email content, making it easy to reach specific customers with the right message. Campaigns give you the ability to:
Send requests focused on product reviews as well as seller feedback
Time emails to be sent based on order dates, delivery dates, feedback dates and even at specific times of the day
Create product-specific Email Campaigns
Customize existing templates for maximum impact
Wait, product reviews? That's right. The latest FeedbackFive update has added a dedicated email campaign to ask for product reviews. You can request seller feedback or product reviews (or both) with the tool.
How Do Campaigns Work?
Campaigns provide better logic and powerful automation to maximize and optimize the amount and quality of communication you send your customers. Campaigns will appear on the Campaigns Overview Page, and all users will have access to two default campaigns:
Amazon seller feedback request
Amazon product review request
Campaigns will be, by default, inactive for those who sign up for new accounts, but via the Campaign Overview Page, you can see each campaign with its template, change the priority or rank of the campaign, and activate campaigns so you can start sending emails.
You can click on the campaign name to open the Campaign Rules Editor, where you can edit the rules for each.
To change the priority order of a campaign, simply drag and drop. It's that easy.
In fact, Pro and beyond users can create Custom Campaigns by either copying a Default Campaign or they can start from scratch with a new campaign.
All rules appear in simple language, so it's easy to edit them, and you can add rules via simple dropdown menus. Each campaign has one template applied, and you can change the assigned template easily on the Campaign Rules Editor or via the Template Overview Page.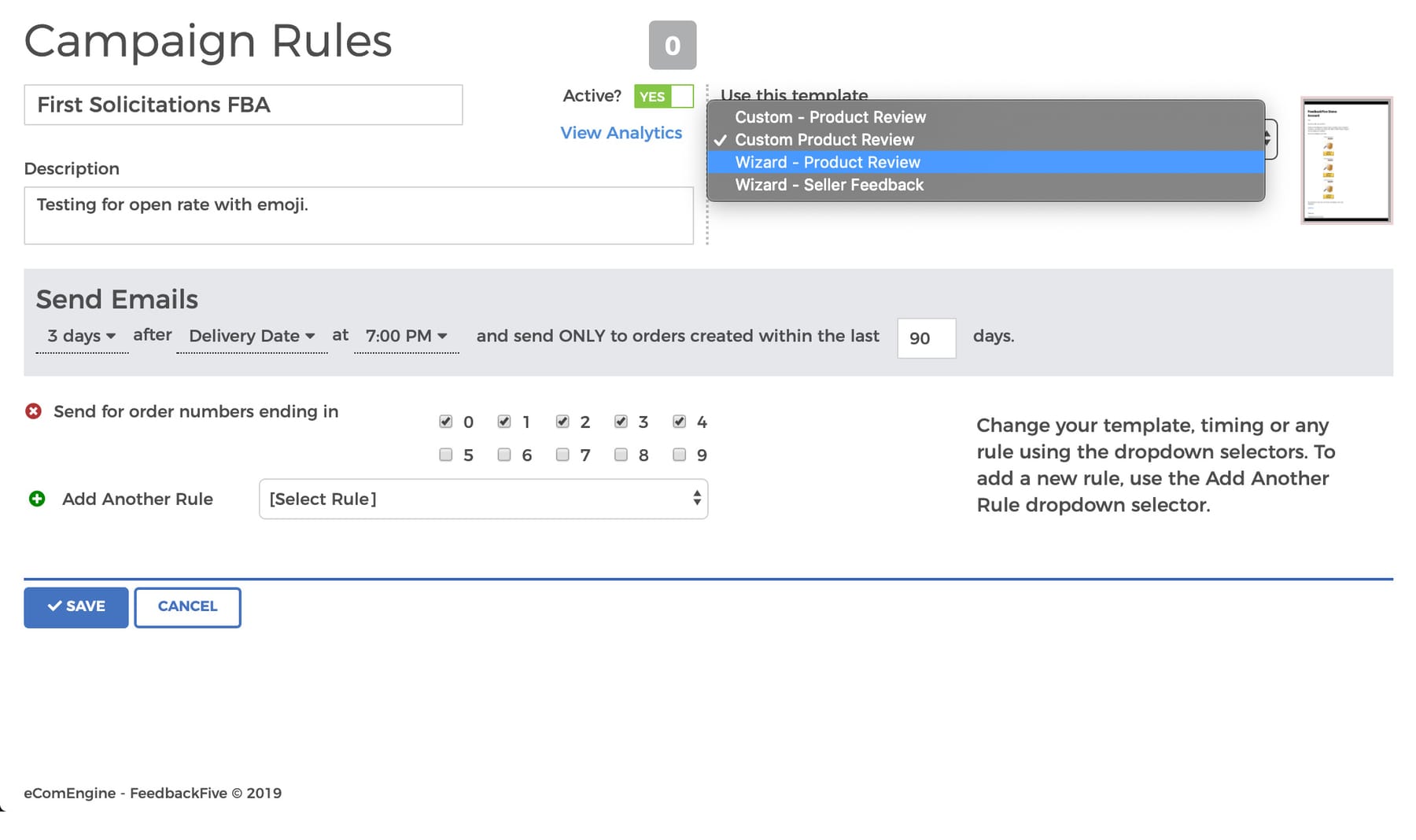 Using the rules options, you can time your emails to be sent a number of days after the order date, Amazon's delivery date or other parameters. We give you the tools, but you have the freedom to use them in a way that will best benefit your business.
It's easy to create and edit templates on the Template Editor Page. You can choose from an HTML or rich-text editor, and we've provided many form-fill options to make populating the template as simple as possible. Some of the form-fill options include specific buyer, seller, or order information, and, of course, there are links you can choose from to prompt the recipient to leave feedback or product reviews.
In the Advanced Template Editor page you can also add images, upload pdf documents and finally choose which campaigns will use which template.
How Will This Impact Existing FeedbackFive Customers?
In addition to creating the ability to send more emails per order, this new feature offers the benefits above and you don't need to do anything special to access it. The transition into Campaigns will be seamless. Our beta testing has been in progress for several weeks, and we've gotten some fabulous responses:
"I think the changes are awesome! Exactly what I needed."
"Automating the product review solicitation process will save me a lot of time."
"The functionality is brilliant!"
"I like the fact that I can target one SKU per campaign and send different messages."
And the great feedback keeps pouring in. We can't wait to see what you think!
There's never been a better time to try FeedbackFive, and if you're a current user, maybe it's time to talk about upgrading your account so you can access the greatest flexibility in creating custom campaigns.
Originally published on September 29, 2015, updated August 1, 2019
This post is accurate as of the date of publication. Some features and information may have changed due to product updates or Amazon policy changes.