3 Reasons to Watch What Your Competitors Sell
Sellers invest big bucks in automatic repricing software and other tools that edge out competitors for the Buy Box. While an aggressive pricing strategy is in most sellers' playbooks, competitor product monitoring is a lesser-known tactic that can yield major dividends.
In this post, we'll discuss three reasons why you should start monitoring what your competitors are selling.
Reason #1: Decide What to Sell Next
Merchants are always looking for ways to cash in on the next Amazon best-selling item. Unfortunately, unless you can see into the future, predicting demand for unproven items can be very difficult - if not impossible. And investing too much capital into risky inventory buys can expose your business to unnecessary risk.
How can you hedge your bets?
One common tactic involves monitoring competitor catalogs and ASINs. For example, let's say that you sell family board games. The holiday season is always your busiest time, which means late summer and early fall are crucial times for making inventory decisions. In addition to stocking up on your perennial winners, you must also try to guess which new games are destined for success. Your suppliers have been touting three new games in particular, but you're still skeptical.
Before you break down and issue a purchase order for several hundred units of each SKU, why not see what Amazon buyers are already saying? After all, a few of your competitors have begun selling the three games on the Amazon marketplace. Better yet, the reviews have started rolling in.
A tool like FeedbackFive while best known for its feedback management capabilities, can also provide the intelligence that you need to make an informed stocking decision. Simply log in, add the ASINs you wish to track and get back to work. FeedbackFive will build a trendline graph for each ASIN, making it easier to see if any (or all) of the SKUs are worth adding to your own catalog.
Need real-time data? Turn on FeedbackFive's email and text alerts to be notified of any new negative reviews. If a buyer posts a concern or complaint, you'll receive a notification within minutes.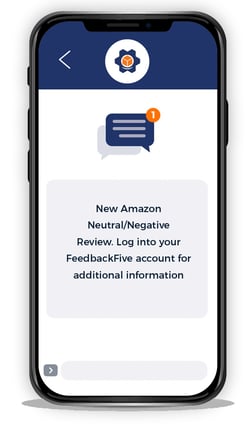 Reason #2: Build Better Bundles
As I've pointed out over on the RestockPro blog, product bundling is a great way to capture more Buy Boxes and improve margins. This can only be true, however, if you bundle together items that people actually want. Remember, a kit is only as good as its weakest part.
Before you try to estimate bundle demand, buy inventory, create a unique Amazon product detail page and prepare inbound FBA shipments, it's a good idea to first do your homework. Spend time studying the following questions:
Does my bundle concept have any direct competitors?
If so, how are the competing bundles rated by customers?
Are all of my proposed kit parts highly rated?
If not, what is the weakest link?
Again, FeedbackFive can help you get quick answers to these types of questions. If you learn that your bundle idea already has direct or indirect competitors, simply copy and paste the competing ASINs into your FeedbackFive dashboard. As buyers rate your competitors' bundles, you'll be secretly refining your own kit - thereby increasing the likelihood of a successful launch.
Reason #3: Monitor Private Label Competitors
With the increased popularity of private label products, the line between seller and vendor has become somewhat blurred. By offering private label products, sellers can enjoy greater profit potential without having to abandon their traditional retail models.
Making the jump into private label products isn't without its own share of risks and considerations. In addition to taking on new supply chain and liability risks, the merchant must be more closely in touch with consumer tastes and preferences.
The good news is that Amazon shoppers never seem to run out of opinions. Why not see what they're saying about your closest competitor? Even if your closest competitor is a national brand, you can learn some invaluable insight from Amazon ratings. By monitoring the ratings of competing products, you're likely to uncover:
Feature enhancement ideas
Competitor weaknesses to exploit
Customer support enhancements
New product suggestions
Start Watching Your Competitors' ASINs
Want to keep a closer eye on what your competitors are doing on the Amazon marketplace? Sign up for a free FeedbackFive account to track two ASINs absolutely free. We also offer affordable review tracking plans, allowing you to watch thousands of competitor ASINs.
Originally published on September 5, 2017, updated August 7, 2019
This post is accurate as of the date of publication. Some features and information may have changed due to product updates or Amazon policy changes.