Use Marketing Funnels to Build Your Brand
by Liz Adamson
I've worked with several dozen Amazon sellers over the years, and I see one common theme among the largest brand owners: they don't limit themselves to just the Amazon channel. I'm not talking about selling on multiple marketplaces, although that can play a role. I'm talking about having a brand footprint across the internet and in some cases, offline.
These brands are not relying on a shopper to come to Amazon, search for "white tennis shoes" and buy their product. These brands are creating a broad presence across the internet and driving traffic to Amazon, their eCommerce store or both and capturing customers through all phases of the sales funnel.
What is a Sales Funnel?
Also called a buying, marketing or purchase funnel, a sales funnel describes the process a customer goes through before making a purchase. The steps within the funnel can vary in description but generally will look like this: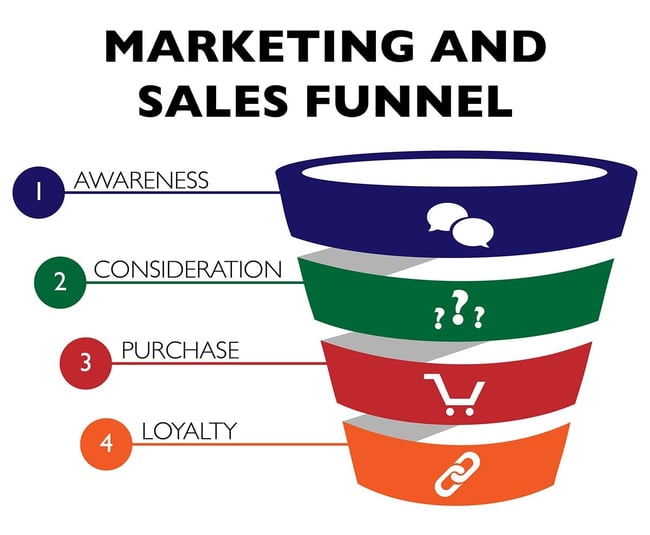 Each stage of the funnel has different characteristics and is treated differently in marketing. Different stages of the funnel will also be shorter or longer depending on the complexity and price point of the product. More complex or expensive products will have a longer consideration or research phase; whereas for simpler and less expensive products, all four stages could be completed in one day. Keep in mind that the higher up in the funnel your advertising is, the lower the return, but the idea is to grow the number of customers in the purchase stage where ROI is much higher.
Awareness
Before a customer will buy your product they need to know it exists, whether it's awareness of your brand, type of product, the problem it solves or all of the above. You can create this awareness in a few different ways:
Consideration
Customers who are aware of your brand or product type, thinking of buying and possibly doing more research are at the consideration stage. You need to make sure that your brand is visible and top of mind to keep moving them down the sales funnel. Here are a few ways to do that:
Purchase
Customers in this phase are ready to buy. Make sure that you are there when they search, whether it's for your brand name specifically or a more general term. Many customers on Amazon are in this phase, so you do need to make sure you are fully present in Amazon search results. This will be a combination of placing ads where customers are making their purchases and ensuring your product page is ready to convert them. This includes:
Loyalty
This phase is sometimes overlooked by Amazon sellers, but critical to creating a thriving business. Keeping an existing customer is often cheaper than acquiring a new one. So how are you going to get them to buy again? There are a few options:
Keeping the entire purchase funnel in consideration will help you grow your sales long term. Feeding the top of the funnel by raising awareness is critical to making sure you have plenty of customers in the purchase stage. If your growth efforts have stalled and you've been focusing mostly on bottom-of-the-funnel activity, consider how you can expand your reach and awareness and bring more customers into the sales funnel.
Originally published on February 20, 2019, updated August 7, 2019
This post is accurate as of the date of publication. Some features and information may have changed due to product updates or Amazon policy changes.