How to Monitor Your Brand's Reputation on Amazon
For many brands, the Amazon marketplace has become one of the top distribution channels (if not the top channel), particularly with regard to order volume. The reason is obvious: with the success of the Amazon Prime program and millions of helpful customer reviews, more consumers than ever are opting for the convenience of the Amazon shopping experience.
Although the Amazon marketplace presents countless opportunities for brand owners, there are a few challenges to consider. This is especially true when it comes to tracking, filtering and responding to customer product ratings. How can your brand make sense of it all?
In this post, we'll share a few tips for managing your brand's Amazon reputation with our FeedbackFive tool.
The Challenges of Manual Review Tracking
Whether your company manages its brand activities through the Vendor Central dashboard or a Seller Central portal, your options for review tracking are somewhat limited. We regularly speak with both vendors and merchants who own or manage private-label brands. In our conversations, we routinely hear some common themes.
Do any of these sound familiar?
Lack of real-time alerting for new reviews
Difficulty in analyzing an item's true popularity over time
Limited review analytics
Unpredictable workflow for dealing with negative reviews
Few options for data analysis (review segmentation or filtering)
For these reasons, many brands turn to third-party apps, such as FeedbackFive, for additional brand tracking firepower.
Automated Monitoring of Reviews
With FeedbackFive (track your first two ASINs for free), your brand can improve its responsiveness to customer reviews and optimize in-house tracking capabilities. Getting started is super easy. If you're a Seller Central merchant, you can connect your account to FeedbackFive in a matter of seconds. Simply sign up for our tool and follow the prompts to authorize access through the Amazon Marketplace Web Service (MWS) API. If you're a Vendor Central brand, contact us to set up your FeedbackFive account.
Once logged in to your account, you'll be able to rapidly add all of your ASINs. FeedbackFive then goes to work, continuously monitoring any new activity for the ASINs you've defined. Your product review dashboard then makes it easy to visualize item-specific data, such as:
Positive & negative review metrics (2-day, 7-day, and 90-day totals)
Lifetime average rating
Date of last review
Your notes about that item
Reviews linked to orders you've fulfilled (if you're a merchant)
...and much, much more
If you're a visual person, you might find our review analytics feature to be helpful. Drill down into any ASIN and your review data is presented in a whole new light:
Real-Time Alerting
In addition to offering an intuitive reporting dashboard, FeedbackFive is especially helpful when you need real-time review notifications.
For example, let's say that you're the brand manager for a major line of women's makeup. As the brand manager, you naturally enjoy hearing the accolades that roll in from satisfied customers. But what about the dreaded one-star or two-star reviews? While your competitors overlook low ratings as anomalies, you view them as valuable learning opportunities. Your team also tries to quickly respond to such reviews, in an effort to enhance satisfaction.
FeedbackFive can streamline this process by texting and/or emailing you when a negative review has been posted. Rather than waiting for a daily summary report from your Vendor Central dashboard, FeedbackFive gives you the information within the hour.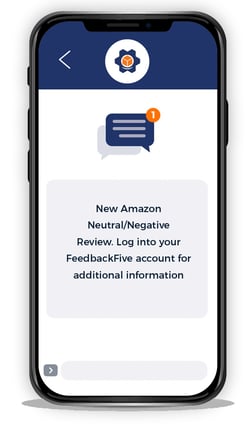 Armed with this information, your team can follow up faster and more efficiently. Your customers will be impressed, so much so that they might remove their original negative ratings.
Streamline Your Brand's Amazon Reputation
Your brand's reputation is arguably the most important asset you have. It's time that you took steps toward protecting it on the world's largest eCommerce marketplace.
Try FeedbackFive today to monitor, track and take action on Amazon reviews.
Originally published on January 19, 2017, updated August 13, 2019
This post is accurate as of the date of publication. Some features and information may have changed due to product updates or Amazon policy changes.