Why Seller Support Can't Help You (And What To Do Instead)
by Chris McCabe
Most Amazon sellers who lose one of their prized ASINs or even their entire account just reach out to Seller Support on the phone moments after reading the notification. After all, it says right at the bottom of the message that Seller Support will talk to you about this email. Unfortunately, what they do not indicate is that Seller Support cannot help you appeal the action or decide if you deserve reinstatement.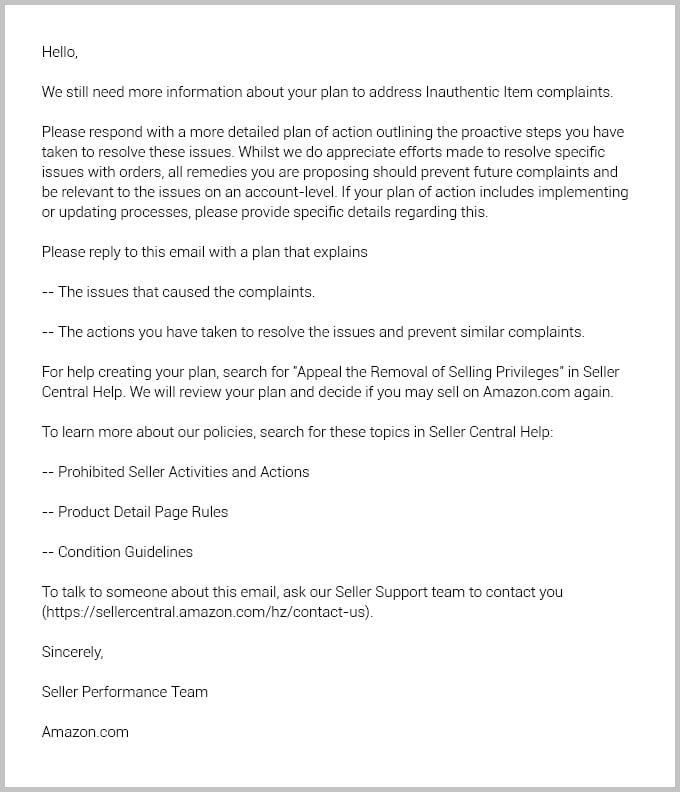 Can Seller Support Fix Your Amazon Account?
What does a seller do with no one to talk to? They usually open cases with Seller Support, trying to get an answer. But Seller Support is not Seller Performance, something which creates much confusion for many buyers.
For the most part, calling Seller Support gives you a channel to vent through, and offers you a chance to get some guidance on what may have caused the problems.
Seller Support handles the phones and "customer service" for sellers via the case system, but Seller Performance investigators rarely open those, or read the annotations. Sellers often find that their interactions with Seller Support never appear to be considered as part of their appeals process, and that's true. Seller Performance barely has enough time to review the Plan of Action you send them properly, let alone case annotations. They expect you to put what they need to know in writing, and in an email (or using the Appeal button, if you're suspended) so that they don't need to look around for details.
Seller Support can listen to you and open cases for you, or add annotations to a case. Sometimes they could even help you resolve questions with technical teams or catalog depending on what your listing or "How to" question might be. But I've seen numerous cases where sellers were told to do the opposite of what they needed to do. This happens presumably because Seller Support has you on the phone with them and they need to tell you something in order to conclude the call or close the case.
"Just Call Seller Support" and Other Bad Advice
I've seen dozens of cases where poor guidance or bad information came from a Seller Support rep. Take anything you're told with a grain of salt, especially when it comes to enforcement actions that teams like Product Quality initiate against you. Sometimes Seller Support gives poor or incorrect advice on listing restrictions and suspension matters, in particular.
On the other hand, if a Seller Support rep looks at your internal account annotations (using a tool called Workbench) then they read to you what it says, that certainly IS helpful for obvious reasons. None of that internal info would be available to you otherwise. Beyond that, make sure anything you cover with them is backed up, in writing, to Seller Performance or Product Quality teams.
Why Does Amazon Lack Phone Support for Seller Performance?
There are hundreds of thousands of sellers, and each day thousands of messages are sent out to sellers for various reasons. In the past year, Amazon.com, Inc. ("Amazon") dabbled with efforts to assign investigators to a handful of sellers to guide them through smoothing out any rough edges of their Plan of Action. But there's no real way to scale a system where sellers could call Seller Performance to talk about their account problems, especially since each call would likely last a long time. Amazon does not want to encourage a system of dependence on phone calls to resolve seller needs when they already struggle to keep up with email queues.
While we can all ask why they don't hire many more people to accomplish better support of either the phone or email variety, the bottom line is that these gaps are unlikely to change anytime soon. It's worth it to strategize appropriately based on the current state of affairs and leave the agitation for improvement to others.
OK, So What Do I Do?
What can you, as an Amazon seller and not an omnipotent deity, do to communicate with Amazon?
You can vary your communications, and not send the same thing over and over.
You can contact different email queues, and separate out escalation queues once you've reached the point where you're stuck in an ongoing loop going nowhere.
When to Contact Seller Support:
To get some idea of your account annotations or specific order comments that caused the problems. They'll never give out the order numbers and compromise a buyer's privacy, but on rare occasions they'll read off some annotations to you or quote a buyer's complaint, if it's an item quality issue. This can provide you useful info that will not appear in anything you get back from Seller Performance emails, even if the rep you're speaking to is not supposed to hand that over.
To see why you haven't received a response, in some cases, you can get someone who will tell you why. That may help determine if you should keep waiting.
To find out if there's a TT (trouble ticket) languishing somewhere related to your account restriction. Those could take awhile to resolve if they are assigned or stuck on someone who almost never works on tickets.
When to Contact Seller Performance:
Emails submitting a Plan of Action in appealing an ASIN or account restriction.
If requesting a manager's review or at least that of a senior investigator, make that very clear in the early part of your messaging. Make sure also that you have the best of all possible POAs first, before you escalate. Indicate specifically how the investigations gone by were not handled properly and where you provided all info needed to reinstate.
Take things as far as you can. If you can't get a solid response or they prompt you to revise another Plan of Action, consider a rewrite and resubmission to Seller Performance before escalating again if they send the same answer.
Initiate escalations to higher levels or different teams if your escalations to Seller Performance don't get you any farther than the previous level of responses. Jeff is waiting to hear from you, don't let him down! Give him your best shot.
It's not always easy to understand these differences until you have to. Seller Support, Seller Performance, and Product Quality can seem like they float around in the same murky alphabet soup without clear definitions for each. But it's crucial to understand which team you'll need to reach out to depending on each situation. Otherwise, you'll waste precious time and cost yourself sales waiting for the right response from the wrong team.
Originally published on February 18, 2017, updated August 13, 2019
This post is accurate as of the date of publication. Some features and information may have changed due to product updates or Amazon policy changes.