Take Your FBA Purchase Order Management to a New Level
by Joanna Lupo
Profitability with FBA rests largely on investing in the right products, optimizing your supplier relationships, and running your business with a high degree of efficiency. Poor record-keeping or incomplete purchase orders (POs) can cut into your efficiency, making it impossible to keep track of purchases and inventory quantities.
If you're already using our inventory management tool RestockPro, you know how simplifying the issuance and tracking of POs is one of its key benefits. To learn more about three new features that will help you achieve greater efficiency and profitability, skip to our discussion of those upgrades below. Or, if you'd like a quick review of RestockPro's PO management capabilities, read on.
Centralized PO Management and Dashboard
RestockPro's cloud-based software acts as your inventory specialist, providing you with reorder suggestions so that you don't run out of stock on your FBA items. These suggestions give you an up-to-date forecast of what needs to be ordered.
Once you've reviewed the forecast and made your decisions, create a PO in RestockPro to forward to your supplier and to inform the system of impending inventory change. Whether your suppliers ship directly into FBA for you, or you bring items into your local warehouse for prepping, RestockPro's PO will ensure several things. First, that the correct inventory quantities are ordered, whether they're received locally or shipped to FBA. Next, that they are accurately tracked, and finally, that they reflected back into your inventory forecast (restock suggestions).
The tool provides you with an easy-to-use dashboard that gives you at-a-glance metrics about your store. Take note of the Supplier Reorders section, which shows you a summary of the reorders you need to place with each Supplier. Click the Supplier name to get started building a Purchase Order. Alternatively, click Restock Suggestions on the left menu:
You can view, work on, and re-create existing POs on the Orders and Shipments page:

Three RestockPro Upgrades: History, Tracking and Display
While RestockPro has always offered PO management, we've recently made some improvements that make Amazon success even easier. These upgrades can help you improve cost estimation, calculate margins more realistically and communicate more effectively with your suppliers.
SKU-Level Purchase History
Historical data is now more accessible with RestockPro's PO upgrades. Now when you are looking at a SKU, you can view all the PO history for it. This also makes for a more accurate Estimated Margin, as you can choose an option for RestockPro to do average costing. It will calculate your product cost based on the history of your purchases of it.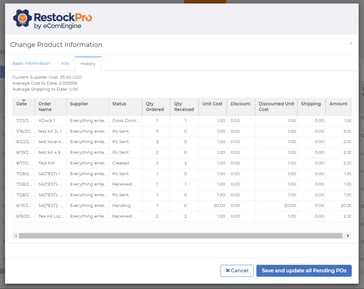 Track Discounts, Shipping Costs & Notes
Our purchase orders feature also includes the ability to enter discounts, shipping costs and notes. You can enter discounts on a per-PO basis as either a percentage or a monetary discount, or you can enter them on a per-line item basis. This gives you the ability to more accurately calculate realistic margins that reflect any savings you may have realized.
RestockPro's POs also contain several new Notes fields. Use the Order Tags or Order Notes for tracking your receiving updates about the overall order. You can even save notes for an individual line item in your order. RestockPro will automatically capture information about parts ordered for kits in the notes field, too. All of these fields help you keep track of your order and simplify communication among your buyers and warehouse personnel.
Customize the Look and Feel of Your POs
Finally, you're able to customize your purchase order more. When you create your PO, there are store settings available; so you can choose which columns appear for each line item. And from the PO page, you can enter custom freeform notes to display to your supplier.
And, voila:
Issuing POs based on restock suggestions is a core feature of RestockPro, but one we're constantly improving, as you can see. Are you looking for a way to streamline your supplier POs and enhance your FBA success? Try RestockPro today.
Originally published on January 5, 2016, updated April 25, 2019
This post is accurate as of the date of publication. Some features and information may have changed due to product updates or Amazon policy changes.