4 Products Worth Monitoring on Amazon
Amazon reviews can be an excellent source of business intelligence. Think about it - everything you'd ever want to know about a product is just a click or two away. In case you hadn't noticed yet, Amazon shoppers love to share their opinions - good or bad. :)
If you're a FeedbackFive user, you're probably already tracking a few of the ASINs you stock. That's a great start, but don't stop there! Our review tracker can do so much more for your business.
This article presents four product types that you should be tracking in FeedbackFive.
1. Your "Superstar" Product(s)
The 80 / 20 rule asserts that the majority of your Amazon order volume will likely originate from a select group of ASINs. Although you try your best to diversify your product catalog, some products just rank better than others.
For the sake of discussion (and to make the math easy), let's assume that you have 100 ASINs in your catalog. After some fancy data analysis, you determine the following facts are true:
Your top 10 ASINs represent 55% of your sales revenue
Your top 20 ASINs represent 72% of revenue (not quite 80%, but close!)
Your top 30 ASINs represent 83% of revenue
What would happen if a few of your top ASINs experienced serious quality or performance issues? Even a few negative ratings from customers could be enough to cause noticeable dips in sales rank (and revenue).
Receiving real-time review alerts can help you stay in the loop, provide meaningful feedback to your suppliers and, hopefully, ward off sharp fluctuations in revenue.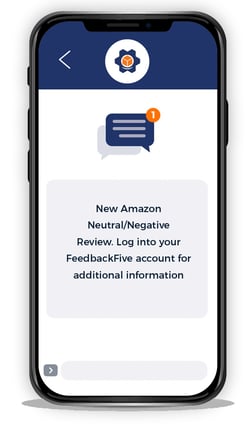 2. Your Worst Product(s)
Once you've solidified your superstar tracking, it's time to consider the other side of the coin: your duds.
Even the best product research tool can't see into the future. What looked like a winner last year just hasn't panned out. Should you hold on for another six months and incur more FBA storage fees? Or should you drop the price and liquidate ASAP? To answer these questions, you need more than a gut feeling. It's time to listen to what customers are actually saying about the product.
FeedbackFive can deliver much-needed context for making informed inventory decisions. For any ASIN, you can see how an item is trending. Are things finally starting to turn around? Or, perhaps, things have gone from bad to worse. Visualize 7-day, 30-day and 90-day review trend lines - no pivot tables required!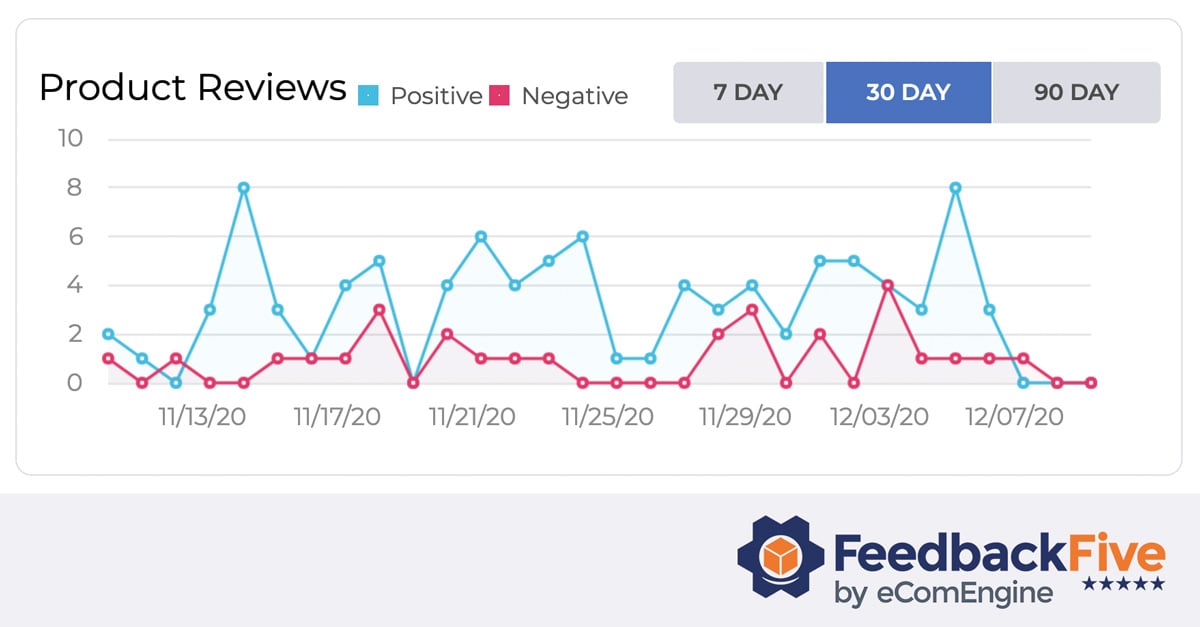 3. Your Competitor's Best Product
The Amazon marketplace is becoming increasingly competitive for sellers. Of course, this reality makes winning the Buy Box a little harder than it was in the "good old days." On the other hand, a smart merchant like you realizes that competition can also be your best friend. Here's how.
Let's revisit your top ten ASINs (as mentioned in section 1 above). Although several are private-label items for which you own the Buy Box, most are not. For those, you share the Buy Box. With each passing day, more competitors seem to pop up, which keeps your repricing software busy - to say the least.
Why not beat your competitors at their own game? Clearly, you can see who is vying for the Buy Box on your top-grossing items. Are there other up-and-coming items in their catalogs that would fit well into yours?
Just copy their ASINs, paste them into FeedbackFive and add "notes" for future consideration.
4. Something You're Thinking About Building
For many forward-thinking Amazon merchants, 2017 has been the year of private labeling and bundle building. Supply chain and Buy Box ownership are two major catalysts driving this trend forward.
If you've been thinking about building a product bundle or private-label SKU, it's wise to start by listening. In most cases, your new ASIN will be competing with one (or more) existing products. Why not monitor the chatter? You might gain invaluable insight before you ever invest a dime into R&D.
To illustrate my point, let's assume you specialize in men's hair care products. You've been thinking about bundling your top-selling comb, brush, hair gel and shampoo into a new kit. You've also toyed with the idea of launching your own comb and brush line. You're just not sure what to do first.
As a first step, I would recommend tracking the reviews of your would-be competitors. Reviews like these would be invaluable as you consider your options:
"Waste of money. This is the worst brush in the world. I wish someone would come up with a brush that actually works for men with thick hair. I've tried them all, and this is just another example of the garbage that's out there."
"I bought this brush (along with the same brand's comb and shaving cream) as a gift for my father-in-law. It works well, but it would be nice if it came in a gift box. I had to go to the store to find one that fit all this stuff."
"Poor quality. I can't believe this is rated so high. I've bought this product before, and the manufacturer is definitely starting to drop the ball."
Monitor What Matters Most
Whether you're looking to track your top-performing products or something else, FeedbackFive is an increasingly important tool for your business. Click here to add more ASINs into your FeedbackFive dashboard.
Originally published on November 2, 2017, updated July 7, 2019
This post is accurate as of the date of publication. Some features and information may have changed due to product updates or Amazon policy changes.