Private Label Sellers: Amazon Reviews & Continuous Improvement
Here's the scenario:
You're a private label seller who specializes in affordable, yet elegant costume jewelry. Among the many tasks that fill your daily schedule, you try to make time to read recent Amazon reviews from customers. After all, you're well aware that getting reviews on Amazon.com is an important part of becoming more visible (and more successful). You also truly care about what shoppers have to say!
Lately, you've been noticing a few subtle jabs hidden within the mostly positive review history of your top-selling bracelet:
"It's a beautiful piece of jewelry, I just wish the clasp was a little easier to fasten and unfasten."
"Great product and price. A little hard to get on and off, but worth it."
"My wife loves it, but I think the clasp is going to break off soon. Hope not."
Although no immediate action seems necessary, it's clear that customers are trying to send you a message for this particular ASIN. That gets you thinking...what other messages are you missing for the dozens of other ASINs that you're selling on the Amazon marketplace?
In this post, we'll lay out a more systematic workflow for managing continuous improvement feedback from customers.
Start by Getting Your Reviews in One Place
Before rushing to any conclusions about your products, it's wise to take a step back and seek a more holistic view. After all, a handful of isolated comments may have less to do with your product and more to do with chance.
Unfortunately, customer reviews aren't accessible from within your Seller Central account. As a result, many sellers in your situation would begin the time-intensive process of scrolling through published reviews. The good news is that Amazon.com, Inc. ("Amazon") offers several review filtering options, including publication date, star level and verified (or unverified) buyer status. That's a great start, but such filters aren't all that useful in the scenario discussed above. After all, customers are still leaving positive ratings; they're just using their comments to suggest possible enhancement ideas.
An alternative solution to this problem involves the use of our FeedbackFive tool. More than just a feedback management system, FeedbackFive can track and organize review data for the ASINs you care about. Adding ASINs to FeedbackFive takes just a few seconds of your time, but the payoff can be quite substantial. Once added, FeedbackFive begins monitoring for new Amazon reviews. Even better, FeedbackFive imports (and maintains) a fully searchable 90-day archive of each ASIN's review history.
If you choose to track multiple ASINs, FeedbackFive can save you even more time. Instead of jumping between various Amazon product detail pages and review pages, FeedbackFive consolidates everything into a single, streamlined view.
text
Organize, Filter & Analyze
Let's say that you've decided to give FeedbackFive a try, and, after doing so, you've identified several other reviewers who expressed similar product concerns. Now what?
For starters, I would recommend making good use of our "Notes" feature in FeedbackFive. This feature allows you to add free-form text notes to any review, making it easier to organize and act on your reviews. For example, you might add the following notes, briefly summarizing the sentiment of each customer's rating:
Clasp: "about to break"
Clasp: "cheaply made"
Clasp: "difficult to use"
Keep in mind that your notes are sortable in FeedbackFive. Following a consistent nomenclature (such as the one I just outlined above) should make it easier to classify potential issues and spot trends.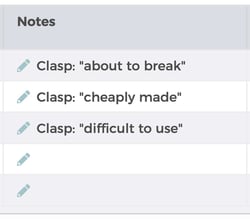 I should also point out that FeedbackFive allows you to create (and save!) custom review filters. This is especially helpful as you identify commonalities in reviews. For example, let's imagine that most of your clasp-related issues come from 4-star, non-verified buyers. FeedbackFive lets you hone in on such reviews with a single click.
More of a spreadsheet person? You can even export your review data to CSV format for deeper analysis.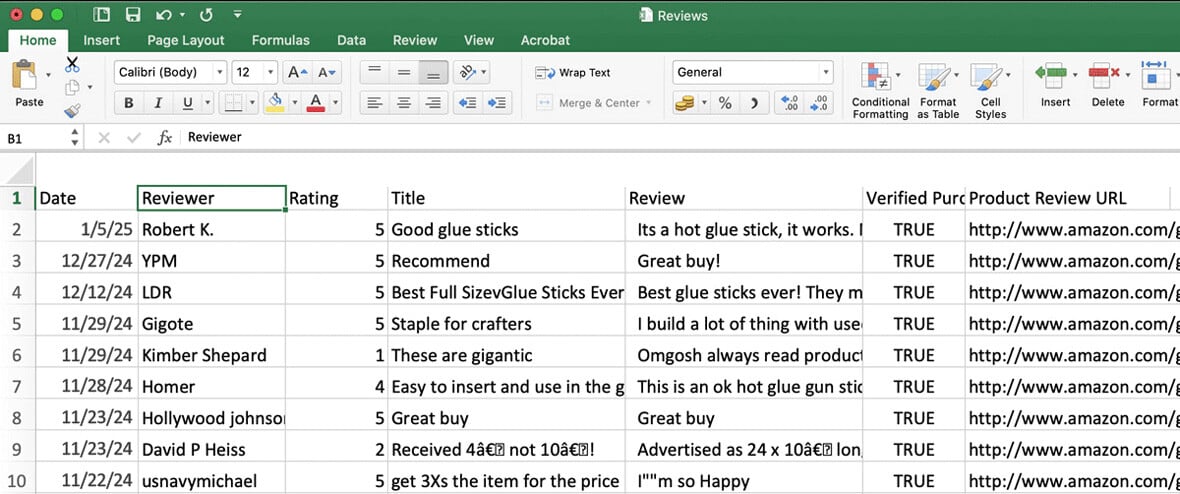 Amazon Reviews & Continuous Improvement
As an Amazon private label seller, you're clearly motivated to stay ahead of the curve and deliver consistently unbelievable product experiences. Amazon reviews (particularly customer comments in the reviews) can serve as a gold mine of product intelligence. By leveraging a review management tool like FeedbackFive, you put yourself in a prime position to take your products to the next level.
Ready to put reviews to better use for your private label products? Try FeedbackFive risk-free today.
Originally published on May 8, 2018, updated August 14, 2019
This post is accurate as of the date of publication. Some features and information may have changed due to product updates or Amazon policy changes.