The Parent-Child Relationship: ASIN Review Tracking
They say that the apple doesn't fall far from the tree.
Does this adage hold up for products on the Amazon marketplace? Without an automated review management system, it's difficult to know for sure.
In this post, we'll explore how to streamline your review tracking workflow for parent-child product relationships.
A Quick Recap of Parent-Child Relationships
Analysts often speculate as to why the Amazon marketplace has become the world's most trusted eCommerce platform. Great prices, bountiful product reviews, convenient checkouts and fast shipping options are commonly cited reasons. These are certainly contributors, but there's also another point to consider: Jeff Bezos' dream of building a marketplace that sold everything. Just check out the mission statement of Amazon.com, Inc. ("Amazon"), and you'll see what I mean: "Our vision is to be Earth's most customer centric company; to build a place where people can come to find and discover anything they might want to buy online."
A website that promises to help people "discover anything" worth buying simply can't offer a limited selection. In addition to providing the world's broadest online catalog, Amazon must also guarantee unbelievable depth. Unlike your local department store, which may only offer two or three colors of your favorite sweater, you can usually count on every color being available on Amazon.com. (Which is, of course, in large part thanks to third-party sellers like you.)
With limitless product variations to track across millions of products, Amazon has developed very specific parent-child guidelines for merchants. In short, variations are typically organized on the parent's product detail page and displayed as options just below the list price. This reduces the number of overlapping products in the Amazon search results, thereby providing a more convenient experience for shoppers.
A few "valid" parent-child relationships might include:
A candle that is offered in three different scents
A baseball hat that is available in several different sizes
A scrapbook with five color options
Important Note: There are certain scenarios in which a parent-child relationship is not considered valid. Amazon lists several examples here.
How Parent-Child Reviews Work
When it comes to Amazon reviews, parent-child relationships can get especially tricky. Why? Well, child reviews are also batched together onto the parent's main product page. On the one hand, this can be helpful for sellers who are interested in maximizing awareness for a product. Rather than driving reviews on multiple landing pages, all solicitation efforts can be funneled to a single page. On the other hand, it presents a distinctive challenge when it comes to monitoring customer satisfaction. Is there a defect with the red version of that shirt I'm selling? Do people particularly dislike the peach scented version of my private-label lotion brand? Sadly, there's not a great way to answer questions like these (unless you have FeedbackFive, that is).
Bring Clarity to Your Products' Family Trees
Our review monitoring feature in FeedbackFive lets you track parent and child ASINs separately. Just copy and paste the ASINs you wish to track, and our software will automatically monitor the child ASINs! Within minutes, you'll be able to see which parents and children have recently received reviews and if the ratings are positive or negative.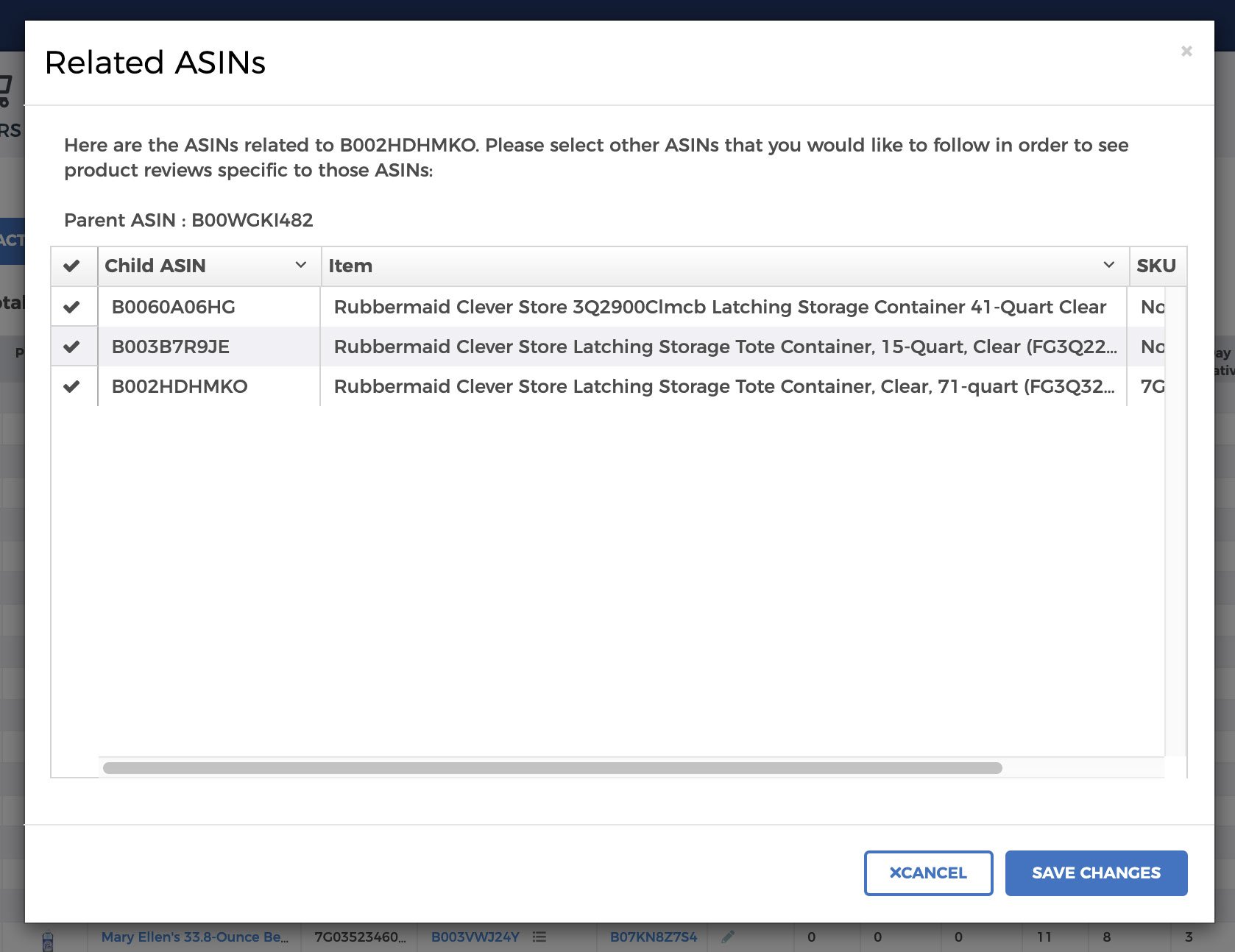 As new reviews are received, FeedbackFive can also alert you (via email or text) if a negative rating has been received. This helps you keep a close eye on your "problem child" variations.
Build Better Product Family Relationships
If you sell products with variations on the Amazon marketplace, it's important to have a well thought-out reputation management strategy. Don't let one bad apple ruin the entire barrel of fruit. Sign up for FeedbackFive and begin tracking each relationship in your product family.
Originally published on January 24, 2018, updated August 12, 2019
This post is accurate as of the date of publication. Some features and information may have changed due to product updates or Amazon policy changes.