Amazon Keyword Indexing FAQs for Product Pages
by Liz Adamson
We had great attendance at our webinar on product page optimization. (If you didn't make it check out the recording here.) I covered a lot of great material, from the factors that go into increasing your total product sales to how to create a stunning product page that brings in traffic and generates sales.
There were a lot of great questions that we did not have time to address, many of them around keyword indexing and research. Keywords are a critical foundation to product page optimization and marketing, so I'll answer several of your questions here.
Q: What does it mean to be "indexed" for a keyword or search term?
A: I'll give a very basic definition. Search engines, like Amazon's A9 or Google, rely on keyword indexing to help them decide what search results to show for a particular search query. A9 or Google essentially creates an index of keywords and what product pages are associated with that keyword. With A9, Amazon.com, Inc. ("Amazon") basically "reads" your product page and notes or indexes the copy or keywords you have used to describe your product. Each keyword is counted once and more weight is given to keywords in the title.
Q: How many keywords can you enter per product?
A: Amazon indexes the title, bullets, description and backend search-term fields. The number of keywords is ultimately limited by the character constraints in each field. That said, I am not an advocate of the practice called "keyword stuffing" where you add so many keywords to copy it begins to become hard to read and drives down your conversion rates. Always write copy with the customer in mind that uses your most popular search terms in a natural way throughout the copy.
Q: When using keywords in the product description, can you still be less formal there? Tell a story, etc?
A: Absolutely. This is what I'm referring to when I tell clients to write copy with the customer in mind. Copy should primarily be used to communicate the value of your product, your brand story and convince your customer to buy. Keywords come into play as they can be naturally worked into that copy and can guide you on how to phrase a particular feature, for example whether your call your product "wireless" or "bluetooth" (or both terms interchangeably) based on what phrase customers are using to find products like yours.
Q: Where can I find keywords to use in my copy?
A: I start with just listing all the features and benefits of your product. Then, take those words and phrases and enter them into Amazon's search bar. Amazon will then generate suggestions for you that look like this: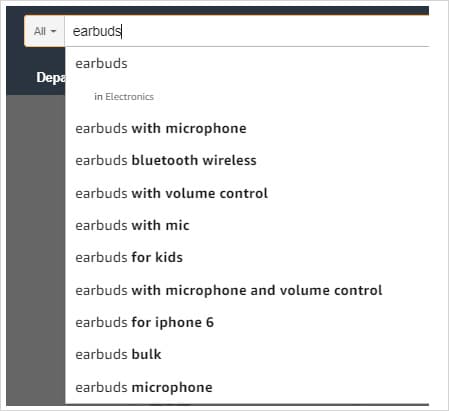 If you add a # symbol before your keyword you'll get a slightly different list.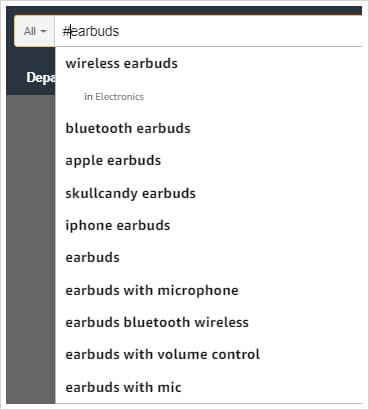 These suggestions represent how Amazon customers search for products like yours. You will want to have these phrases in your copy so that the A9 algorithm can index your pages for these keywords.
If you want to build an even bigger list, take these suggestions and put them into a third-party keyword research tool that can generate hundreds more combinations of your keyword phrases, all based on Amazon customer search data.
Always use only keywords that are actually relevant to your product. Indexing and bringing in traffic for top search terms that have little to do with your product will not help you in any way. You want to bring in customers that are actually looking for a product like yours.
Q: What do I use the backend search term field for?
A: Use this space for any keywords you did not put into your front end copy. These can be alternative spellings or synonyms or any other keywords that you don't want mixed in with your sales copy for whatever reason. For example, if you use the word "headphones" on the front end, you may want to put variations like "head phones" on the backend. Keep in mind that you do not need to repeat anything on the front end.
I've also noted that if you keep the keywords in a logical order, they index for phrases better. For example "headphones for kids women men teens" will index for "headphones for kids," "headphones for women," etc.
Amazon has several other guidelines for their backend search term fields as follows: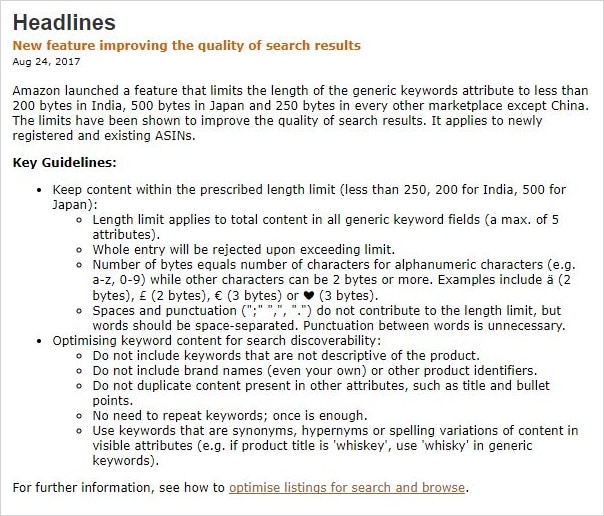 Keyword indexing is the foundation of any Amazon marketing and sales strategy. If you are not researching and being deliberate about the keywords you use in your product copy and backend, you may not be indexing for key search queries and missing out on relevant traffic. Your keyword research will also be valuable when building Sponsored Product and Headline Search campaigns that can be used to drive even more traffic to your product pages. Don't skip this vital step when creating your product pages. Without proper keyword indexing, Amazon will never know what customers to send your way.
Did you miss the Product Page Optimization webinar? Click here to watch it now.
Originally published on May 17, 2018, updated August 26, 2019
This post is accurate as of the date of publication. Some features and information may have changed due to product updates or Amazon policy changes.