Amazon Bundle Products: What Makes a Good Bundle?
Lately, you've heard a lot of Amazon coaches discussing the merits of bundling.
Unlike individual products, which can become intensely competitive, bundled (or "kitted") items tend to be less sensitive to hypercompetition. Upon launching a new bundle, the seller enjoys total Buy Box ownership (unless a competitor figures out a way to reverse engineer your kit). This is especially true when the bundle contains a private-label component that is exclusive to your eCommerce business.
With bundling on the rise, how can you leverage Amazon bundle products to your advantage? What makes the perfect bundle? Let's discuss this topic.
Here's What Amazon Suggests
As with almost everything else related to selling on the Amazon marketplace, Amazon.com, Inc. ("Amazon") has a few things to say on the topic of bundling. In fact, Amazon has a rather extensive "product bundling policy," which can be found here.
We'll save the bundling-related rules for a different discussion and instead focus on Amazon's tips for creating an effective bundle. In short, according to Amazon, a bundle should possess these properties:
Provides convenience and value to Amazon shoppers

Consists of highly complementary items (think peanut butter and jelly)

Contains branded products (i.e. avoids generic items)

Unique and not a duplicate of something already available on Amazon
Amazon doesn't stop there. In fact, as many bundling coaches point out, the "Frequently bought together" section of an item's product detail page can be an excellent catalyst for bundling ideas. If you're unfamiliar with this feature, just check one of your top-selling items. Amazon's algorithm dynamically recommends complementary product combinations to shoppers. You might even be selling these individual parts separately! Could this be a new bundle opportunity? It sure seems so.
Consistent with Customer Buying Habits
Amazon.com can certainly be helpful for identifying new bundled products, but it's not the only source of ideas. In fact, you're possibly sitting on a gold mine of data and not even realize it. Specifically, I'm talking about past customer order history.
There are obviously several ways to access and analyze customer order history. Since many of you who are reading this article already use our FeedbackFive tool, I'll use that as the example. FeedbackFive pulls in a wealth of order details, including feedback rating, customer name, SKU, date of purchase and much more. All of this information is organized into a sortable and filter-friendly format. Within seconds, you're able to visualize each customer's recent interaction with your Amazon business.

Did the customer order one item from your store and then order a complementary product a few days later? Does one SKU seem to be commonly purchased in tandem with another? These are the types of questions to ask yourself when examining customer buying habits.
Profitable for Your Business
Last, but not least, your bundles should obviously be a profit center for your business. Unfortunately, tracking bundle profitability is not always as easy as it seems. In many cases, you may still be selling parts individually while also selling the kit as a whole. As inventory comes and goes, this makes your bookkeeping rather challenging.
That's where our RestockPro kit management tool comes in handy. In addition to helping you keep track of individual parts and kit inventory levels, RestockPro keeps a close eye on bundle profitability. RestockPro tracks supplier cost data, fulfillment expenses and actual revenue from the Amazon marketplace. Our software uses this historical performance data along with real-time market intelligence to build an action-oriented restocking plan.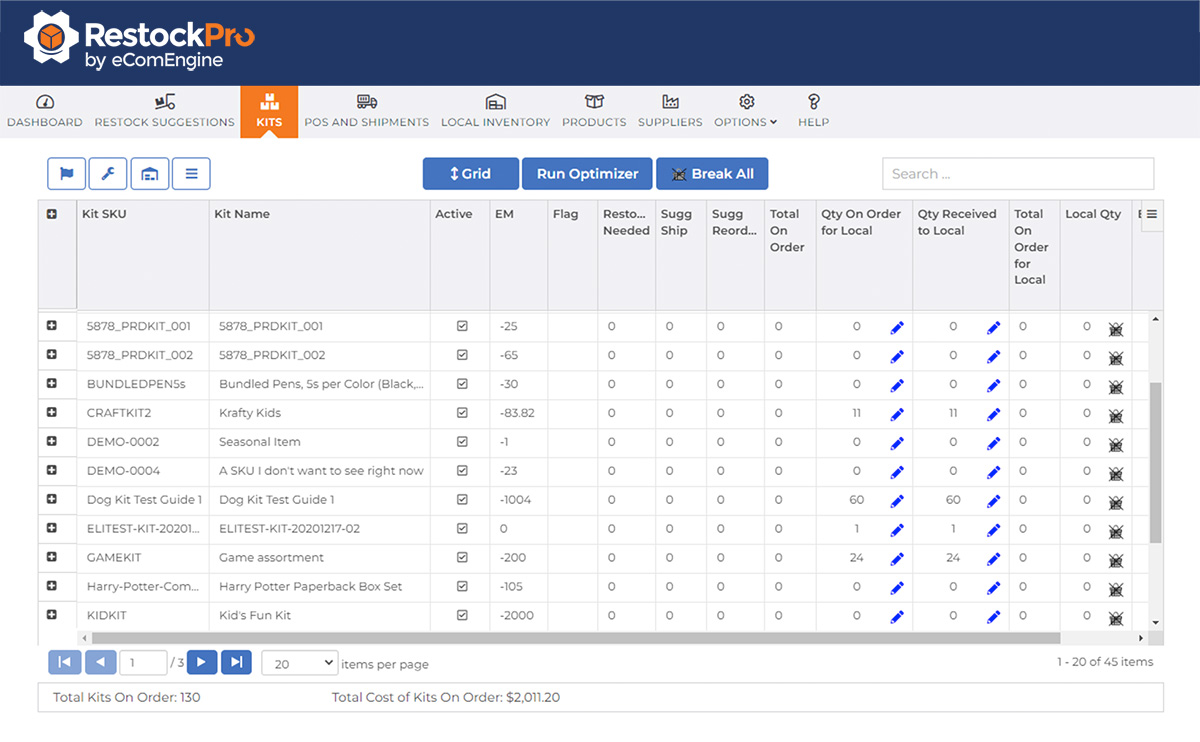 If market forces change, RestockPro also helps you optimize (or break) kits quickly. No more wondering which parts to pull from local inventory - RestockPro does the thinking for you.
Building Better Bundles
Before you build your first bundle, it's important to have a well thought-out game plan. Do your homework, understand Amazon's guidelines and understand what the market actually needs. And, as you begin to build bundles, be sure to pay close attention to each kit's profitability.
Ready to build better kits? Get started with RestockPro.
Originally published on March 15, 2018, updated June 11, 2019
This post is accurate as of the date of publication. Some features and information may have changed due to product updates or Amazon policy changes.