Addressing Amazon Seller Suspension
We have all heard the horror stories of Amazon suspensions, but what do you do when this happens to your seller account? Addressing these issues immediately is extremely important for improving your chances of reinstatement. Amazon provides the necessary steps here; however, knowing how to process each step is crucial.
Amazon's Reasoning
Understanding Amazon's logic is extremely important and valuable to your plan of action and reinstatement. You have to know which of the following violations caused your suspension so you can address it accurately:
Poor Performance in metrics, related to
A-to-Z claims
Late deliveries
Negative feedback, etc.
Violation of selling policies
Violation of rules regarding products, such as
Listing a used product as new
Having inaccurate information
Plan of Action: Act Fast
Once your account is suspended, you are given the chance to appeal this case by providing Amazon with a "plan of action." Act fast and act now. The longer you wait to prove your case, or simply give what is being asked, the harder it will be to get your account reinstated.
The initial suspension email you receive will provide the option to appeal by providing a "Plan of Action." You will go to the performance notice on your account and click the appeal to add your plan of action there. Be careful not to write an elaborate plea. Amazon is looking for a simplified and quick response of about 100 words regarding what happened and how you intend to correct it.
Be thorough. Your plan needs to specify the mistake and the result. When previously dealing with an account suspension due to inaccurate product information/details, my plan of action included explaining what went wrong: I mass up-loaded products, which resulted in the SKUs matching to incorrect ASINs. My plan of action was to review each product after uploading a bulk file, or instead to individually list my items to prevent any future inaccurate information. I addressed my intention to view any incorrect issues and immediately correct them. As a result, the account was reinstated within 48 hours after re-sending my email once.
To reiterate: Be brief and specific, and address the concern.
Be Persistent
You can only submit the appeal on the notification one time. After doing so, go to your email and reply to the notification by sending your plan of action there, as well. I notice from experience that CC-ing all Amazon support emails (seller-performance@amazon.com ; seller-guarantee@amazon.com ; seller-support@amazon.com) improves the chances that your emails will be forwarded to the proper department.
There is nothing wrong with being persistent. Amazon promises responses will be given within 48 hours; however, in my experience, it's typically within 24 hours. If this is not the case, resend your email. When re-sending do not change your email; simply re-send the exact same email again.
Think of it like this, the more you send the email, the quicker it will be read and the more you appear serious of your plan. I have noticed that sellers who wait a few days or week to send another email either do not get a response or do not get reinstated. Hopefully, you'll get a response like this: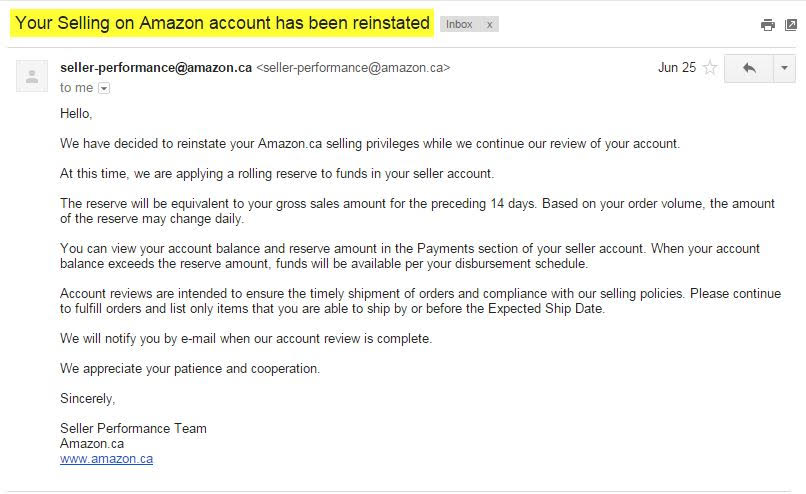 Avoidance
No matter what got you to this dreadful point, remember Amazon's number-one company value: Customer Obsession. Here are some quick reminders on how to stay on the right side of both Amazon and your customers:
Be proactive in always keeping your account in positive status, such as getting eligible negative feedback removed.
Answer customer emails within the allotted 24-hour time frame by setting up an automated email response.
Ship orders within an estimated time; if this becomes a constant problem, consider adding an extra day to your handling time.
Avoid A-to-Z claims and try to resolve issues directly with your customer before Amazon gets involved.
Be observant with any performance notifications, as Amazon will always send an email notifying you of any policy violations that have occurred.
And always remember that the number one way to get your seller account reinstated is to not get it suspended in the first place!
Originally published on December 1, 2015, updated May 1, 2019
This post is accurate as of the date of publication. Some features and information may have changed due to product updates or Amazon policy changes.