Amazon Product Review Management Is Here
FeedbackFive now has a great way for Amazon sellers to manage product reviews for their preferred ASINs. Product reviews are one of the most powerful markers of a product's success. Now FeedbackFive users have an easy way not only to solicit reviews, but also to track them and (in the case of a negative review) respond in a timely manner. This is a feature that has been highly requested by our sellers, and we're excited to announce it.
Manage Product Reviews With FeedbackFive
The industry's number one feedback software for Amazon merchants now also simplifies the management of product reviews in a direct, user-friendly way. FeedbackFive has given you the ability to solicit product reviews for several years, but the process involved several steps to create the appropriate email template and rules. When we introduced Email Campaigns in September, we gave you a campaign and template specifically geared to help you get more Amazon reviews.
Now we've gone one step further by offering "My Product Reviews." This feature allows you to monitor and track the reviews of ASINs important to you. Initial response has been positive. "My favorite part of the feature is that I can monitor product reviews in one simple location and take the necessary action proactively," said one of the many Beta testers who loved the new feature.
Track Thousands of ASINs
Experienced sellers understand the importance of tracking product reviews. Studies have shown that buyers pay close attention to what other people have to say about the quality of an item. Additionally, Amazon uses product reviews in its algorithm for determining which items appear first in search results.
"My Product Reviews" allows you to proactively manage the product reviews on the items you carry - even if you carry thousands of items. Reading the reviews can help you make decisions about existing and prospective items you might carry in your Amazon store. If reviews are positive, you might consider buying more inventory. If they are consistently negative, you might consider scrapping an item altogether.
Get Notified Real-Time
"My Product Reviews" lets you know when a user leaves a negative review on an ASIN you are tracking. This allows you to proactively manage Amazon product reviews on items you sell. Then you can respond to these negative comments. This also lets you understand the issues a user faces regarding that ASIN. You can receive real-time alerts by email or text message, or you can opt to receive a daily digest email at a certain time of day.
To set up your alerts, use the Options tab in your sidebar. First, choose whether or not to receive alerts for negative product reviews, and then tell FeedbackFive when and how to receive your alerts - individually or as a daily digest, and via text, email or both.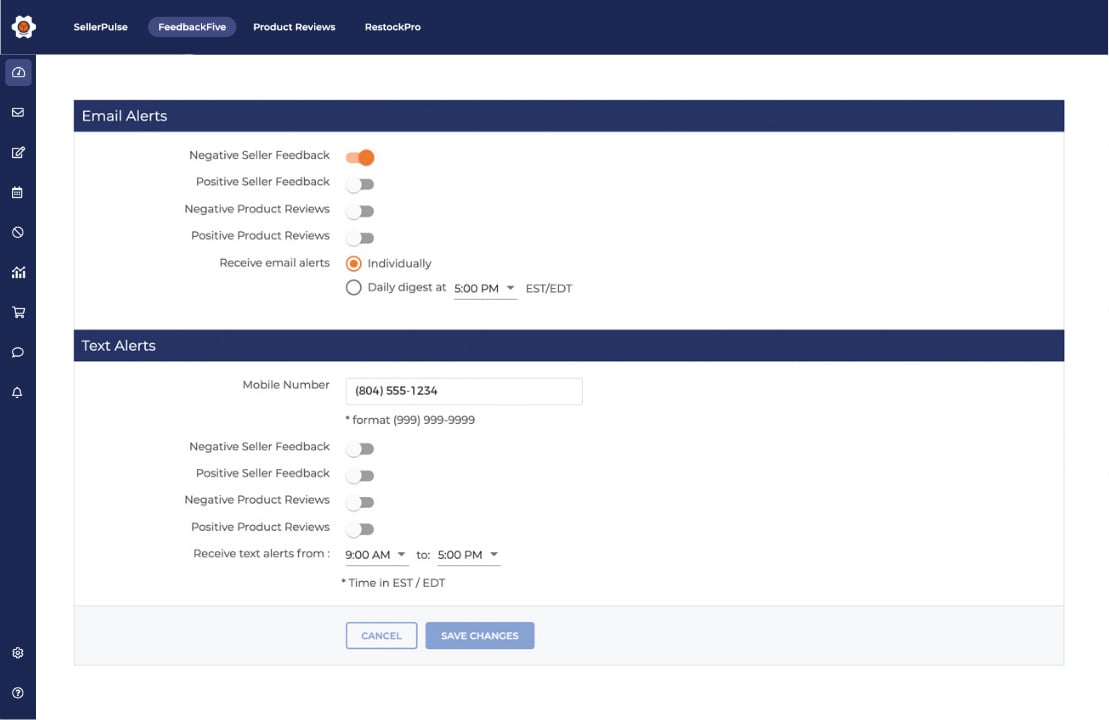 How to Get Started
Even if you don't manage your feedback in FeedbackFive, you can still sign up for an account to track product reviews. If you do that, you will have access to the "My Product Reviews" interface and will be able to see other pages, but we won't import orders or send emails on your behalf. If you're a FeedbackFive user already, "My Product Reviews" will appear in your dashboard's sidebar. You can track two ASINs for free, or you can sign up for this enhancement to your account, which starts at $9.95 per month.
Once you've enabled "My Product Reviews," click on that tab and it will take you to a product review summary page that shows you a picture of the item, a description, the SKU, ASIN, number of reviews, number of positive and negative reviews, average rating and number of orders for the item.
Click the ASIN List radio button to add ASINs. Just grab them from Amazon and paste them into the list, one on each line.
Once FeedbackFive has populated the product review summary screen, you can filter the list by any of the columns included on the screen:
You can also click on an individual ASIN to view the product, or the item name to view the customer product reviews for that item.
The Customer Product Reviews screen shows you a list of reviews for that item. The list includes the date of the review, the reviewer name (keep in mind this name can be different from the name the buyer uses to purchase items), the rating, title of the review and the text of the review. The screen also shows you whether or not the review is associated with a verified Amazon purchase.
When you click on the review title, FeedbackFive takes you right to the review so that you can comment directly on Amazon.
Get More Product Reviews on Amazon
The eComEngine team can help you successfully implement an Amazon Product Review strategy. Try FeedbackFive today to see how easy it is to stay in tune with your buyers and with what they're saying about your products. It's just one of the many ways we strive to provide updates and features that our customers love.
Originally published on November 19, 2015, updated August 1, 2019
This post is accurate as of the date of publication. Some features and information may have changed due to product updates or Amazon policy changes.