The Importance of Running Ads on Amazon
With a product offering of over 500 million items on Amazon.com alone, it's no wonder products get lost on the website and don't find themselves in front of the customer's eye. If they don't appear on the first few pages of search results for certain keywords, customers won't easily discover them and they will generate very few sales. This can be a challenge for new products that haven't had time to climb the sales rank and for lesser-known brands.
Amazon Ads
To help items appear on the first few pages of search results, brands can run advertising campaign ads on the Amazon marketplace. Brands will bid on certain keywords relevant to their products, with the goal for those items to win the bid and appear in the ads on the first page of search. If they win the bid and appear in the ad, their products will then easily be discovered by the customer.
There are two types of ads that will appear in search results that sellers can manage: headline search ads and sponsored products. Both are based on bidding on relevant keywords.
Headline search ads (banner style ads) display multiple products and have copy on the ad and a graphic that the brand can edit to entice the customer to make a click. These ads link to a brand store or list of products. Headline search ads have prime real estate, appearing at the very top of the search results page, the place where the customer looks first. Think of it as if you were in a physical store, the product is there in front of you as soon as you enter the shop. These ads can also appear in the middle of the page and at the bottom depending on whether customers are searching by desktop or mobile.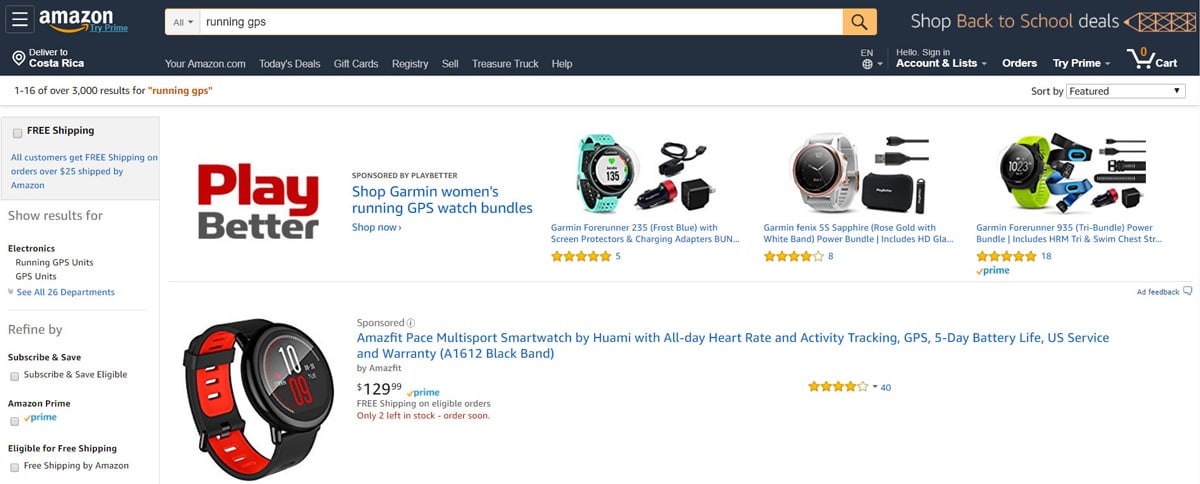 Sponsored products link to one single product. The copy and image cannot be amended. They can appear below the headline search ad or at the top of search results if a headline search ad does not appear. They will also appear throughout the search results, in the middle or at the bottom of the page. Again, the placement also depends on what device the customer is browsing from. To the average Amazon customer, sponsored products look the same as items that have appeared in search results organically.
The Benefits
As you can see, ads dominate the retail space in the search results. If you as a brand are not running ads and dominating this space for certain keywords, your competitor will be and may be swiping market share from under your feet!
While ads come at a cost for bidding and ongoing management, they also come with many benefits that can't be ignored.
Increased traffic: Ads help products appear on the first page of search results where there is a high volume of customers browsing. This visibility will help bring an increase in traffic to the product listings. If the listings are optimized, with compelling titles, strong imagery, competitive prices and positive review ratings, this will help turn more impressions into clicks and then clicks into sales.
Product awareness: While the end goal is sales, if an ad is not converting well, it doesn't mean it is not successful. You may be selling a "considered purchase" with a high retail price point or a new or innovative product that customers are initially unsure of. Even in cases where the click didn't convert to a sale or the impression didn't convert into a click, it is still generating awareness by appearing on the search results page in customer searches.
Increased sales: An increase in traffic to the product listing should result in an increase in sales. It can also have a halo effect and boost sales for a particular brand on a wider range of items that may not be advertised. It is important to make sure that the product page is optimized for conversion to maximize the potential sales that can be generated from the increase in traffic.
Boost rankings: An increase in sales can help the products climb up the sales rank and improve their visibility organically as well. The sales rank is influenced heavily by sales volume. By increasing sales you are helping boost your sales rank on relevant keywords.
Gain market share: By running ads and directing traffic to your listings for certain keywords, you will have a competitive advantage over those competitors that may not be running any ads or those who are doing a poor job managing their ads. I have seen unknown brands take market share away from more well-known brands because of the traffic they drove by running successful ad campaigns.
Ads Are Not Just for Slow Sellers
Even those products that appear on the first few pages of search results organically will have ads running. The ads appear higher up the page than the products not being advertised, which means the high-ranking products and well-known brands will also be bidding to get visibility in these prime placements at the top of the search results page.
It's competitive on the Amazon marketplace and competition will only continue to get more aggressive. Brands need to be using the marketing tools available to them to help boost sales. If you don't, the competition will!
Originally published on October 22, 2018, updated August 7, 2019
This post is accurate as of the date of publication. Some features and information may have changed due to product updates or Amazon policy changes.