Private Label Sellers vs. Amazon's Own Brands
Amazon.com, Inc. ("Amazon") now has over 136 private label brands across multiple product categories including baby, clothing, electronics, sports and home, according to a report published by TJI Research. It is no wonder private label sellers are starting to question where their future lies with Amazon.
These private label brands sit under Amazon's Our Brands program, which consists of a mix of Amazon private label and exclusive brands. The obvious private labels includes Amazon Basics, Amazon Essentials and Amazon Elements. On some of the less obvious brand names, such as Mama Bear and Happy Belly, "Amazon Brand" has been clearly stated in the title. Alongside this, the exclusive brands are those owned and created by vendors and sellers that have granted Amazon exclusivity, such as brands like Mountain Falls and Nature's Wonder.
Increasing Competition and Squeezed Profit Margins
Many product categories on Amazon in the US have become saturated, and then there's the battle to win the Buy Box, pushing prices down further and squeezing profit margins. Amazon's pricing policy is competitive, sacrificing margin and in some cases making a loss. With profitability becoming a challenge as a result, it's no surprise that Amazon has had to look into other initiatives to improve margins. Amazon's Our Brands program is one of these initiatives.
Amazon Accelerator Program
Amazon isn't looking at mastering the Our Brands program alone. It is giving brands the opportunity to be part of this program as an exclusives brand. The brand gets to create and own their brand on Amazon, but grants Amazon exclusive rights to this. The benefit to Amazon is higher profit margins, while the benefit to the brand is the additional support it receives from Amazon to accelerate growth through the use of enhanced marketing services and on-boarding support. It can also open up doors to become a manufacturer for Amazon private labels in the future.
Join In or Stay Away?
Some brands have made the jump and decided to work with Amazon and create an exclusive brand for them. Others have run a mile away, in fear that the only reason Amazon is wanting to work directly with brands in this way is to gain more insight into their costs and manufacturing processes. Although the question is: given the scale of Amazon, doesn't it already have the capabilities to do that with or without working closely with these brands? Unless they have a secret formula that they don't want to expose.
The Unfair Advantage
I hear many private label sellers complaining about how Amazon is using the platform to its advantage by giving "Our Brands" greater visibility across the site and providing them with more enhanced marketing features. But why wouldn't they? After all, it is Amazon's platform, so of course it will use the platform to help boost sales on its own brands, especially if they generate the greatest margin.
Sometimes we forget about bricks and mortar and the large physical retailers such as Walmart, who have always been selling a mix of their own brand and branded goods. Branded goods still sell. They offer a selection of brands at a range of price points and let the customer decide what to buy.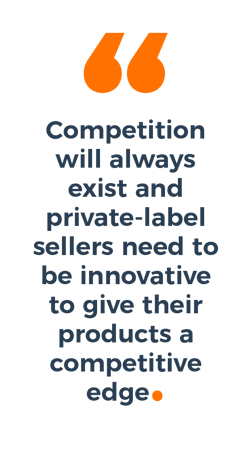 Customers shop differently. Some customers will be drawn in on price, while others may be loyal to a brand or sold by the marketing package that goes along with the product.
For those sellers that only sell on Amazon, of course there is an element of danger. But whether it is Amazon creating its own label or a new competitor entering the market, competition will always exist and private label sellers need to be innovative to give their products a competitive edge. One thing for certain is that private label sellers should not be dependent on Amazon. They need to be looking into building a brand both on and off Amazon to be successful in the long term.
Originally published on April 2, 2019, updated August 12, 2019
This post is accurate as of the date of publication. Some features and information may have changed due to product updates or Amazon policy changes.