How to Know When Someone Trashes Your Book on Amazon
Amazon reviews can make (or break) an author.
In an age when the vast majority of eBooks (and a colossal share of paper books, too) are purchased via Amazon.com, smart authors and publishing companies pay close attention to what's being said about their titles.
In this post, we'll explore an easy (and free!) way to monitor your book's reputation on the Amazon marketplace.
The Problem with Manually Checking Amazon Reviews
There's a certain thrill that comes with checking your Amazon listing for new reviews. Will several more five-star reviews await you? Or, will that occasional persnickety reader leave another snarky comment? How will such feedback impact your book's visibility in its category?
As much as you may enjoy manually checking for new reviews, it's impossible to keep an eye on your listing at all times. Your weekends are packed full of family obligations. Your typical workday is always hectic, jumping between your next project, blog drafts, publicity events and other priorities. And, of course, you do enjoy sleeping (some days, at least). With so much on your to-do list, days can pass before you have time to check your listing again.
This problem only gets worse as you publish new works.
Know Instantly When Someone Trashes Your Book
Positive reviews are nice to see, and they certainly boost your ego. They're also good from an Amazon SEO standpoint. Unfortunately, there are two sides to the customer review coin. Negative reviews hurt more than your feelings; they can make a damaging impact on your book's royalties. This is especially true when reviews contain defamatory or inappropriate content. You've worked too hard for a crazed reader to tarnish your otherwise stellar Amazon reputation.
When negative reviews happen, you essentially have three options:
Do nothing
Leave a public comment (learn best practices for commenting here)
Report it to Amazon (here's a support page explaining how to do that)
Note: You may not influence the customer to change or remove the review. If the review violates Amazon's community guidelines, then your best bet is to report it directly to Amazon (as outlined above).
Before you can take action, you must obviously first know about the negative rating. Our FeedbackFive tool, which has been trusted by Amazon pros since 2009, alerts you (via text message and / or email) within moments of receiving a negative review.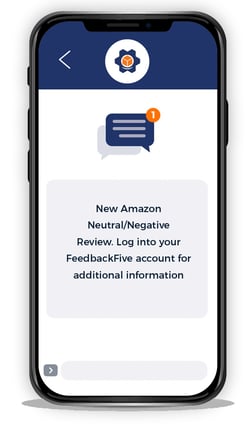 Setting up FeedbackFive is as easy as copying and pasting. Just sign up for a free account, paste your book's ASIN(s) and that's it. Once enabled, FeedbackFive will keep watch for any new negative reviews.
See the Big Picture for Your Book
Is your book gaining momentum? Or, is it trending downward? If you're only relying on your book's public review page, it can be difficult to get the answers you need.
FeedbackFive aggregates your review data into a dynamic "big picture" dashboard. Sort and filter reviews by time period (90-day, 30-day and 2-day analytics) or rating level (positive, negative or neutral). Dive into our analytics dashboard for an engaging representation of your book's health.
Need to send all of your review data to a prospective publisher? FeedbackFive even allows you to export your entire review history into a convenient CSV file format. What might have taken hours of administrative work can now be done with a single click.
Add Your Titles to FeedbackFive
Looking to take a more proactive approach to the management of your Amazon reviews? It's time you gave FeedbackFive a try. Add your first two titles absolutely free. As you write more books, you can add them for only a few bucks per month.
Originally published on September 19, 2017, updated July 7, 2019
This post is accurate as of the date of publication. Some features and information may have changed due to product updates or Amazon policy changes.