Amazon's Choice Badge: What We Know
Be honest - that subtle "Amazon's Choice" badge sure can grab your attention, can't it?
I know that it's caught my eye a time or two.
As a seller, I'm sure you've always wondered how products earn the coveted title of "Amazon's Choice." While I may not know all the answers (only Amazon does), I can shed some light on a few things.
Here goes.
A Quick Analysis of Everyday Items
If you've ever done any research about the Amazon's Choice program, I'm sure you've discovered that Amazon.com, Inc. ("Amazon") hasn't published much information about it. There are several Seller Forum threads floating around the web, a few of which have been responded to by Amazon support staff (like this one).
With such little information to go on, it's difficult to say how Amazon determines which product categories are worthy of the Amazon's Choice badge. Although there doesn't appear to be any official guidance, some reports have noted that the distinction is limited to "everyday items" that are "highly rated."
What constitutes an "everyday item"? Good question.
As a simple case study, I decided to test a few search terms on the Amazon marketplace. At the time of publication, the following keyword searches returned Amazon's Choice badge items (I've linked to the search results).
To avoid boring you, I've only listed five search terms above. However, I searched for more than a dozen other similar household terms, and, sure enough, each one had an Amazon's Choice product. With the list above, it's interesting to note that the first two are AmazonBasics branded items. I encountered multiple situations where AmazonBasics items held the choice badge.
On a slightly different note, at the time of publication, the following terms did not appear to have an Amazon's Choice badge. (It was actually rather difficult to discover any terms that didn't have a badged product.)
Amazon's Choice Items Perform Very Well in Organic Search
Having studied more than a dozen different search terms, the following is apparent: If your product owns the Amazon's Choice badge, there's a good likelihood you'll be number one in the organic Amazon search results.
Take, for example, the "batteries" search term. As you can see from the screenshot below, the AmazonBasics product owns the choice badge and appears first in the organic results, just below two sponsored products ads.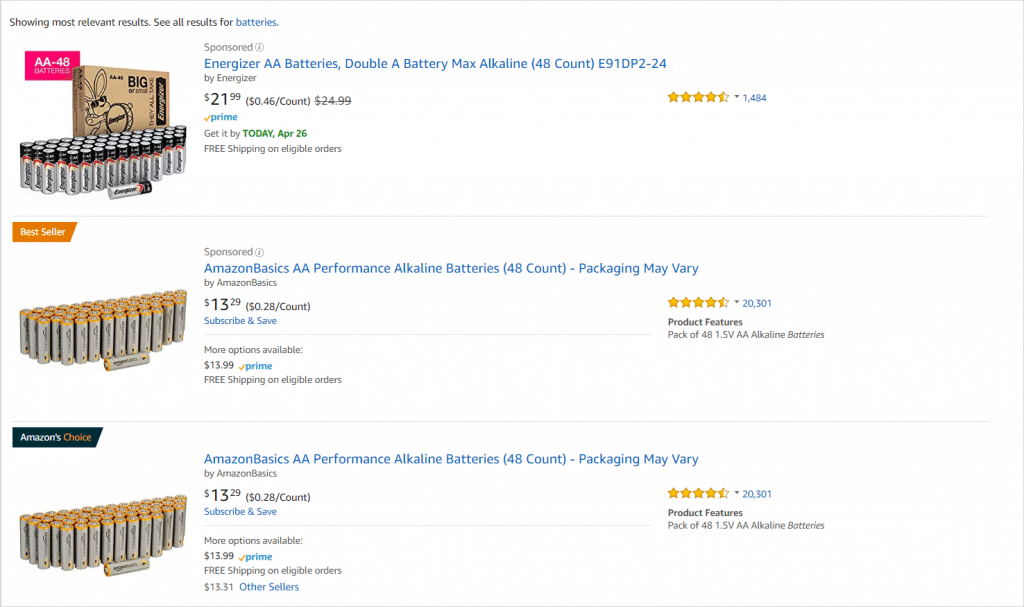 Although most of Amazon's Choice items appear first, some appear second or third in the results. Take, for instance, the keyword search "broom." As illustrated below, you'll notice that a "Best Selling" item actually has top placement over the Amazon's Choice item.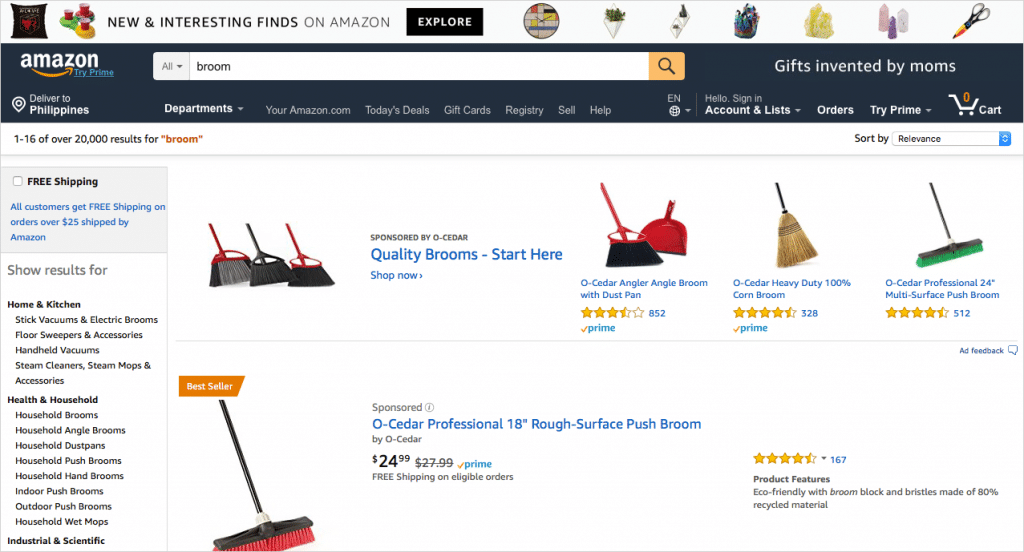 Badge Also Appears on the Product Detail Page
As if seeing the badge in the search results wasn't enough to make you click the Buy Box, Amazon also wisely includes the black label on the item's product detail page.

Take note of how Amazon also includes my original search term of "batteries" just to the right of the Amazon's Choice badge. Pretty nifty. It's just one more affirmation, albeit subtle, to the shopper that this is probably a smart buying decision that won't be regretted.
Reviews Appear to Play an Important Factor
As with anything else relating to organic visibility on the Amazon marketplace, there seems to be a strong correlation between reviews and the Amazon's Choice badge. Think about it - Amazon wouldn't lend its name to a product that falls short of customer expectations.
Don't believe me? Let's go back to the five searches I cited above. Here are the review histories for the badge winners (again, at the time of publication):
Batteries - 19,772 reviews, 4.3 out of 5.0 stars
Light Bulbs - 851 reviews, 4.3 out of 5.0 stars
Plastic Baggies - 1,052 reviews, 4.4 out of 5.0 stars
Dishwasher Pods - 1,190 - 4.6 out of 5.0 stars
Tissues - 1,548 - 4.4 out of 5.0 stars
Notice any trends here? Having approximately 1,000 reviews and an average rating of 4.3 (or above) stands out to me.
Managing Your Product's Reputation
It's seems safe to say that Amazon bestows its choice badge only to products that will delight customers. Remember, Amazon shoppers express their satisfaction by leaving product reviews. It therefore stands to reason that managing your reviews is an important part of delighting customers - and, potentially, being selected as "Amazon's Choice."
Originally published on April 26, 2018, updated August 7, 2019
This post is accurate as of the date of publication. Some features and information may have changed due to product updates or Amazon policy changes.