Get started with FeedbackFive in five easy steps.
Step 1: Connect to Amazon
FeedbackFive must be connected to your Seller Central account to import order information and send messages.
To connect:
In the top navigation, go to Store Settings > Amazon Connection.
Click the flag button to connect FeedbackFive to Seller Central.
For more detailed instructions, see How do I connect FeedbackFive to Amazon?
Step 2: Choose Your Message Template
We recommend starting with the Official Amazon Feedback and Review Request template. This template triggers Amazon to send a request for seller feedback and a product review directly to your buyers (the same as clicking the Request a Review button in Seller Central). The message is 100% compliant with Amazon's guidelines, automatically translated into the buyer's language of preference and proven to get great results!
To send the Amazon Feedback and Review Request:
Click on Emails > Campaigns
Look for the campaign "Feedback and Review Request" with the official Amazon template attached.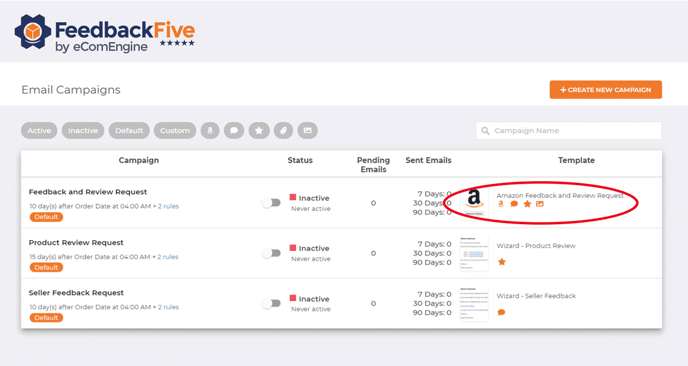 This template cannot be edited. If you prefer to send a custom message through Buyer-Seller Messaging, you can create a custom email template in FeedbackFive. Refer to our Amazon policy compliance checklist to make sure the template you create is compliant with Amazon's guidelines.
Step 3: Activate Your Campaign
Campaigns in FeedbackFive are sets of rules that trigger a template to be sent out automatically. Each campaign sends once per order.
To start sending:
From the Email Campaigns page, click on the "Inactive" button to toggle the switch to "Active." This will activate your campaign to start sending requests for all eligible orders.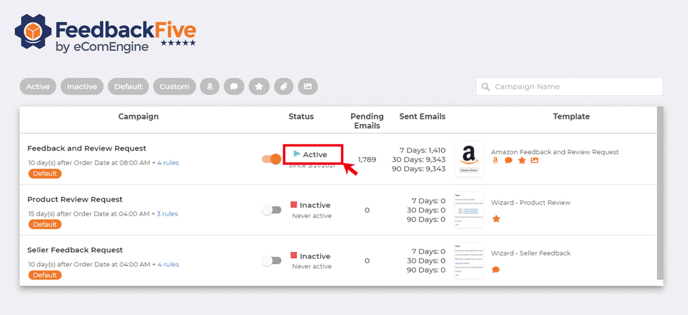 To customize your email timing and more, you can click the title of the campaign and modify the campaign rules.
Step 4: Monitor Product Reviews
Product Review Management lets you view, analyze, and set up alerts for product reviews on ASINs you choose to track. We automatically track your top selling ASINs for you when you sign up for FeedbackFive, but you can add to your list of monitored ASINs anytime.
To add ASINS for monitoring:
In the top navigation, go to Product Reviews > Products.
Check the "Tracking" box to the right of any ASIN in the table to start monitoring it, or click TRACK ASINS toward the upper right and choose an option:

Type or paste ASINs to track: Choose this if you have a list of ASINs ready that you want to start tracking in bulk.
Track top-selling ASINs: Hover over this to see options for automatically adding more products that have sold well recently.
Once you have chosen an option, you'll see a summary of how many ASINs you're adding and whether they fit in your current plan level. Click SAVE.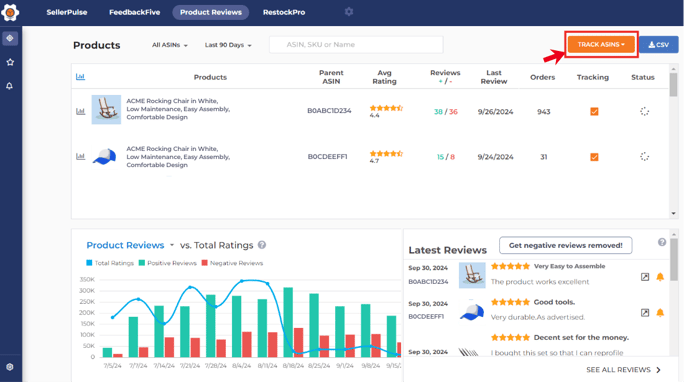 Learn more about how to add ASINs and why you should monitor them.
Step 5: Monitor Seller Feedback
Setting up Enhanced Feature Access (available on the Pro plan and above) allows FeedbackFive to monitor your positive seller feedback. This lets you exclude buyers who already left positive feedback from your feedback requests, receive alerts for new positive feedback, and easily see the results FeedbackFive generates for you.
To set up Enhanced Feature Access:
In the top navigation, go to Store Settings > Enhanced Feature Access.
Toggle the switch to import positive feedback.
Follow the instructions that appear to set up the correct permissions in Seller Central.
Or, follow the instructions linked below for your marketplace:
How do I see my positive feedback? (North America, India, and Far East marketplaces)
How do I see my positive feedback? (E.U. Marketplaces)
Congratulations!
You're done! Now, wait for the reviews and feedback to roll in. If you try FeedbackFive for a few weeks without seeing results, please contact us to request an account review.