Use the Exclude by Email feature to avoid sending FeedbackFive messages to buyers who had a problem with their order.
By default, FeedbackFive cannot read your buyers' incoming messages, so a buyer who reached out to you with a problem might accidentally get a review or feedback request soon after, causing a poor experience. Similarly, FeedbackFive doesn't automatically know when a buyer initiates a return (although it can tell when a refund has been processed).
To handle these scenarios, add your FeedbackFive account's unique Do Not Solicit email address to the Notification Preferences in Seller Central, allowing it to receive notifications when a buyer contacts you or initiates a return.
1. Find your DNS Email
Each FeedbackFive store has a Do Not Solicit email address in this format:
dns+[Store Number]@subscriptionloop.com
To see the exclusion email address for your store, go to Emails > Exclusions in the top navigation and click on the By Order Number tab. Look at the bottom of the window to find a note containing your store's unique email address: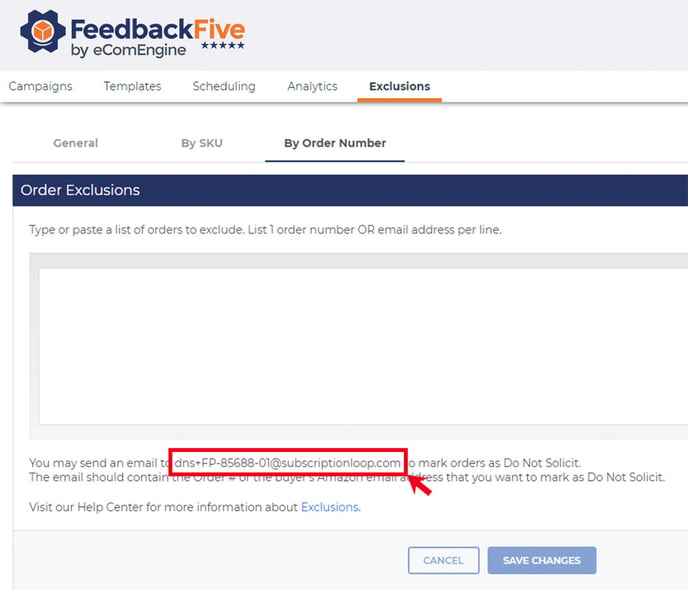 2. Add It to Notification Preferences
Log into Seller Central and go to Settings > Notification Preferences.

To exclude buyers who initiated a return, scroll to the Return and Claim Notifications section and find "Pending Returns."
To exclude buyers who contacted you, scroll down to the Messaging section and find "Buyer Messages."

Click Edit toward the top right of the section.
Below the email address field beside either "Pending Returns" or "Buyer Messages", click "Add Another" (or, if there is no email address in the field yet, use the existing field).
Paste your store's DNS email address into the field.
Make sure the checkbox on the left side is selected.
Click Save.
When a buyer sends you a message or initiates a return, Amazon will send an email notification containing the buyer's order number to your FeedbackFive DNS address. This will cause that order number to be excluded from FeedbackFive solicitations.
More Details About the DNS Address
You can also manually send emails to this address to exclude orders and buyers anytime. When FeedbackFive receives an email to this address, it will process it as follows:
When the email contains a valid order number, FeedbackFive will mark that specific order as "Do Not Solicit".
When the email contains a valid buyer's Amazon email address, FeedbackFive will mark as "Do Not Solicit" any orders that buyer placed with your store in the last 90 days.
When the email contains a valid order number AND buyer's Amazon email address, it will perform both of the above actions.
An email may contain multiple valid order numbers and/or Amazon email addresses, and FeedbackFive will process them all.