To import orders and send emails, all FeedbackFive stores must be authorized through the Amazon Selling Partner API.
This authorization is easy to set up and ensures that you can easily control which tools have access to your Amazon data.
Occasionally, you may need to update your Amazon connection. To connect the first time or to update your connection, follow the instructions below.
Note: To connect or reconnect an app, you need View & Edit access for the Marketplace Appstore on the User Permissions page in Seller Central.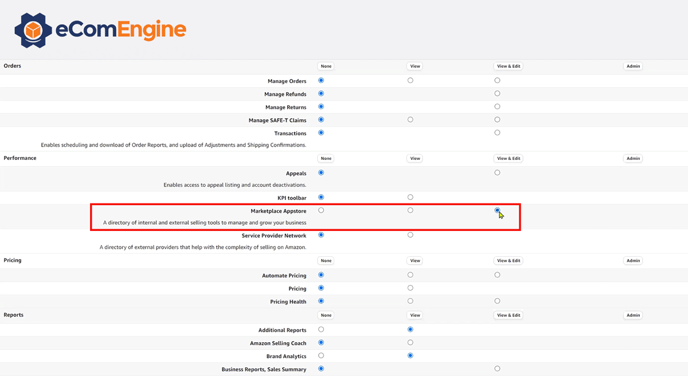 How do I connect?
Log into FeedbackFive and go to Store Settings > Amazon Connection.
Click the Amazon flag button or the "here" link.
A new window will open and direct you to log into Amazon. Log in, making sure you are using the correct Amazon account and have sufficient user permissions to make changes.


Click the checkbox to agree to the terms, then click Confirm.

Wait for authorization to complete. You may see the page change at least once.



When you receive a Success message, click "Go back to FeedbackFive."

Click "Save Changes."
Alternate Way to Authorize
If you encounter difficulties with the above way of connecting to Amazon MWS, you can also authorize FeedbackFive directly through Seller Central:
Go to the FeedbackFive listing on the Seller Partner Network by clicking here. Or, go to Menu and choose Partner Network, then search for "FeedbackFive by eComEngine" and click on it.
From the far right side panel, click "Authorize Now."
At the bottom of the screen, check the box for "I direct Amazon to provide FeedbackFive by eComEngine access to my Selling Partner account and related data. I am responsible for any actions taken by the application."
Click "Log into FeedbackFive by eComEngine now."
The page will redirect several times and you will see a success message. (You may be directed to log into FeedbackFive during this process.)
If you have difficulties after trying both ways of connecting, please contact us.