Enhanced Feature Access (available on the Pro plan and above) is a way for FeedbackFive to connect to your Seller Central account to import key information.
Looking for instructions for the other marketplaces? Click here.
Order imports, product review imports, negative feedback imports (Pro and above) and email sending use your Seller Central API connection and do not require Enhanced Feature Access.
However, the following features do require Enhanced Feature Access:
Positive feedback imports
Excluding buyers who have already left positive seller feedback from your seller feedback requests.
Targeting buyers who have left positive feedback with specific campaigns.
To initiate Enhanced Feature Access, you will invite FeedbackFive to become a "user" on your Seller Central account and then grant it user permissions to view positive feedback.
Add New Seller Central User
Log in to Seller Central
Hover over "Settings" then click "User Permissions" in the drop-down list.
Scroll to the "Add a New Seller Central User" section, add the email address info@connectrio.com and click "Send Invitation."
The invitation will be sent to FeedbackFive to set up the new access.
Amazon Confirmation Email
Amazon will usually send you two emails to notify you that FeedbackFive has accepted the invitation. First, you will receive the email below saying that you must "approve the authorization." Please take no action until you receive the second email.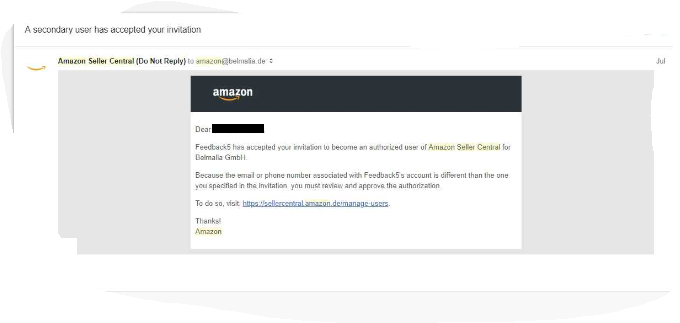 If you click the link in the email, you will be asked to fill out the "Secondary User Information" form. This will be completed automatically within the day, so no action from you is required.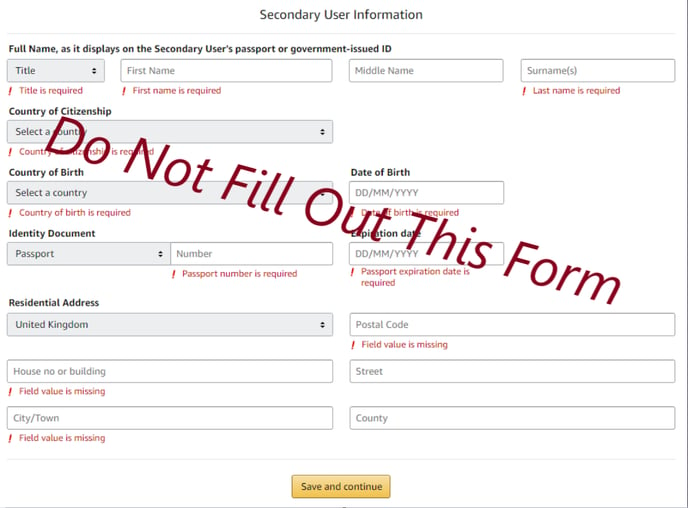 Within 24 hours, you will receive a second email once Amazon has verified the new user's "Secondary User Information". The second email will look like this and tell you that you can now grant permissions: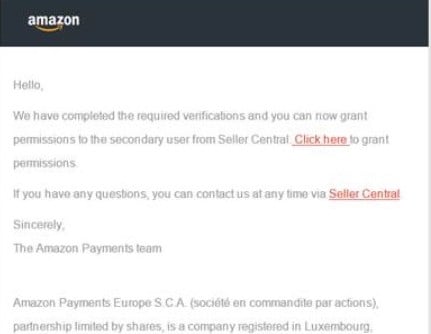 Simply click on "Click here" to proceed with granting permissions on Amazon. The link will take you back to the "User Permissions" page.
Manage Permissions
In the "Current Users" list, find

info+[a number]eu@connectrio.com

and click "Manage Permissions."
Click the "View" permission next to "Feedback" in the Reports section.
All remaining permissions should be set to "None".
Click the "Continue" button at the bottom of the page. You will be notified that the new permissions have been modified successfully.
Return to FeedbackFive and go to the Store Settings > Enhanced Feature Access page. Turn on the switch.
You're Done!

You will begin to see positive feedback on the Feedback tab within 48 hours.
If you do not see the feedback, double check the user permissions and then contact us for help. (Tip: Upload a screenshot of your Amazon User Permissions page to your support ticket to help us troubleshoot!)