FeedbackFive is a monthly subscription, so you can change your plan level anytime based on your business needs.
To upgrade or downgrade your plan: Click your username in the top right corner, select Account and use the "Current Service Plan" menu to choose a new plan.
When choosing a new plan, you should consider:
The number of emails or requests you need to send per month, based on your order volume. (Amazon allows one request for feedback and/or product review per order.)
What features you need.
You can see all the plan levels, prices, and features here.
Note: FeedbackFive plans and pricing are subject to change as the software evolves. The plans available in the drop-down menu on your Account page might be different from the offers we display for new users on our website. If you want to make sure you're getting the best deal available to you, please contact us.
Also, agencies and aggregators can contact us for special agency pricing.
Overages or Upgrade?
If you're not sure whether it's best to upgrade your plan or pay overage fees, click on "What happens when I reach 0%?" on your Dashboard to see an analysis of your last month's email volume compared to each plan level.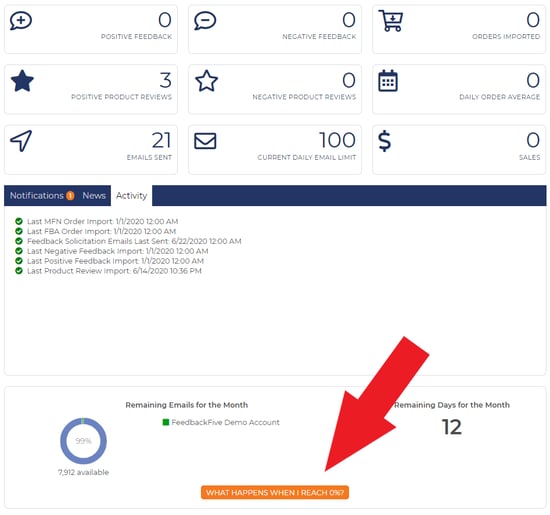 2. Features
In addition to the number of emails per month, different plans include different features. The Free and Basic plans include only the most basic features, while the Pro and Enterprise levels include more advanced features, such as custom templates and campaigns. Read more details by clicking here and then clicking "Compare All Features and Plans."
If you have questions or need any help deciding which plan is right for your business, please contact us