You can get started with FeedbackFive quickly and easily on your own. You'll just need some basic information about your store and a valid credit card.
PART 1: Create an Account
Click here and enter your first and last name and the email address you would like to use to log into FeedbackFive. (This should be an email that you check regularly in case we need to get in touch with you about your account.)
Create a password. Passwords must contain at least one lowercase and one uppercase letter and one non-alpha character (a number or a symbol.)
Check the box to agree to eComEngine's Terms of Use.
Click CONTINUE.
PART 2: Choose Subscription(s)
On the Select Plan step, select whether you want to try just FeedbackFive or FeedbackFive + SellerPulse (bundle) during your free trial.

FeedbackFive allows you to send requests for product reviews and seller feedback, monitor feedback, and see information about your orders, such as number of repeat buyer orders, multi-SKU orders, and more.
SellerPulse allows you to get alerts for key Amazon listing events, such as new sellers appearing on the listing, product details being changed, Amazon suppressing or deactivating a listing, and your offer winning or losing the Buy Box.


On the Add-on step, select whether you want to add Product Review Management, then select how many ASINs you'd like to track if so.
Product Review Management allows you to view data on product reviews for the ASINs you choose to track and receive alerts for new reviews.
PART 3: Checkout and Store Details
Enter your credit card information if prompted. Your card will be charged automatically at the end of your free trial, based on the number of orders your store received in the last 30 days.

If you do not see an option to enter credit card information, this means that you already have a different subscription with eComEngine, such as RestockPro. We'll just use that billing information automatically when needed.
If you received a coupon code, enter it in the Coupon Code box field toward the top right.
The VAT field is optional and normally used only by sellers based in Europe.

At the bottom of the page, enter the store name and marketplace for the first store you want to add to your account. You'll be able to add the others later.

The store name should be the title of your store as it appears on Amazon (NOT the link to your storefront).
On regular FeedbackFive plans, you can only add one store per marketplace. If you need to add more than one store for the same marketplace (e.g. two .com/US stores), you may reach out to us for other plan options.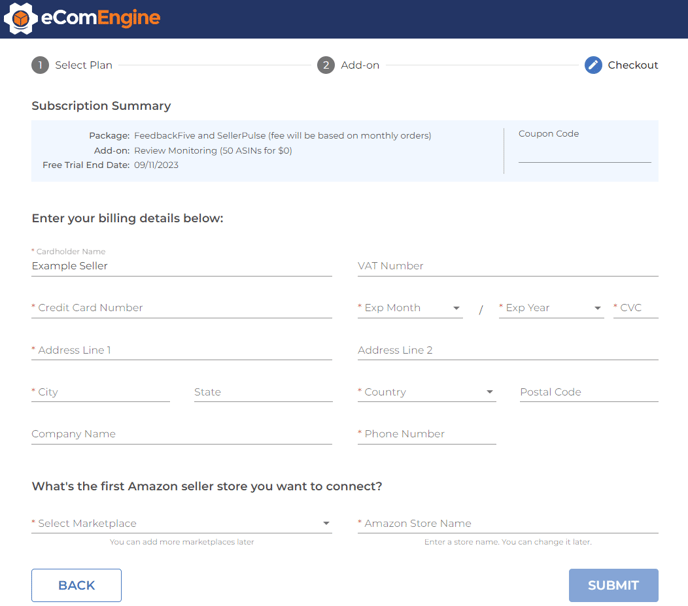 Congratulations! You now have a FeedbackFive account and store.
Next, see our Quickstart Guide to set up your account!