Hover over Emails in the top navigation and select Analytics to see the results generated by your campaigns.
The Analytics page shows you a graph of emails sent compared to either reviews or feedback received to help you understand whether a particular campaign or all campaigns improved your metrics.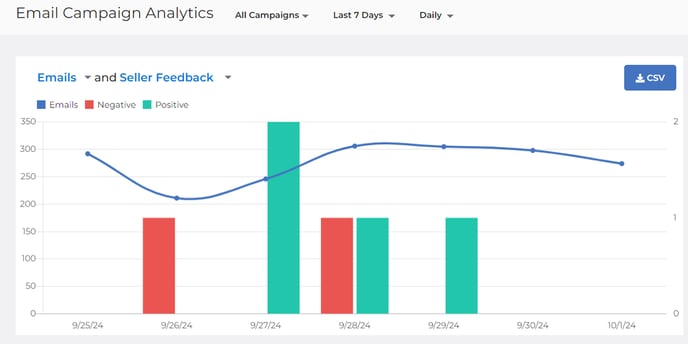 Filters
Use the drop-downs at the top of the page to:
Select the campaign for which you want to see results, or choose "All Campaigns." To help you find the campaign you want to see, the campaigns are labeled:

Active: currently sending messages, with the date the campaign was activated
Inactive: not currently sending messages, but was active in the past, with the date the campaign was deactivated
Never Active: Never sent messages. Never Active campaigns cannot be selected.
Emails sent in the last 90 days: The campaigns that sent the most emails in the last 90 days will be near the top of the list.
Buyer-Seller Message: The template for this campaign is sending emails through the Buyer-Seller Messaging system.
Amazon Request: The template for this campaign is the Amazon Request a Review message.

Select the time period you want to see: seven, 30, 60, or 90 days
Select the granularity: daily or weekly

Weekly is usually best if your time period is set to 60 days or more
Daily is usually best if your time period is set to seven or 30 days
Use the drop-down within the graph to select the type of rating you want to see compared to emails: Product Reviews or Seller Feedback.
After selecting Product Reviews, you can choose to view written reviews, total ratings (including star ratings that do not include review comments), or average rating.
After selecting Seller Feedback, you can choose to view the feedback count or your positive feedback percentage.
Metrics
Here are the data points you can see on the Analytics page:
Emails: the number of Buyer-Seller Messaging emails or Amazon Request a Review messages sent by the campaign selected, or by all campaigns combined
Seller Feedback: the number of seller feedback ratings received on orders that were solicited by the selected campaign(s)
Product Reviews: the number of product reviews on the items that are being monitored for Product Review Management and that are included in the orders solicited by the selected campaign(s)
Currently, Amazon does not allow sellers to track opens and clicks on their messages.
Insights
Use these data points to understand whether your campaign is performing well as-is or may need improvements.
If positive reviews or feedback increase when the emails increase, the campaign is performing well.
If only negative ratings increase, or if there is no noticeable change in reviews or feedback that corresponds to the emails, the campaign may need improvement. Use this Account Health Checklist to improve your email subject lines, content, and timing for better results.