Use this checklist to troubleshoot your Amazon Seller Central connection and campaign settings.
Have you checked your Activity Log, Dashboard or Daily Feedback Summary and found that emails have not been sent from your account as expected? Here are a few things you can check to troubleshoot the problem.
1. Is Your Account Connected to Amazon?
Check the Activity Log (below the tiles on your Dashboard) and the Orders graph to the right of it. Do these show that orders have been imported within the last 24 hours?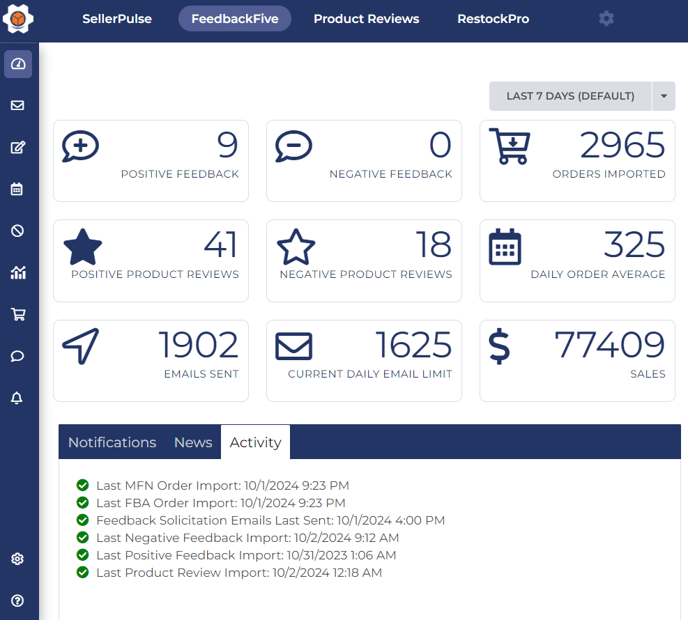 If the last order import was several days ago, try updating your Amazon connection. This should trigger your order imports as well as your emails.
2. Is Your Campaign Active?

Click Emails > Campaigns and make sure the campaign(s) you want to send is toggled to "Active."

Click the title of each campaign to check on the timing and rules. Click the thumbnail to the right of each campaign title to see the template (email message) that will be sent when this is activated. If you haven't customized your emails yet, start by reading Create your Templates and Activate your Campaign.
3. Is Your Timing Correct?
Amazon only allows feedback and review requests to be sent within 30 days of order completion. To help you stay compliant, FeedbackFive will automatically stop sending emails for an order that was delivered more than 30 days ago.

If your campaign is scheduled after another campaign (rather than based on order or delivery date), it may be attempting to send too late, when the orders are already 30 days past delivery. Check the Status and Do Not Solicit Reason on the Scheduling page to see if this is the case, and reduce the number of days on the campaign if needed.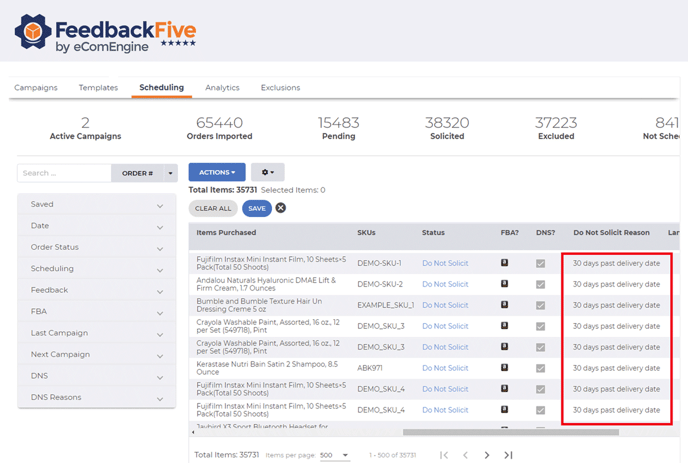 4. Are Your Rules Accurate?
Make sure your campaign rules are not too restrictive:
Are the emails being sent only on one or two days of the week? Most successful sellers send emails all days or most days (e.g. Tuesday through Friday).
Are they limited to orders in a certain price range or with a specific discount that doesn't occur often? These rules are helpful in some special cases but are not used very commonly for feedback or review requests.
Are they scheduled after another campaign that is now inactive? Maybe you meant to exclude buyers who had already received this campaign, rather than include them.
Are emails targeted only to repeat buyers, buyers who already left feedback, multi-SKU orders, or anything else by mistake?
Most sellers find that their campaigns only need a few basic rules to be successful, so try removing any unnecessary rules to get your emails sending again. (Click the X next to any custom campaign rule to delete it.)
No Luck?

If you have tried checking these settings and don't see improvement, please contact us so we can help.