Buy Box alerts tell you when your offer is no longer the Featured Offer on the Amazon listing, when the Buy Box (Featured Offer) was suppressed, or when your offer wins the Buy Box. Here's what to do when you receive one of these alerts.
Buy Box Alert Types
SellerPulse can send you alerts for two different categories of Buy Box events:
Lost and Suppressed Buy Box: Your offer loses a Buy Box you were previously winning, and either Amazon or another seller is now winning it, or the Buy Box has been suppressed completely.
Won Buy Box: Your offer wins a Buy Box that another seller or Amazon was formerly winning, or that was formerly suppressed.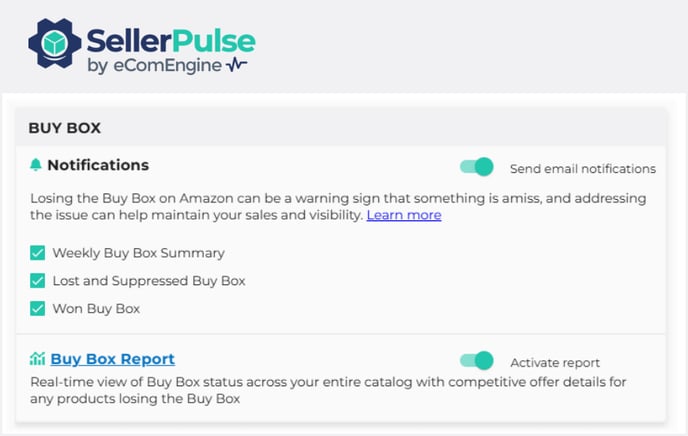 Buy Box win and loss alerts also provide information about the offer that is currently winning the Buy Box, including price, seller rating, and whether the offer belongs to Amazon or another seller.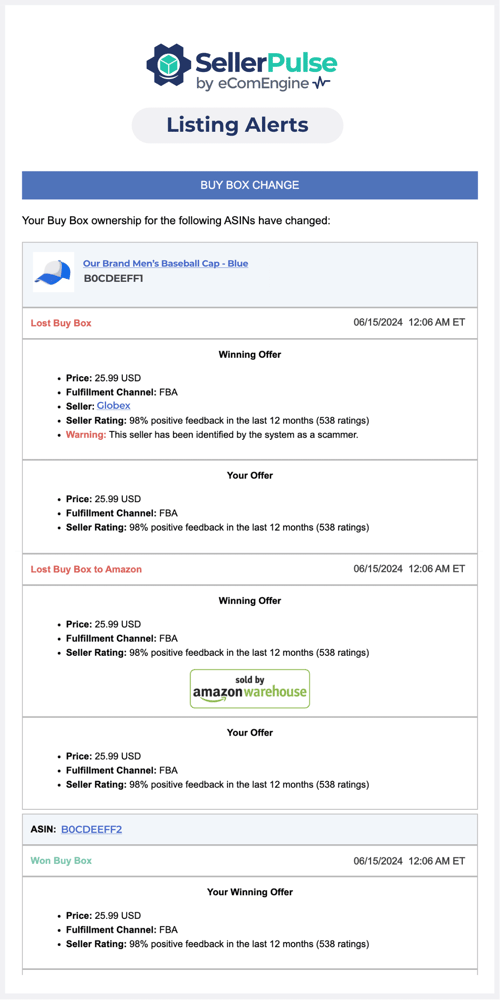 How can I win the Buy Box again after losing it?
Amazon closely guards the exact formula for calculating the Buy Box, but it involves the following factors:
Price
Order volume
Seller rating
Low order defect, refund, cancellation and late shipment rate
Fast, free shipping
Amazon Prime status
Inventory availability
When you lose the Buy Box, check all these metrics and ensure you are competitive with other offers, on and off Amazon. Some strategies include:
Use repricing software to keep your price competitive.
Provide excellent customer service: respond to buyer messages quickly and do your best to solve all problems.
Request seller feedback on past orders to improve your rating.
Use Fulfillment by Amazon so that you can offer Prime shipping.
Winning back the Buy Box may take some time. Keep track of what you have already tried so that you know what to try next. You can also talk to the eComEngine team or one of our partners with expertise on winning the Buy Box.
What is a suppressed Buy Box?
In some cases, Amazon may remove the Buy Box completely, often called "Buy Box suppression" by sellers. You can recognize a suppressed Buy Box when the "Add to Cart" and "Buy Now" buttons are not visible. Instead, shoppers must click "See All Buying Options" to place an order.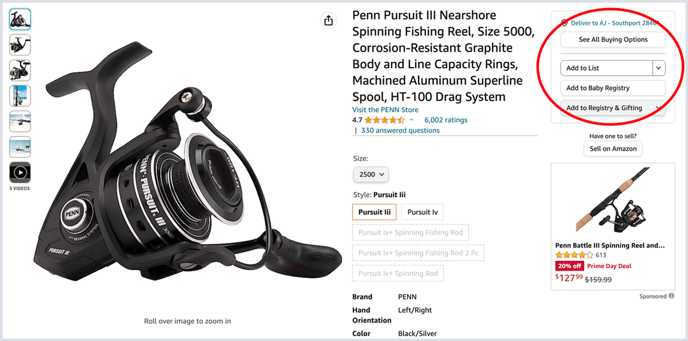 The most common reason for a suppressed Buy Box is Amazon's Marketplace Fair Pricing Policy, which allows Amazon to penalize sellers by removing the Buy Box if their product is offered at a lower price on other online platforms.
To avoid Buy Box suppression, standardize your pricing across online marketplaces and have control over your distribution network. Other sellers of your product might trigger a suppressed Buy Box by offering the product at a lower price elsewhere online, even if they don't sell it on Amazon.
Here are some other reasons for Buy Box suppression:
Inaccurate or incomplete listing details: Ensure your listing has all required information, accurate descriptions, high-quality images, and an appropriate title length.
Lack of sales history: New sellers with insufficient sales history and credibility may face Buy Box suppression until they establish a track record of timely shipping and good customer service.
Decline in account health metrics: If your seller metrics, such as customer inquiries, cancelations, and reviews, fall below the required standards, and you are the only seller of the product, Buy Box suppression may occur.
Low sales volume: Although there is no specific threshold for the number of sales required, selling a low quantity of items on Amazon could result in Buy Box suppression.
Lack of Prime shipping eligibility: Products that are not eligible for Amazon Prime may experience Buy Box suppression. Using Fulfillment by Amazon (FBA) makes your products eligible for Prime shipping and increases your chances of winning the Buy Box.
How can I get the Buy Box unsuppressed?
If you discover that your Amazon Buy Box is suppressed, take immediate action to resolve the issue and boost your sales. Amazon suppresses the Buy Box for sellers who do not meet specific requirements. Here's what you can do:
Review Your Product Price:
Check if your product is priced too high compared to the MSRP.
Consider lowering your selling price while ensuring profitability.
Alternatively, set the price to be the lowest among competitors to improve visibility, even if the Buy Box remains suppressed.
Improve Listing Quality:
Ensure your product listing is accurate and optimized.
Address all listing issues and customer issues promptly.
If you are a new seller, give yourself some time to build a stronger reputation.
Optimize Repricer Settings:
Utilize an automatic repricing tool to increase Buy Box chances.
Make sure your repricing rules are correctly configured; adjust the minimum and maximum price settings to avoid repricing too high.