Instead of traditional email attachments, FeedbackFive allows you to upload PDF files to the Document Library (available on Pro and above) and then link to the PDF files in your templates.
This gives buyers easy access to invoices, shipping labels, and other documents they need to resolve issues with their order.
Note: Amazon does not allow other types of attachments, especially marketing or promotional material. Learn more.
To upload a PDF file:
Open any template in the Advanced Editor.
Click "Add PDF" in the Document Library on the right side.
Choose a file from your computer. Files must be in PDF format and less than 25 MB.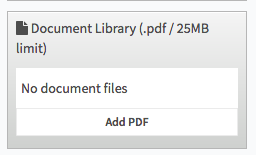 The files will now be stored in the Document Library for you to add to any template. To insert a link to a file in your template:
Open the template in the Advanced Editor.
Click to place your cursor where you want the link to go.
Click the name of the document in the Document Library. The name and URL will be inserted into the template.