Keep your active SKU list clean to improve RestockPro's performance and reduce the number of products you need to sort through.
Mark products as inactive using the Status drop-down on the Products page.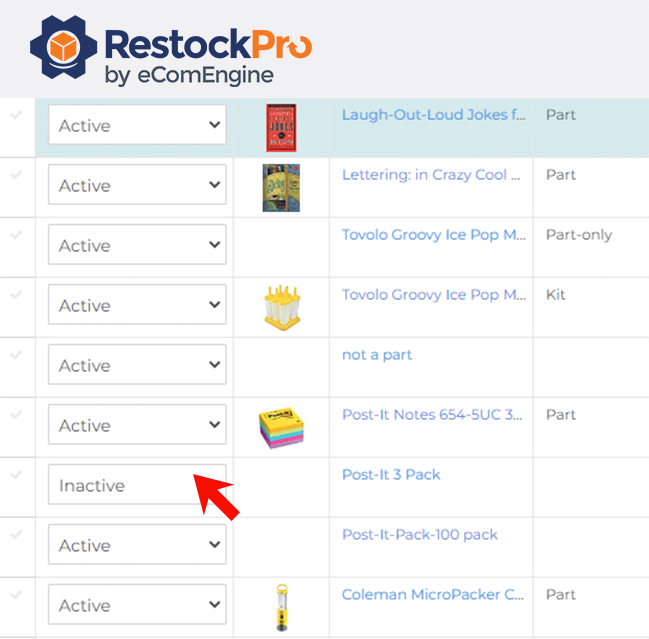 Inactive SKUs are not shown on the Restock Suggestions page, and RestockPro will not run restock calculations for these items.
You can always set a SKU to active again at any time.
Which SKUs should I Deactivate?
SKUs marked Inactive on Amazon:
Find SKUs that are inactive on Amazon and mark them as inactive in RestockPro as well.
From the products page in RestockPro, view the Amazon Status column.

If you don't see this column, it may be hidden. Click the hamburger icon at the top right of the grid to add this column to your view.
SKUs with an Amazon status of Active are those found in the Manage FBA Inventory Report on Seller Central, which RestockPro automatically imports. SKUs with an Amazon status of Inactive are those that are not currently in the report.

Filter the Amazon Status column by Inactive and consider setting the other Status field (at the far left of the grid) to Inactive as well if you do not plan to restock these items soon.
Note: SKUs with an Amazon Status of N/A are products that have been added directly to RestockPro but are not found on Amazon. For example, if you have added products that you order to build kit SKUs but don't sell as individual SKUs, these will have an Amazon Status of N/A.
Other Possible Candidates for Deactivation:
SKUs from dropped suppliers
Seasonal items that are currently out of season
Outdated or upgraded SKUs
Low-profit or unprofitable items (Use the Estimated Margin on the Restock Suggestions page to understand whether an item is giving your business a healthy return. Make sure you add all costs to get the most accurate EM calculation.)
Activate or Deactivate SKUs in Bulk via CSV
Filter your Products page to get the group of SKUs you need to activate or deactivate, or remove all filters to see all products.
Click CSV Options on the Products page and download your current view. (Note: We recommend downloading it twice and saving a backup copy because CSV uploads cannot be reversed.)
In the downloaded file, modify the Status column to Active or Inactive.
Click on the CSV options again and upload the modified file.