There are a few things you need to do to finalize a shipment before you send it into Amazon. Items shipped into Amazon require an item sticker and box content information. You also need to create a shipping label. You can complete all of these actions in RestockPro.
Printing Amazon Item Stickers and Labels from RestockPro
There are three ways to access the print sticker option:
The Products page (for products that you select)

At the end of the shipping wizard (for all items in the shipping plan)

From an individual shipment (for all items in that shipment)
When you choose the option to print stickers, a preview is shown. The line items required by Amazon are pre-populated. You can also select an optional additional line item to be printed on the sticker. You can use this to add a SKU, Supplier SKU, ASIN, UPC, or EAN.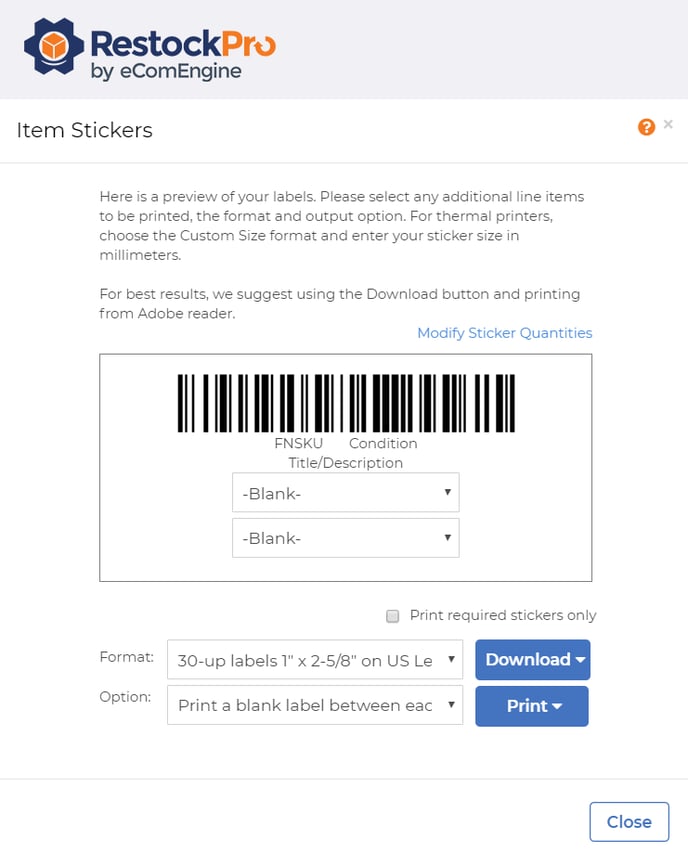 There is a link for "Modify sticker quantities" that you can use toggle the display and change the number of stickers to generate. Click "See preview" to switch back to the sticker content view.
Once you've set up your Amazon labels and quantities, it's time to download or print them. Use the Format drop-down to select either 30-up label sheets or "Custom Size" to define a label size that you print from a thermal printer. If you choose 30-up labels, you may choose an option for printing labels continuously, a blank sticker between different SKUs, or a separate page for each SKU. If you choose Custom Size, RestockPro will save the custom size so you don't have to specify that each time. Finally, choose the button for Print to print right away or Download to save them to a PDF.
Note: Some users have issues with formatting labels for their label sheets. If you have trouble, we suggest you download the sticker PDF and print from Adobe Reader. Be sure your print settings are set to Actual Size! Choosing Fit or Shrink will definitely change the way your labels print.

Providing Amazon Box Contents Information
The Box Content option allows you to specify which SKUs and quantities are packed in your cartons. You can then upload this information to Amazon. Amazon prefers that you upload box contents to help them accurately receive shipments, and RestockPro makes it easy to comply.
Tip: Amazon's policy is that any shipments without box contents may be subject to a fee, so box contents should be provided on every shipment - even if it's just a single box!
Here's how to provide this information to Amazon:
Enter the number of boxes in your shipment.
Enter the Carton ID for each box. The Carton ID can be found directly below the barcode on the shipping label. It will display as Shipment ID + 001, 002, etc.
Click the expiration dates checkbox when applicable.
If you want to include expiration dates for your box content upload, check the box to let you enter the dates. By default, the expiration date will display the value specified in the Products page. You can specify a different expiration date, which will also update the information on the Products page. If the same product is going in more than one box with different expiration dates, click the "vary by box" checkbox and enter the dates for each box.
Specify box contents.
Fill in the grid to indicate which SKUs and quantities will be in each box. Click the copy icon to quickly insert the box quantity into a field. Double check the "Unassigned quantity" column which should show a 0 once the entire shipment quantity has been designated to boxes.
Send box content details to Amazon
Once you have completed the box content information for each box, click the "Send to Amazon" button and RestockPro will upload the information through Amazon's API.
Optional: Print box contents to tuck inside your boxes.
Enclosing a copy of the box contents inside your boxes is just one more way to help Amazon accurately receive your shipments.
For large shipments which contain a long list of SKUs and boxes you can use the "Search" field to search by SKU, Name, UPC, or any other column on the grid as an easier way to fill in the box contents.
RestockPro will display the results of your upload. The results may take several minutes to reach Amazon. The Box Contents button will blink to remind you to review the results.
If there are any problems, we recommend that you open a case with Amazon. You can inform them that the box content information was uploaded using their MWS API. The screen shows several pieces of information you will want to send them to help them diagnose the issue (Submission ID and Shipment ID). Of course, you can also always send a screenshot to the RestockPro support team and we will assist.
RestockPro Box & Label Wizard
The Box and Label Wizard is where you specify your shipping options, download shipping labels and mark a shipment as shipped. Once the options have been saved, you may still download your shipping labels. Here are the steps of the workflow:
Step 1: Method and Carrier
Specify the shipment type (small parcel or LTL) and carrier as either Amazon-partnered or another carrier.
Step 2: Boxes/Pallets
If the carrier is Amazon-partnered, you will need to specify your boxes, weights and dimensions. Otherwise, simply enter the number of boxes. For LTL shipments, you'll also need to enter the pallet information as requested.
Step 3: Shipping Charges (Amazon-Partnered Carriers Only)
If the carrier is Amazon-partnered, you will need to view and accept the estimated shipping charges. Once accepted, the charges may only be voided for 24 hours. RestockPro will display the void option during this time. See Seller Central for more details.
Step 4: Download Labels
Choose your paper type and click the download button. Labels will be downloaded as a zipped PDF file. Then, print them and apply them to your boxes.
Note: The option to print a range of boxes only appears if you have submitted box content information. The "Box Content Source" on the left side of the Summary area will show "Submitted" if you've submitted them through RestockPro. It will show "2D Barcodes" if that option was selected for Box Contents, or "Unavailable" if nothing was supplied.
Step 5: Finish
Click finish when the shipping options are complete. At this time, you may choose to mark the shipment as "shipped."