Amazon limits the number of Buyer-Seller Messaging emails you can send to buyers each day. FeedbackFive will stay below this limit so that you don't accidentally break the policy.
Currently, the Amazon Daily Email Limit is five times your daily order average plus 600.
By default, FeedbackFive uses only five times your daily order average (or a minimum of 100 emails), leaving the additional 600 emails per day available for other customer-service responses that you may need to send to individual buyers. You can see the number of emails FeedbackFive will send by checking your Dashboard.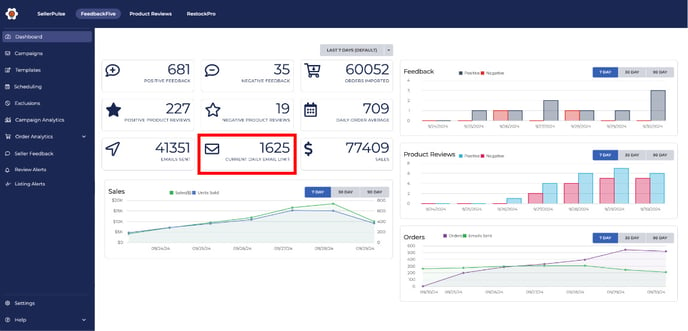 Your campaigns will automatically be sent based on this number each day to ensure that you do not violate the Amazon limit.
Note: Only Buyer-Seller Messaging email are affected by this Daily Email Limit, not the official Amazon Feedback and Review Request. This is because Amazon limits how many Buyer-Seller Messages you can send per day, but does not limit how many Request a Review messages you can send.
Soliciting Past Orders
When you first activate your campaigns, you have the option to catch up on eligible orders placed in the last 90 days. The Daily Email Limit may cause this catch-up process to take several days.
When the older orders have all been solicited, recent orders will be solicited according to the campaign timing.
Note: Amazon does not allow emails to be sent more than 30 days after order completion. Although you can set up your email campaign to send for orders placed in the last 90 days, those that were delivered more than 30 days ago will be excluded automatically.
If you notice that some campaigns are sent more often than others during this catch-up period, it is likely due to the priority of the campaigns. To change the priority:
Go to Emails > Campaigns and click the title of any campaign to see the campaign rules.
In the Timing section, click the Priority drop-down. A pop-up window will appear with a list of all your campaigns.
Drag to reorder the campaigns and change the priority.