RestockPro is currently available for the following Amazon marketplaces: Australia, Canada, France, Germany, Italy, Mexico, Netherlands, Spain, UK, and US.
To add an additional marketplace to your account, click the down arrow beside your store name near the upper left corner of RestockPro. Then choose the link for Add Store: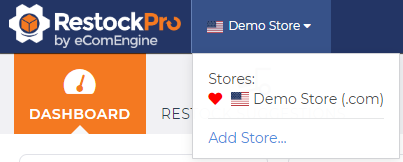 You will be directed through the process to register your new store.
Note: RestockPro does not currently support Amazon's North American Remote Fulfilment (NARF) program or the Pan-EU FBA program. You can use RestockPro for each individual country in North America or Europe and see the sales attributed to that country, but not which country the items were shipped from in order to fulfill those orders.
Tip: If you have more than one RestockPro store, you may be eligible for a discount. Contact us to learn more.