This section of your store configuration allows you to set several preferences that will help RestockPro compute your estimated margin. This is also where you set your product name preferences.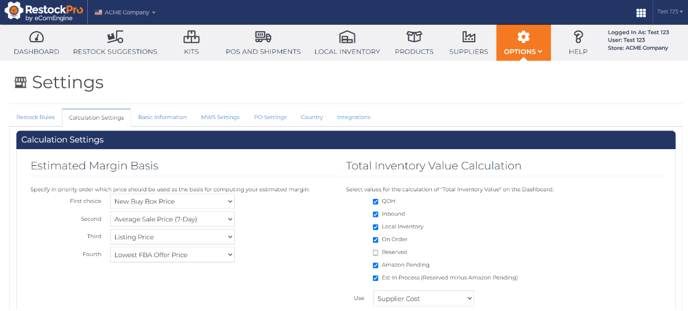 Estimated Margin Basis
Using RestockPro will help you focus on your products of highest profit potential. In this section, you set your priority of which price RestockPro should use to calculate your estimated margin. Estimated Margin (EM) and the EM% appear on your restock suggestions view and are useful for determining which of your products are most profitable. The formula is:
Price - Amazon fees - your fees = EM
The Estimated Margin Basis prompts you to choose from:
Average Sales Price (7-Day)

New Buy Box Price

Listing Price

Lowest FBA Order Price
to identify the price part of the equation, and asks you to rank them in importance from first to fourth choice. The system uses your first choice if it's available, and moves to the next in priority if it isn't, and so on.
Cost
This is where you set the cost (ie, cost of goods) that will use as part of the EM calculation. You can choose the current supplier cost that you entered on the product details page or the average cost you've paid based on your purchase orders generated in RestockPro. This helps ensure an accurate margin, helping you focus on the right products for your bottom-line profitability.
Total Inventory Value Calculation
The total inventory value displays as one of the color tiles on the Dashboard. It gives users an at-a-glance figure for the value of their current inventory. Here you may customize which categories of items you would like to be counted in this calculation. You can choose whether the value is calculated using the supplier cost -- how much you've paid for your inventory, or choose listing price to show the amount of sales you could expect from your existing inventory. You may choose to exclude Amazon pending items. Since these items are about to count as sold, you may decide if they should be accounted for in this calculation.
A quick tip for the last three options in this list: Reserved, Amazon Pending, and Est in Process
- Est in Process is a combination of Reserved and Amazon Pending. Selecting all three will double count your numbers.
- Pick Amazon Pending or Reserved if you want only want one of the numbers.
Product Names
You can choose to overwrite the product titles displayed in RestockPro, but if you don't want the tool to update your changes with the name used on Amazon, you will want to choose "Do not overwrite my product name updates" in this section of your store settings.