Your solicitation email address is the "From" address that your FeedbackFive emails come from.
You'll be prompted to add a solicitation email address before activating a campaign.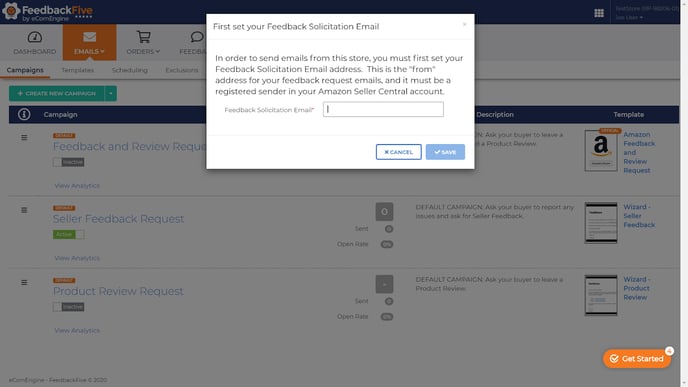 To view or change your solicitation email address later, go to Store Settings. On the Store Profile tab, view or edit the "Feedback Solicitation Email" field.
(Note: Buyers will never see this email address. They will see an encrypted Amazon Marketplace email address instead.)
This email address must be listed as an approved sender in your Amazon Seller Central account. Otherwise, Amazon will block the FeedbackFive emails, and your buyers will not receive them.
Adding an Approved Sender
To add your solicitation email address as an approved sender in the Amazon Buyer-Seller Messaging System, follow these steps:
Login to Seller Central.
Go to Buyer-Seller Messaging and click on "Messages" in the top right corner of the screen.
Click "Authorized Emails" on the right side.
Click "Add an email address" and paste in your solicitation email address.
Click "Save."