New Feature Improves Case Pack Pricing Accuracy
Running an Amazon business takes grit, determination, a little luck and a lot of precision. Not only must you meet guidelines, but, if you want to make money, you've got to know how much you have, how much you've spent and how much you're making.
With this in mind, RestockPro now includes a new functionality that allows users to specify product pricing up to six decimal places. While, at first glance, some may be quick to dismiss the significance of this change, experienced Amazon sellers know how much this can improve margin accuracy.
How It Works
As a RestockPro user, you already know that using the tool is easy. The Products page allows you to add new entries into the system where you can include vital information such as the SKU, what the cases look like, the costs associated with the item, suppliers, part numbers and more.
The case packing data is probably the most important function of the whole sheet for a variety of reasons but, truly, it can save you time and money. Here, you can now specify product pricing up to six decimal places (instead of just two!) which gives you increased accuracy in case pricing.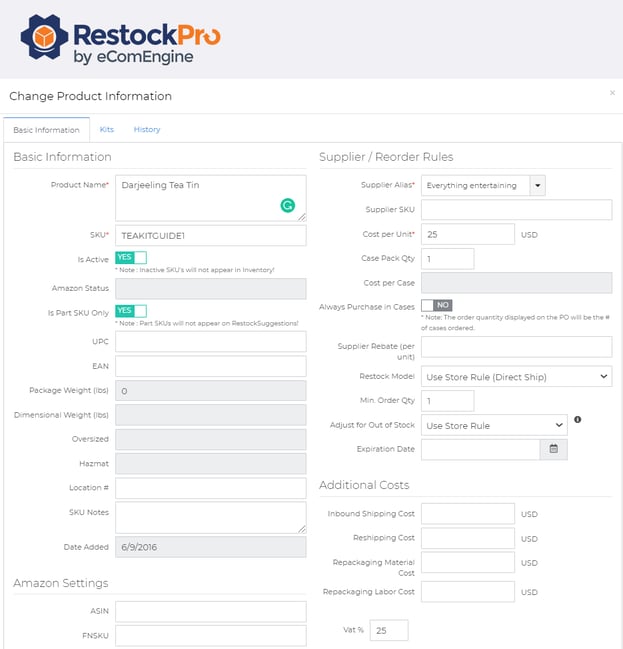 Along with details such as ancillary costs, reshipping and nominal repackaging labor fees, this level of precision will give you a better idea of what your bottom line looks like.
Calculate Margins
Keeping your margins up to date is essential to ensuring the viability and success of your Amazon business. One of RestockPro's greatest features is that it calculates an estimated margin for every item in your inventory based on Amazon fees, your costs and, of course, the price.
The new feature allowing users to enter up to six decimal points gives the tool greater accuracy in calculating margins on products you currently offer, stopped stocking or are considering adding in the future.
This is especially important on the Amazon marketplace because the landscape can change very quickly due to competitive and market factors. This added layer of precision will make you better able to seize early opportunities and stay ahead of the game!
Better Purchase Orders
Keeping track of orders can be an arduous task, especially if you are working with more than one vendor. You could sift through spreadsheets trying to determine what's been ordered, what you've received and what's on backorder, or you can let RestockPro do all of the heavy lifting.
Of course, the tool keeps track of the prices on your purchase orders so that, as previously mentioned, the average cost is factored into your margin. If your numbers are off here, even a little bit, it can change things significantly.
For this reason, being able to add those extra decimal places gives you a much clearer picture, especially if you're ordering in large quantities. It's incredible how much a seemingly small change can do for your business's profitability.
Smarter Budgeting Decisions
By making use of the extra decimal places for cost price, you will know exactly what you are spending and what you're making. This gives you a much clearer idea of how much you have to re-invest into your business. Will you buy inventory, hire help, launch a new marketing strategy or move forward with another initiative?
Never underestimate the value of an extra penny because, depending on how much your business grows and how many vendors you work with, it can really add up. By being conscientious and proactive, you will help prevent problems and make smarter budgeting decisions. It's a win-win situation.
Move Faster
There's never been a better time to accelerate your FBA business. RestockPro's specialized features continue to evolve to meet the unique needs of Amazon sellers. In addition to simplifying the forecasting and PO management processes, you'll also be able to track profits and margins with ease.
Sign up for our 21-day free trial and see the difference RestockPro can make. After just a few days of using our software, you'll be ready to ditch the spreadsheets!
Originally published on September 6, 2018, updated May 30, 2019
This post is accurate as of the date of publication. Some features and information may have changed due to product updates or Amazon policy changes.